Despite the early photo leak published in the Herald Sun, Mitsubishi Motors Australia Limited (MMAL) have today officially announced details of the Mitsubishi 380 Series III Sedan.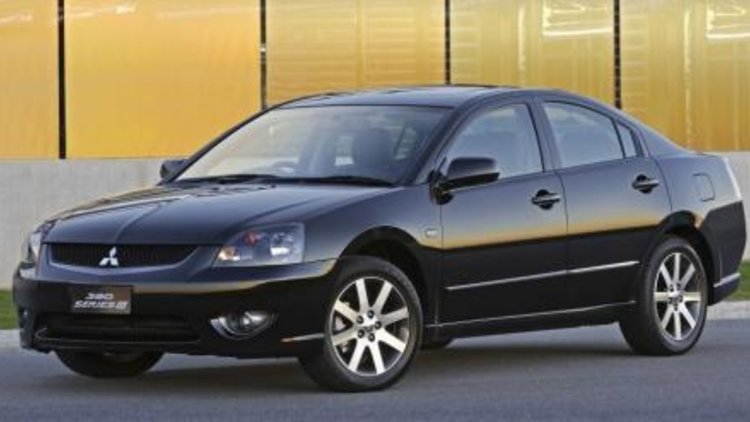 After a Series II release and a significant drop in pricing, Mitsubishi still found it hard to reiterate the 380.
So, it's now time for the third coming of the Mitsubishi 380 - enter the Mitsubishi 380, Series III.
Although the 380 has not enjoyed the predicted sales figures since its 2005 launch, the 380 has proven itself as one of the better and more reliable family sedans available in Australia. With rumours of Mitsubishi closing shop long forgotten, the 380 is back for another round.
Manufactured at the Tonsley Plant in Adelaide, the new Series III sedan will go on-sale on 29th of July 2007. Despite previous rumours of a TMR 380, as we reported last week, Mitsubishi have so far put the project on hold while they concentrate on the new Evolution X.
The changes include a rework of the car's interior appointments, multiple external styling updates, specification upgrades and most importantly a redo of model variants.
The 380 sedan has always been recognised as offering excellent driving comfort and style at a very attractive price, and the 380 Series III just takes that whole value proposition one step further." Robert McEniry, President and CEO of MMAL said.
The 2007 380 Series III sedan line-up consists of four main variants:
The entry level ES
The highly specified SX
The sporty VRX
The fully equipped GT model
There is no change as far as the powerplant goes, the Series III sedan will continue to make use of the company's 3.8-litre 24-valve SOHC MPI V6 engine.
With 175kW of power at 5250 rpm and 343Nm of torque at 4000 rpm, the 380 is behind its competitors as far as power goes (Toyota Aurion - 200kW, Holden Commodore Omega - 180kW, Ford Falcon XT - 190kW).
The engine is coupled to either a five-speed INVECS II "Smart Logic" automatic transmission with Sports mode or for the brave, a five-speed manual (ES and VRX variants only).
Mitsubishi have been known to offer more for less, the 380 has been a prime example and the Series III doesn't dissapoint either. Standard features include:
Dual front and side SRS airbags,
ABS brake system with EBD,
automatic climate control air-conditioning,
power windows and mirrors,
remote central locking,
cruise control,
power adjustable driver's seat
steering wheel audio controls as standard features.
Breakdown of the different variants and the special edition models:
| | |
| --- | --- |
| Variant | Features |
| --- | --- |
| ES | Traction control16" alloy wheelsSports front bumperFog lampsGrey seat insertsChrome rings to instrument cluster |
| SX | New alloy wheelsSeat insertsCharcoal grille paint treatmentAdditional accessory socket |
| VRX | Enhanced visual packageNew front and rear bumper insertsLarger rear wingNew alloy wheelsCharcoal grille paint treatmentNew cloth seats with VRX logo |
| GT | New alloy wheels (machined and painted)Chrome finishing strip to deck lidSports type instrument cluster |
| GTL | New option on GTBlack/stone interiorChrome finishing strips to deck lid and tail lampsLuxury type instrument clusterSunroofSilver painted wheels |
| LIMITED EDITIONS | ES Sports17" alloy wheelsRear wingSports suspensionSunroofBluetooth connectivity |
| | VRX Fusion BurstLimited edition special paint colourMatching coloured seat insertSunroof |
Mitsubishi 380 Series III Sedan - ES - $28,990 (Man) - $30,990 (Auto)
As the entry model the ES starts from a record breaking $28,990 for the manual. The new Series III ES is blessed with a sports front bumper, fog lamps and alloy wheels from the outside, while new seat trim and chrome instrument cluster change the interior.
Mitsubishi have also responded to safety concerns by adding traction control as standard across the entire 380 range.
If you get in quick, there will be a limited edition ES Sports available from launch. It has all the features of the LS but also ads a rear wing, 17 inch alloy wheels, upgraded sports suspension, sunroof and Bluetooth phone connectivity, and best of all? it still costs the same!
Mitsubishi 380 Series III Sedan - SX - $34,990 (Auto)
The SX sits in the middle of the range. Series III updates include new design alloy wheels and new grille paint treatment for the exterior while revised silver seat trim finishes the interior.
Mitsubishi 380 Series III Sedan - VRX - $36,990 (Man) $38,990 (Auto)
The VRX variants gets a new front bumper insert, rear bumper insert and a large rear wing. Additionally, the VXR comes with new alloy wheels and charcoal grille paint treatment. The interior gets new luxury cloth seat trim with VRX logo and a restyled leather steering wheel.
There is also an optional Luxury Pack for the VRX model which includes full leather interior trim with contrast silver stitching and sunroof.
Mitsubishi 380 Series III Sedan - GT - $44,990 (Auto)
The range topping 380 GT gets a set of new restyled machined alloy wheels, chrome body detail and a sports type instrument cluster.
Mitsubishi are also offering an optional Luxury Pack called the GTL (superseding the LX variant). The GTL comes with leather interior, alternate rear deck lid and tail lamps, luxury instrument cluster, sunroof and silver painted alloy wheels.
In addition to the four attractive models of the Series III line-up, MMAL has announced the release of two Special Edition variants, and these models offers unrivalled value and style in the large vehicle segment.
---
Mitsubishi have tried hard to inject some fun into the new 380 and have thus released a limited edition, "380 Fusion Burst". With flaming orange duco, striking matching seat trim and a large sunroof, the 380 Fusion Burst is not for everyone, but it will help improve the cars image.Although it's true, the 380 offers fantastic value for money, safety features such as Traction Control simply don't cut it anymore. Traction control simply limits a loss of traction while accelerating, there is no assistance when the car understeers, oversteers or loses control.
We look forward to driving the new Mitsubishi 380 and hope that it reignites the car in the Australian market.
2007 Mitsubishi 380 Series III Sedan