The new 2007 Toyota Kluger SUV is due for release in August. The Kluger SUV is set to have the most comprehensive list of standard safety features in its class. With standard range of seven airbags across its range of two-wheel-drive and all-wheel-drive models.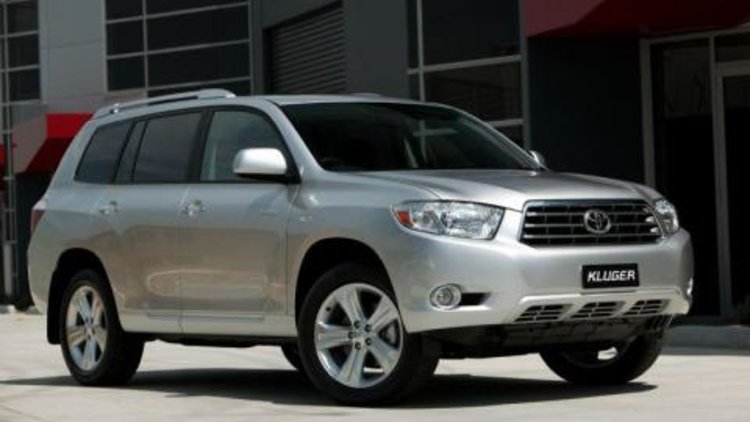 Side-curtain airbags for all three rows include a roll-over sensor. A driver's knee airbag and dual front and side airbags are also standard. It seems that Toyota are marketing this car at those who value safety above all.
"We believe the next-generation Kluger will have no equal to its comprehensive list of standard safety features. This is particularly important for families who put safety at the top of their purchase considerations. Next-generation Kluger is also bigger, even more flexible on the inside, offers a powerful V6 engine with impressive fuel economy - and definitely looks better." Toyota Australia's senior executive director sales and marketing David Buttner said
Apart from the Airbags, Toyota has been working hard on getting the "Big Dangerous SUV" image out of the way, and as such the new Kluger will have a bonnet and fender system designed to crumple on impact with a pedestrian helping reduce pedestrian harm. Furthermore the Kluger will be the first Toyota vehicle in Australia to come with active head restraints.
The Kluger will also offer a reverse camera across the range without the need for a satellite navigation system (the screen was used to run both systems)
Other safety features include:
Vehicle Stability Control with electric power steering
Traction Control
Anti-skid Braking System
Electronic Brakeforce Distribution
Brake Assist
The entire model range of the new Klugers will come standard with Hill-start Assist Control, which prevents rolling downhill when starting off, particularly on low-traction off-road surfaces.
All-wheel-drive models will come standard with Downhill Assist Control, which is designed to prevent slipping sideways on steep off-road hill descents. It also provides 'feet-off' driving down a steep incline.
The next-generation Kluger has a bigger footprint with larger wheels and tyres for even greater stability and sure-footed handling. strong safety credentials are essential in the medium SUV market where families are looking for a modern alternative to the traditional large family wagon.
The new Kluger will be available in four months time (August).