Land Rover G4 Challenge – National Selections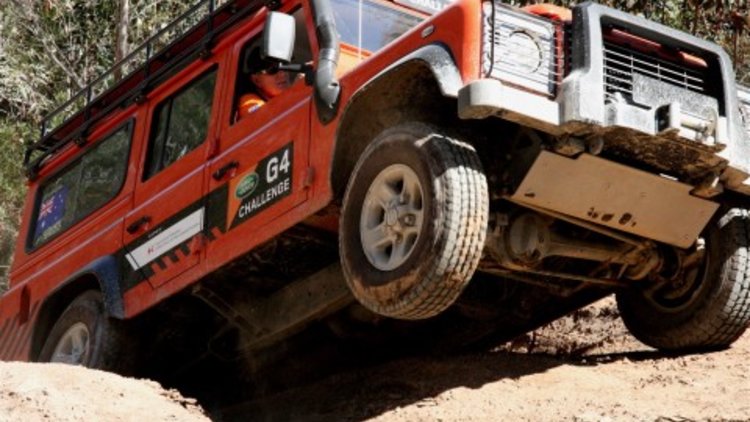 - words and pictures Anthony Crawford
Fancy holidays in Ulaan Baatar - even know where it is?
For those who don't, it's the capital city of Mongolia, you know, the home of Chingis Khan, goats, double hump camels and yurts (Mongolian tent).
While it's probably not listed as a featured holiday destination in the Lonely Planet guide, it happens to be the perfect venue for one of the world's most grueling adventure competitions, the Land Rover G4 Challenge.
Landlocked between Russia to the north and China to the south, Mongolia is a landscape of vast semi-desert and desert plains, mountains to the west and southwest, and the inhospitable Gobi Desert in the south-central, perfect for adventure junkies.
"Go Beyond" is Land Rover's promotional line at the moment, and if the terrain we encountered and duly conquered recently, in a range of the company's vehicles is anything to go by, behind the wheel of a Land Rover is exactly where you want to be in a place like Mongolia.
There are 18 countries competing in next year's G4 Challenge and each nation will be allowed to send a team of just one male and one female to Mongolia.
The winners of this prestigious event will have the honour of Land Rover donating a vehicle on their behalf, to their National Red Cross or Red Crescent Society.
Even if you miss out on the big one, you might still be jetting off to Eastnor Castle in Herefordshire, Britain, in early 2009. That is, if you are good enough to be one of four people chosen from the G4 national selections, held recently around the Lithgow and Katoomba areas of New South Wales.
More than 40 tough as nails competitors were selected to compete in this punishing event, which included some extreme off-road driving, kayaking in ice cold water, mountain biking, cross-country running and abseiling down a cliff high enough, to scare the bejesus out of me.
Just getting to the first event was difficult enough, as the tracks (if you can call them that) were hard-core and very taxing for many of the G4 hopefuls.
Competitors arrived on the scene early Saturday morning just after an energy sapping exercise that involved pushing the vehicles, sans engine power, along with some 20-litre water bottles across a grassy field.
It was then a case of competitors hauling a kayak down - a long way down – and back up to a section of the Clarence Dam, where individuals needed to complete a 45 minute circuit that included a swim in 15-degree water, paddling a kayak down river, an exhausting run to the bottom of a ravine and back, climaxing with an abseil and jump into that cold water again, just to re-start your heart.
If that wasn't enough, it was then a case of pack up and convoy towards Lost City, through some of deepest ruts and steepest rock crawls you'd ever want to attempt in a civilian vehicle, of any kind.
At one stage, the G4 Discovery 3 was virtually airborne, with just one wheel touching mother earth and seemingly, about to roll on its side. It didn't, but the course was hair-raising stuff for those both inside and outside the vehicles.
It wasn't just the Discovery 3 that claimed victory over this demanding terrain but the whole Land Rover line up from the Range Rover Vogue TDV8 to the much-underrated Freelander 2, which despite its lack of low range completed the drive without incident.
Lost City is an odd looking cluster of mini tabletop mountains, which the competitors had to scale as part of a team based communications exercise. To be quite honest, I couldn't follow it at all, as there was no speaking allowed, with hand signals being the only form of communication permitted.
It was a fair old hike in the Land Rover's along the demanding Wolgan Gap Road to the campsite at Newnes, where competitors and assembled media arrived after dark.
Interestingly, Emirates have chosen the area to build one of its super luxurious resorts, which should provide a significant economic boost to the region.
Within no time, the camping ground was covered with Tangiers Orange G4 issue tents, which are not only comfortable but can be erected in just a few minutes.
The following day was every bit as grueling as the previous trials. It was an early rise and convoy to Blackfellows Rock for some serious mountain bike riding.
Unbeknownst to me, there were some Olympic level riders in amongst the group. They must have raced the course at least 15 times before we had the last man standing, but it wasn't MTB guru Matt de Belim, his chain snapped on the G4 mountain bike, and he was out of contention. It was then Kris Clauson who stepped up and took the win.
It was the same with the girls, lots of talent, but just one competitor remaining after endless elimination races.
The mob then called for a shootout between the top male and female riders and I've got to be honest, there was some serious male pride at stake here and Matt was under enormous pressure - not to lose. In the end he came through over the Zoe King, but not by much!
Believe it or not, it wasn't over yet, not by a long shot. Competitors needed to complete a long distance bush run and mountain bike course over two hours before moving on to the final event, a terrifying 100-metre abseil at Wolgan Gap!
If I had any prior doubts about the authenticity or how demanding the G4 Challenge will be in Mongolia, they had well and truly vanished long before the conclusion of this event.
"I seriously doubt whether any other 4WD recreational brand other than Land Rover, could ever hope to sponsor this event, given the severe nature of the terrain and off road capabilities required to complete such a challenge"
Those chosen to represent Australia at the International selections at Eastnor Castle, UK later this year are:
Christie Sym - NSW
Matt Shields - VIC
Jarad Kohlar - NSW
Zoe King - NSW
Congratulations to the winners and a special thanks to Land Rover PR guru Guido Schenken for the covert supply of Red Bull, which kept the press corps going on this arduous and sleep deprived assignment.
Land Rover G4 Challenge National Selections