People-movers are pretty passé, which explains the continual success of seven-seat crossover SUVs like the group tested here. We've assembled what we consider to be six of the best, with the added bonus that all are either new models or at least recently upgraded...
---
I like the idea of new things, new technologies, and new possibilities. But when reality sinks in, I still tend to prefer the experience of old things. That's not always true, of course. I'm much happier spreading store-bought butter on pre-baked bread than I am churning my own milk and kneading the dough myself. I have to draw the line somewhere...
---
It's a great Did You Know factoid that AMG wasn't involved in the first express-spec E-Class. When Mercedes decided five years was long enough for the original (1985) M5 to have had its own way in the mid-range sports sedan arena – longer if you count the M535i – the Stuttgart brand sought the help of close-neighbour Porsche to create a muscled-up, V8-powered version of the W124 sedan...
---
Is there a more vibrant and diverse segment on the market right now than that labelled 'hot hatch'? In fact, is it technically a segment at all, but rather a broad net cast wide enough to include a $25K compact-sized Suzuki Swift Sport at one extreme and larger, circa-$80K Audi RS3s and Merc-AMG A45s at the other? And that's just hatchbacks...
---
You don't need to spend a ton of cash to have fun on four wheels, nor do you need maximum power. Sometimes cars with lower performance ceilings, driven near their ragged edge, are the most fun of all. Cases in point, the two you see here. The just-launched Suzuki Swift Sport from Japan and the just-updated Renault Clio RS200 Cup from France, both pocket rockets par excellence...
---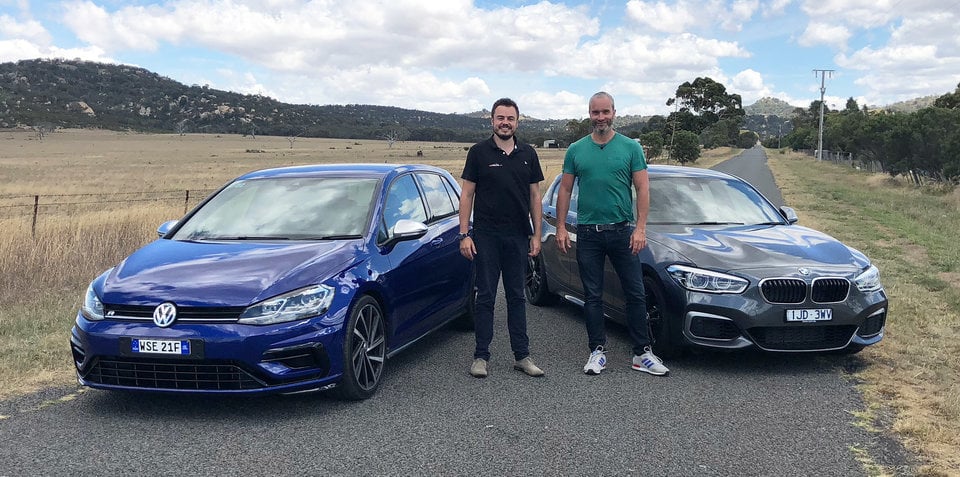 If you've got $60,000 to spend on a hot hatch, you really need to have these two at the very top of your list. They are the 2018 BMW M140i and the 2018 Volkswagen Golf R. BMW recently dropped the price of the M140i to $59,990 (plus on-road costs), meaning that it's now within earshot of the kitted-out Golf R, which is priced from $53,490 (plus on-road costs)...
---
Front-wheel drive has been part of the classic hot-hatch formula since the genre was ignited in the 1970s. The layout would dominate any all-time-greats list for the category, featuring the likes of the Peugeot 205 GTI, Renault Megane RS, and of course Volkswagen Golf GTI (Marks III and IV excepted!). Yet, there have long been exceptions, of course...
---
The 4 Series Gran Coupe and S5 Sportback both offer a four-door look blending coupe styling with sporty, six-cylinder performance, but which is the better mid-sized German gran turismo? You either blame or thank Mercedes-Benz, depending on your perspective, for cars like the Audi S5 Sportback and BMW 440i Gran Coupe...
---
SUVs are such a widely accepted part of the automotive landscape these days that few batted an eyelid when Jaguar, after 80-odd years of racing cars, and manufacturing sporty coupes and sports sedans, released the F-Pace soft-roader in 2016. (And this, after years of denying it would tread on sister company Land Rover's toes, of course...
---
Despite making a fashionably late arrival to the small crossover market, the 2018 Hyundai Kona has certainly made a grand entrance on appearances alone. Funky? You bet. Even against the hot sellers and mover'n'shakers – CX-3, ASX, XV, HR-V – largely responsible for skyrocketing the popularity of form and fashion over pure family-friendly functionality, the Kona appears, literally, to lob into trendy leading edge of style...
---