Further to our previous post about the new Mazda RX-8, Mazda Australia has just released details of the new rotary-engine-powered superhero.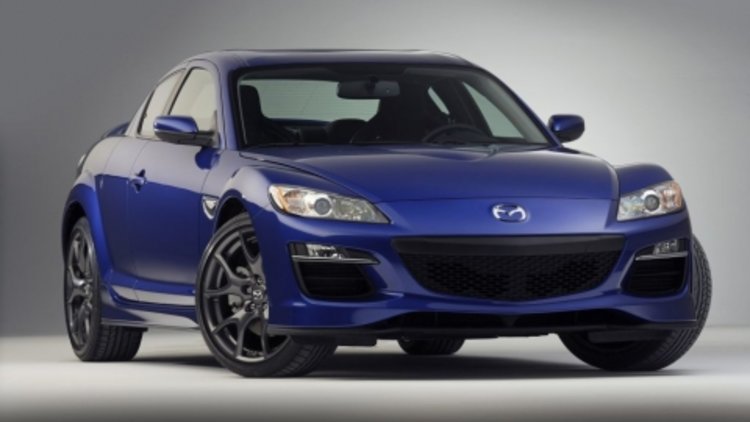 It has been more than four year since Mazda showed the world the RX-8 so it was about time for a new model. On first glance you might be wondering what exactly has changed, well, a few things.
You see the problem Mazda face is similar to most other sports car manufacturers - if it looks good already, how can it be made better? Mazda has so far sold nearly 167,000 RX-8s around the world, so doing a radical design change was not on the agenda.
Instead, Mazda has changed the front and rear bumpers and front fascia, as well as the front and rear headlamps. Mazda designer have given the car larger exhaust pipes (90 mm across), a set of new five-spoke alloy wheels and an optional six-speed auto transmission.
Mazda has kept the popular suicide door design (or "freestyle four-door design" as they call it) ensuring that owners need not sacrifice space or convenience for performance. Thankfully the rear doors now provide a larger door opening, which according to Mazda should finally allow adult-sized passengers to enter and exit the vehicle.
The company claims the new RX-8 can comfortably fit four adults.
As for the interior, Mazda has decided to play it safe, only evolving the current design for better safety and comfort. Additional equipment includes a variable red-zone to the tachometer (will rise as the engine comes to operating temperature) as well as a new steering wheel. The front and rear seats are also redesigned for more comfort and support.
But enough about how it looks inside and out, what you really want to know is how it goes. Firstly the new RX-8 has an improved body rigidity through the addition of structural reinforcements. Mazda has also redone the rear suspension geometry to improve the car's already excellent handling.
In order to improve off-the-line performance gear ratios have changed from 4.444 to 4.777 (on the manual transmission). When it comes down to kW and Nm, the current RX-8 was never the sort of car that would push you back into your seat - instead it was more about gradual acceleration (at least for the manual).
Mazda is still powering the RX-8 with the same 1.3-litre RENESIS (Rotary Engine genesis – or rebirth of the rotary engine) engine which now manages 173kW in the manual (which going by Mazda's own figures is down by 4kW over the existing model) and 159kW (up 18kW) in the auto.
Unlike the current generation RX-8 which is using an ancient four-speed auto, the new car is available with a six-speed Sport automatic transmission with steering-wheel-mounted paddle shifters - but power is still reduced compared to the manual.
Suspension upgrades include an aluminium double-wishbone front suspension - replacing steel components in the current model. The RX-8 also makes do with an electric motor instead of a traditional power-steering pump for steering assistance.
According to Mazda the electric motor provides additional assistance at low speeds to ease parking and reduces steering assistance at higher speeds to provide greater road feel, responsiveness and feedback - it also lighter than a power-steering pump.
The new RX-8 will be offered in four trim levels:
Sport trim - base model
Touring trim - gets HID headlights, fog lamps, auto dimming mirror, 6-disc auto changer and DSC. 18-inch wheels, a limited-slip differential, sport-tuned suspension and larger front disc brakes are also available while a Bose audio system, moonroof, SIRIUS satellite radio are available as options.
Grand Touring trim - includes touring plus automatic air conditioner, Bluetooth hands-free phone system, Bose® audio system auto headlight, rain sensing wiper, power-adjustable driver's seat with lumbar support and memory function, leather seating surfaces — heated front seats— and heated outside mirrors and Mazda Advanced Keyless Entry & Start system.
The forth trim level takes the Japanese giant back a few years. Mazda has dug deep and gone back to the R-packs initially offered in the now cult-classic RX-7. The R3 sport package follows the R2 and R1 by offering the very best in performance parts.
From Bilstein shock absorbers, a rear spoiler, side sills, fog lights and sporty front bumper to 19-inch forged aluminum-alloy wheels with high performance tires, the R3 package is hard to resist. The interior is upgraded with front Recaro sport seats with leather side bolsters, leather-wrapped parking brake handle and Mazda advanced keyless entry and start system.
When it comes down to it, the 2009 RX-8 is not really all that different to the current model. Yes it has some changes here and there, but Mazda has simply evolved the car. All of us here agree that while it certainly looks better, after four years, perhaps we were expecting something a little more.
2009 Mazda RX-8 specifications