Update: After omitting the fact in the initial announcement, Lotus has today confirmed that the Lotus Evora S is indeed supercharged.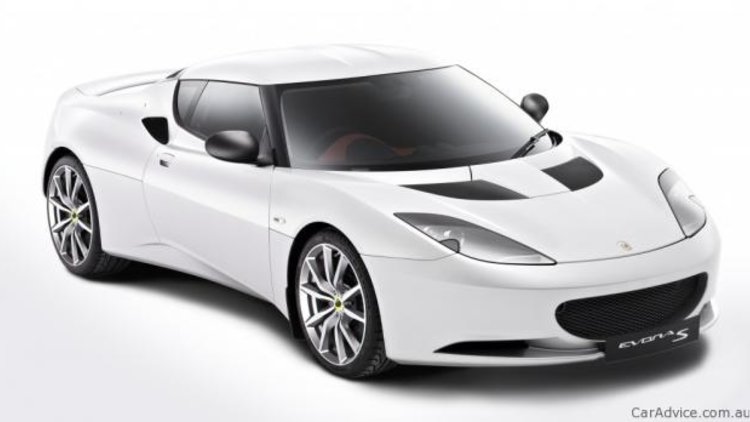 Following the 'accidental' email leak from last week, Lotus has released the first official details and photos of its Lotus Evora S and the Lotus Evora IPS (Intelligent Precision Shift) automatic option.
The Lotus Evora S uses a highly tuned version of the Toyota-sourced 3.5-litre V6 engine found in the standard Lotus Evora, gaining an extra 52kW of power with the help of a supercharger.
The Lotus Evora S develops peak power of 258kW at 7,000rpm and maximum torque of 400Nm at 4,500rpm - combined with a six-speed manual transmission this sees the zero to 100km/h sprint time drop to just 4.8 seconds.
"We were proud of the Evora but we're even prouder of the Evora S, I feel like it does the true Lotus experience justice. The really great thing is that as we move forward the standard Evora should also benefit from some of these developments." said Lotus Chief Executive Officer Dany Bahar.
Despite this newfound power, the Lotus Evora S still manages a combined fuel consumption figure of just 10 litres per 100km on the combined cycle and CO2 emissions of 235 grams per km - becoming slightly more with the larger wheel option.
Along with the power boost, the Lotus Evora S comes with a sport pack as standard which features a 'sport' button allowing the driver to control throttle response and activate the exhaust by-pass valve.
This same button also raises the rev limit of the engine and activates a more performance oriented calibration for the dynamic stability control settings.
"It's the next level of Evora experience. It communicates with you better, the suspension setting has been fine tuned for added power and control so it responds even more to direction. It's an instinctual car, the experience is pure."
In addition to the Evora S, Lotus has also officially introduced the automatic transmission option for the Lotus Evora, calling it IPS or Intelligent Precision Shift.
The six-speed automatic transmission - not available with the Lotus Evora S it seems - can be used in both manual paddle shift or fully automatic driving modes, along with a 'sport' mode which takes control over the task of switching gears in a more aggressive manner.
"The Evora IPS is set to broaden the appeal of the Evora and reach out to a slightly different market. We hope it will be popular with established automatic locations such as Asia, the Middle East and the US. It's been a long time since Lotus created an automatic and we've spent a great deal of time refining this one to make sure that it perfectly complements the Evora drive experience."
The Lotus Evora S and Lotus Evora IPS option will make their official debut at the Paris motor show on September 30.