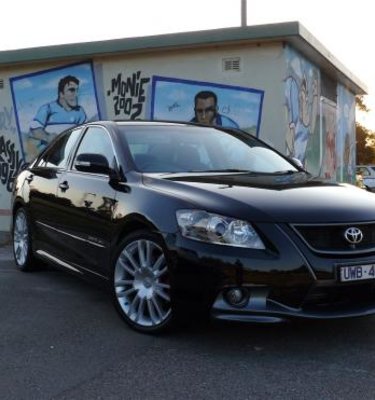 2007 TRD Aurion 3500SL Review
2007 TRD Aurion 3500SL Review
"My CarAdvice colleagues were not overly praiseworthy of the TRD. Too much torque steer, lack of soul, were the main gripes. I disagree. I like the car!"
- by Anthony Crawford
Test Model: TRD Aurion 3500SL (Sports Luxury)
CarAdvice rating:
Options Fitted: Option Pack ($5952), which includes: moonroof, rear personal lamps, satellite navigation, Bluetooth mobile phone compatibility. At $61,500 all items in this pack should be standard kit.
Recommended Retail Price: $61,500 but you can get into the TRD Aurion 3500S (Sports) for $56,990
Where it sits: TRD stands for Toyota Racing Development, so there is no mistaking where this car is positioned in the Toyota line up. It's aimed squarely at the car enthusiast.
This is not so much another review of the TRD, but rather, why I consider this car better than the overall verdict so far.
The TRD is powered by a Supercharged 3.5 litre V6 engine producing a sound 241kW at 6000rpm and 400Nm at 4000rpm.
Top speed is a governed 250km/h and O to 100km/h comes up in a quick 6.1 seconds. The numbers are not class leading, but these are performance car figures, full stop.
That said Toyota faces some fierce competition against the TRD with FPV, HSV and even Ford passenger cars, with their bang for buck hero, the XR6 Turbo.
HSV's Clubsport R8 is a world-class performance car, delivering sub five second acceleration times and superb on road manners. At $64,890 for the six-speed auto, it's just $3,390 more than the TRD Aurion.
It's a similar story with the FPV's F6 Typhoon. With 270kW and an earth trembling 550Nm between 2000rpm-4250rpm, this turbocharged powerhouse offers astonishing value at just $310 more than the TRD.
And let's not forget the bog standard Ford XR6 Turbo, the bang for buck Oscar winner. With 245kW and 480Nm, this budget priced speed machine is a steal at $44,490 for the six-speed auto.
How then, does the front wheel drive TRD compete with these proper rear wheel drive performance cars?
First of all, it's a more comfortable car than those mentioned above, with plenty of luxury kit on board.
The powered sports leather seats in plum are luxurious, while at the same time provide excellent side bolster even during high-speed corner-to-corner work.
Front and rear parking sonar, six-disc CD changer, Dual Zone climate control, alloy Sports pedals and Smart entry and push button start are the highlights. TRD embossed logos adorn scuff plates, floor mats, gearshift knob and the sports leather steering wheel and offer a degree of exclusivity.
But its not the interior we're overly concerned about here, it's down to the mechanicals and overall engineering. How does the TRD drive?
Toyota, have gone down the Supercharger route and not just any supercharger. Its Eaton's brand spanking new Twin Vortices Series (TVS). The benefits of this unit are threefold; more power, better fuel efficiency and less weight.
But turbochargers these days have improved enormously, with cars such as the XR6 Turbo and F6 Typhoon, displaying very little of the dreaded Turbo lag caused as exhaust gasses build up to spin the turbo.
It's a mute point with the TRD though, as the Supercharger is belt driven off the crankshaft, so throttle response is instantaneous. Not only that, hold the throttle down and acceleration is both relentless and velvet smooth. Almost!
There's a good reason for that. This car develops much of its available torque down low. That's 336Nm at a diesel-like 1800rpm.
This is where my colleagues have a problem. All this power is going straight to the front wheels and that, they say, causes all sorts of problems.
Front Wheel Drive cars can suffer from torque steer, which makes control of the vehicle under heavy acceleration difficult, as the front wheels struggle to maintain grip and direction.
The Mazda 3 MPS is a ferociously quick hatch but with 190kW of power and 380Nm on tap at 3000rpm, the car can be a handful, as you literally wrestle with the steering wheel to maintain control when dipping hard into the right pedal.
The TRD Aurion is far better behaved than the MPS and frankly, while a degree of torque steer is evident, its no where near as bad as some reports suggest and the car is entirely manageable.
The car sits virtually flat into corners and the ride, while firm, is by no means harsh. In fact I would rate the overall compliance in the suspension as good as some high end Euro marques.
I do have an issue with the steering set up though. It's a power assisted rack and pinion unit, but it seems overly weighted at crawl speeds and over assisted at high speeds.
Brakes are as good as any of the TRD's competitors and inspire thorough confidence at any speed. Brake pedal pressure is near perfect and brake fade under heavy loads is less than minimal.
The go fast Aurion certainly looks the part, sitting on a set of rather large 19-inch alloys, wearing low profile 245/35 Dunlop Sports Maxx, which offer superb grip in most situations.
The car sits low and the body kit is aggressive with a deep front bumper and side skirts. The rear bumper with low profile spoiler also incorporates the integrated exhaust outlets, one of the TRD's best design features.
Naturally the car comes with all the right safety gear, both active and passive. ABS with EBD and Brake Assist, work with Traction Control and Vehicle Stability Control to keep it all in check.
"Would I prefer the TRD Aurion to have been All Wheel Drive or even Rear Wheel Drive, definitely. Should that stop you buying what will surely be an utterly reliable and exclusive high performance sedan. Not at all"
By: Anthony Crawford
2007 TRD Aurion 3500SL Review