Boasting perhaps the most extravagant exhibition at the Frankfurt Motor Show, Mercedes-Benz featured a line-up of no less than 19 newcomers - featuring eight BLUETEC models, seven hybrids from five model series, the same number of record holders for low CO2 emissions and the innovative F 700 research vehicle.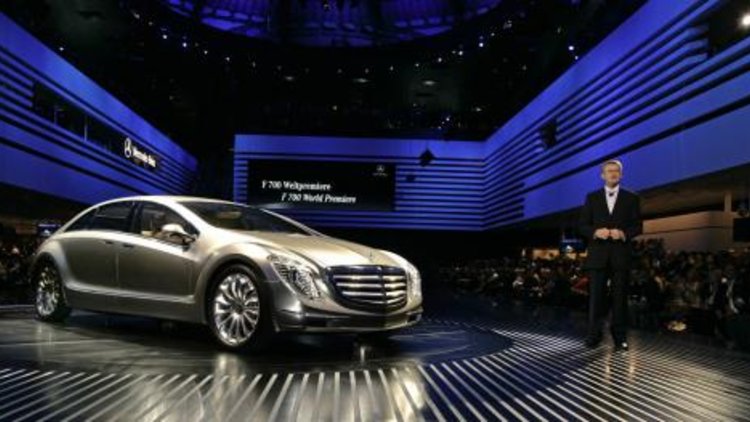 F 700
The breathtaking F 700 with its innovative DIESOTTO and hybrid drive consumes just 5.3 litres of petrol per 100 kilometres, corresponding to a CO2 emission level of just 127 grams per kilometre and on a par with that achieved by today's diesel-powered compact models.
The F 700 has the distinction of achieving the lowest petrol consumption ever recorded for a large saloon in the history of the motor car.
"Our new research vehicle proves that it is possible to combine safety, comfort and effortlessly superior performance with the very lowest fuel consumption and emission levels"
Dr. Thomas Weber, Member of the Board of Management of DaimlerChrysler AG.
Mercedes-Benz's astonishing and innovative premieres continue with the S 300 BLUETEC Hybrid. Featuring a world first combination of BLUETEC and hybrid technology to create the most efficient and environmentally compatible premium cars ever built.
At the heart of the S 300 BLUETEC Hybrid is a four-cylinder engine and hybrid module which develop a combined output of 165 kW and a maximum torque of 560 Nm, an astonishing figure normally associated with large V8 petrol engines yet still maintains fuel consumption of just 5.4 litres of diesel per 100 kilometres.
S 300 BLUETEC Hybrid
With such impressive credentials, the S 300 BLUETEC Hybrid has the potential to meet the world's most rigorous emissions standards - such as EU6 or BIN5 across all 50 US states.
Furthermore, Mercedes-Benz has announced that 2010 will see the start of series production of the B-Class F-Cell model featuring a new-generation fuel-cell drive.
Mercedes-Benz's Extravagant Exhibition at IAA