Only a few months after the debut of the stunning C-Class saloon, Mercedes-Benz has released what is possibly the best looking tourer ever seen - the Mercedes-Benz C-Class Estate.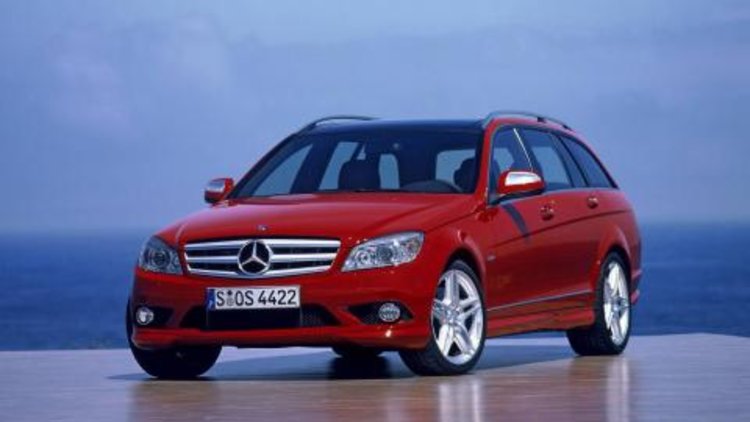 The safety, agility and comfort of the saloon is retained whilst combining these features with spaciousness and versatility.
Mercedes - being the posh people they are - actually measure just how practical the new Estate really is by determining how many drunken days of golf away from the wife you can pack into this car,
"It is able to accommodate, for example, four golf bags including trolleys, nine large packing cases or a total of 44 drinks crates"
Realistically though, the new C-Class Estate has a maximum load capacity of 1500 litres and a class-beating towing capacity of as much as 1800 kilograms (Australian towing specifications are yet to be announced).
There is a choice of three model lines - CLAS-SIC, ELEGANCE and AVANTGARDE - which highlight the vehicle's comfort or agility to differing degrees.
The engine selection begins with supercharged four-cylinder C 180 KOMPRESSOR and C 200 KOMPRESSOR petrol models where improvements have seen output boosted to 10 kW and 15 kW respectively while at the same time, the fuel consumption figures for the two models could be cut by as much as 10.3 per cent to 7.7 and 7.8 litres/100 kilometres.
Two diesel units are also on offer. There is the new C 220 CDI with an output of 125 kW (previously: 110 kW) and 400 Nm (previously: 340 Nm) from 2000 rpm with fuel consumption improved to just 6.1 l/100 km (previously: 6.9 l/100 km). Also available in the diesel range is the new C 200 CDI, where power has been upped by eleven per cent (100 kW instead of 90 kW before) and fuel consumption is 6.0 litres/100 kilometres (previously 6.8 l/100 km).
As for the six-cylinder engine range, there is a choice of three petrol units developing 150 kW, 170 kW and 200 kW, as well as the new C 320 CDI with an output of 165 kW.
With the exception of the C 350, all engine variants are coupled to a six-speed manual transmission. The C 350 is partnered by the 7G-TRONIC seven-speed automatic transmission.
Agility and ride comfort go hand-in-hand with the AGIL-ITY CONTROL package fitted as standard. Comprising of shock absorbers which automatically adapt to the current driving situation for a noticeable improvement in ride comfort when driving normally. However, as soon as a more dynamic driving style is adopted, the maximum damping forces are set to stabilise the estate effectively.
For the thrill-seekers, the AMG sports package adds sports suspension with shorter springs and firmer shock absorbers to the specification, along with 17-inch light-alloy wheels.
Being a Mercedes, safety is key. You will find no less than seven airbags, belt tensioners and belt force limiters as standard.
Head restraints in the front have a crash-responsive design, meaning that they move to cushion the heads of the driver and front passenger at an early stage in a rear-end collision to guard against the risk of whiplash. The integrated child seats, which fold out of the rear bench seat have undergone further development and are now also fitted with a wraparound head restraint.
Standard features such as the flashing brake lights, Brake Assist and Electronic Stability Program make vital contributions to accident prevention. The ESP system now incorporates additional functions: not only does it monitor the tyre pressure it also helps to enhance safety when towing a trailer with an automatic trailer stabilisation function.
The all-new C-Class estate will enjoy its public premiere at this month's International Motor Show in Frankfurt, Germany. Australian models, specifications and pricing will be announced closer to its time of release, scheduled to be in the second quarter of next year.
All authorised Mercedes-Benz passenger car dealers are currently accepting customer orders for this exciting new addition to the award-winning C-Class range.
New Mercedes-Benz C-Class Estate