This year, instead of loading up on lollies and waiting for trick-or-treaters to come knocking on our door, we decided a more appropriate way to celebrate Halloween would be to pay homage to some of the scariest cars we've ever seen on both the big and small screen.
Some were used in scary movies by mutant cannibals to chase victims, others driven by serial killers as they hunted their prey, and some cars (and trucks) are possessed and cast as the villain; an evil car that has come to life and embarked on a murderous rampage, stalking a sacrificial target along a lonely highway – so many creepy cars and terrifying trucks have inspired many-a-nightmare.
Some of the staff at CarAdvice have spent countless sleepless nights watching movies and TV shows that feature some pretty horrifying vehicles. Here are 13 of our favourites.
1. 1941 Chevrolet COE – Jeepers Creepers (2001)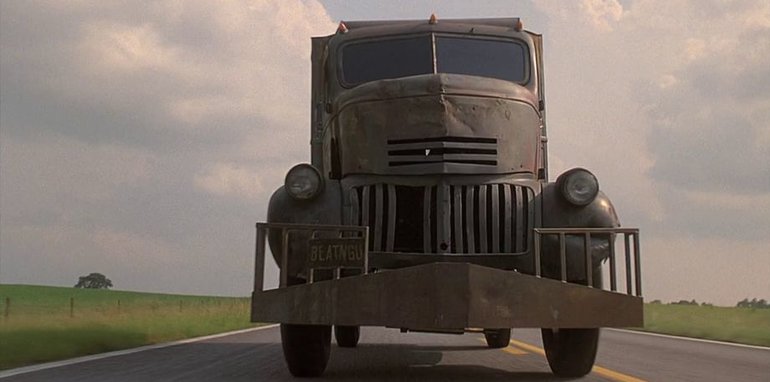 Everyone who has seen this will have the image of this freaky looking truck etched into their memory. Released in 2001, Jeepers Creepers is about a group of people who are hunted by a demonic creature who travels in this dramatic looking 1941 Chevrolet COE (Cab Over Engine).
One of our CA staffers, marketing and communications executive Kathryn Marshall, remembers Jeepers Creepers all too well. She watched it when she was around 14 years old and said she didn't sleep for at least a week after, she had nightmares about the eerie truck chasing her.
Still get goosebumps when you hear the 1938 song 'Jeepers Creepers' that featured in the film?
---
2. 1958 Plymouth Fury – Christine (1983)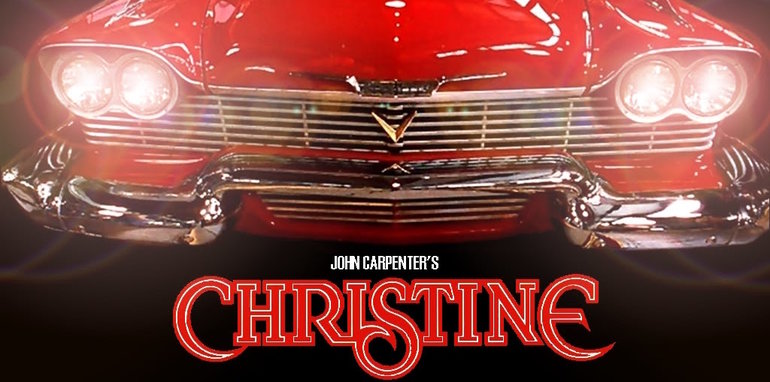 One of the classic car-based horror movies, Christine, is still just as scary today as it was when it was released back in 1983. Directed by John Carpenter and based on the novel by Stephen King, Christine is a car with a taste for violence and vengeance.
She's a beautiful 1958 Plymouth Fury that is also indestructible. Whenever she is damaged throughout the film, all the dents and scratches self-repair. This vindictive vintage beauty is a devil in disguise and this movie was mentioned by a number of staff because it is a classic.
Twenty cars were used during filming and most were destroyed – scenes were filmed then reversed to make it look like she was fixing the damage – only two still survive.
---
3. 1971 Lincoln Continental Mk III – The Car (1977)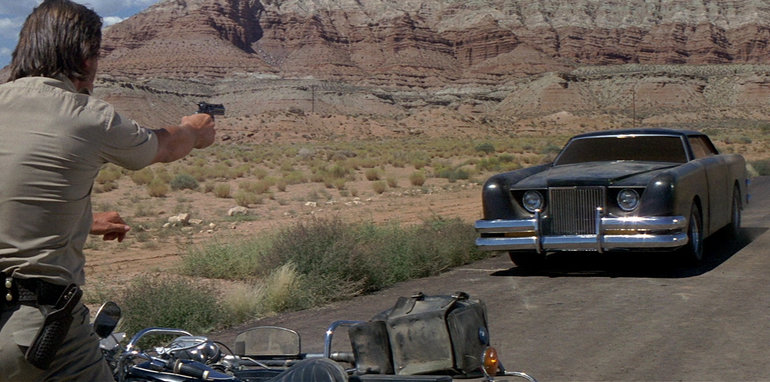 This is one of the scariest looking cars ever. Based on a 1971 Lincoln Continental, it was custom-designed by George Barris who was also responsible for the 1966 Batmobile and the Munster Koach.
Basically 'The Car' arrives in a small town and starts killing everybody. No one's driving it, it's just possessed and it is incredibly disturbing.
CA's James Ward pointed out that this was what Bender transformed into during 'The Honking' (Season 2, Ep 18 in 2000). Bender was infected by a Were-Car – a type of infection or curse that affects robots – and was turning into a Were-Car at night. An animated Christine also made an appearance in this episode.
---
4. 1978 Ford F-100 – Wolf Creek (2005)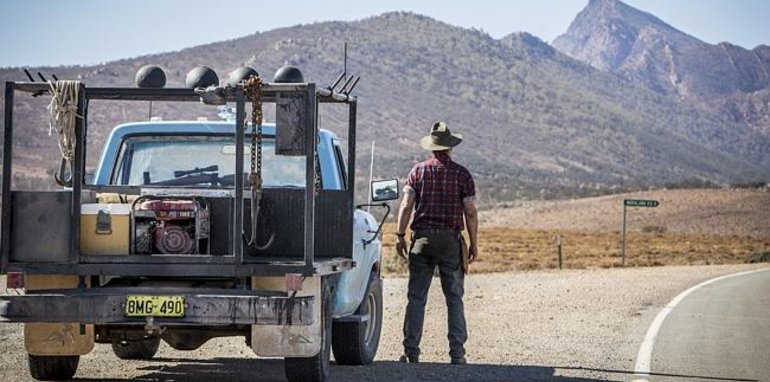 Wolf Creek was one of the most unsettling films ever. Released in 2005, it attracted both praise and criticism for its raw, violent and brutal murder scenes – the story was apparently 'inspired by true events'.
John Jarratt played bad-guy Mick Taylor, an ominous character who drove a light blue 1978 Ford F-100 and I'll never look at them the same again. This was the one that kept me up at night, even though the car itself wasn't evil, its association with this film is enough to send chills up my spine whenever I see an old Ford truck.
Set in the Australian outback, it's enough to not only scare off tourists, but to also make you think twice before planning a cross-country road trip.
---
5. The Homer – The Simpsons (1991)
In 1991 'The Homer' was unleashed on the world in an episode of The Simpsons entitled 'Oh Brother, Where Art Thou' (Season 2, Ep 15). Not exactly one of the Halloween Specials that The Simpsons is known for – so when Mike Stevens put this one forward, a few eyebrows were raised.
According to Mike, it was a tongue-in-cheek selection because it is a horror. It has two bubble domes, one in the back for unruly kids with optional restraints and muzzles, plus three horns so no matter where you slam your fist when you're mad, you'll hit one. The best bit though, is that Homer thinks the sound of the engine makes people think the world is ending.
As Mike said, "Homer we love you, but we're all so much better off without The Homer in the world." Ummm… unfortunately someone made a real-life copy of it in 2013.
---
6. 1970 Chevrolet Nova – Death Proof (2007)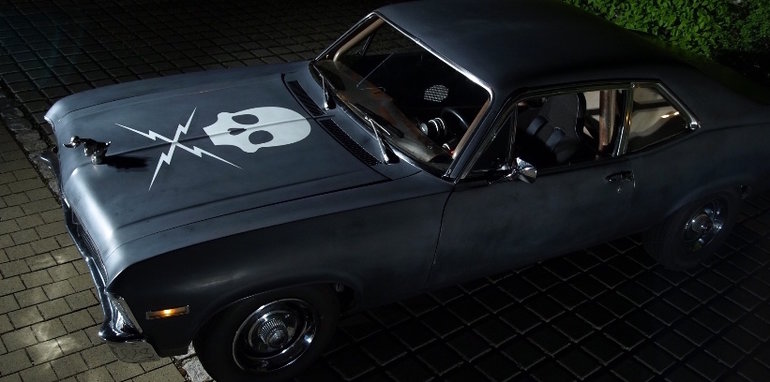 Quentin Tarantino can do no wrong. Death Proof was written and directed by Tarantino and stars Kurt Russell as a stuntman called Mike who murders women by crashing into them. The cars doesn't magically protect the driver from dying, but the stuntman believes he can't die in the cars – though he does suffer some injuries.
At any rate, the cars are awesome – a 1970 Chevrolet Nova and a 1969 Dodge Charger. The Chevy Nova pictured was one of two used in the film that actually survived, and was auctioned in 2014 complete with the skull and lightning bolt design on the bonnet and the costume worn by 'Mike'.
I'd be scared if I saw it out on the road.
---
7. 1985 Dodge M4s Turbo Interceptor – The Wraith (1986)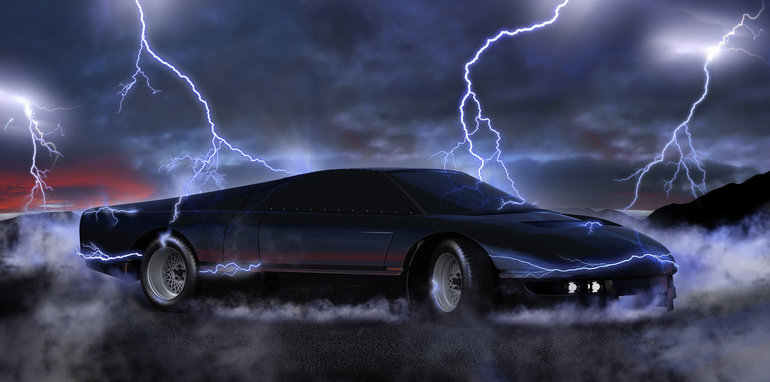 The Wraith was released in 1986 and stars a fresh-faced Charlie Sheen. In a nutshell, it's about a murdered teenager who comes back from the dead to take his revenge, as a drag racer behind the wheel of the Dodge M4S Turbo Interceptor which was a 1985 concept car produced by the American brand and designed by Bob Ackerman.
Ad operations manager Peter Kongmalavong picked this one because of the way it combines cars and science fiction. There are endless horrific car crashes throughout the film; anyone who races the Wraith dies. He said the car itself was 'awesomely futuristic and well ahead of its time'.
---
8. Custom Volkswagen Beetle – The Cars That Ate Paris (1974)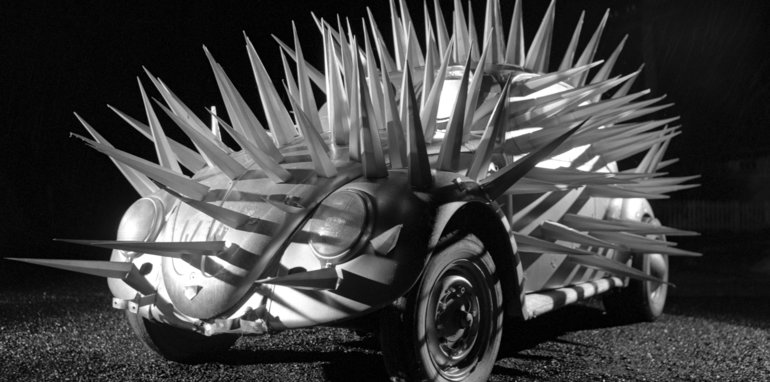 The Cars That Ate Paris was nominated by a number of CA staff but it's worth pointing out this is much more arthouse than popcorn. It's an incredibly bizarre Australian movie from 1974, that was based on a story written by its director, Peter Weir.
Paris is a country town in NSW that has an unusually high number of car accidents. People driving through tend to crash and anyone unlucky enough to survive is turned into a guinea pig for scientific research. The cars are torn apart and re-built into beastly contraptions that are used to terrorise the town.
It gets weirder and weirder, and finally at the end all of the strange cars make an appearance. Don't expect it to be great, but if you like left-of-centre give it a go.
---
9. 1965 Volkswagen Beetle – The Love Bug (1997)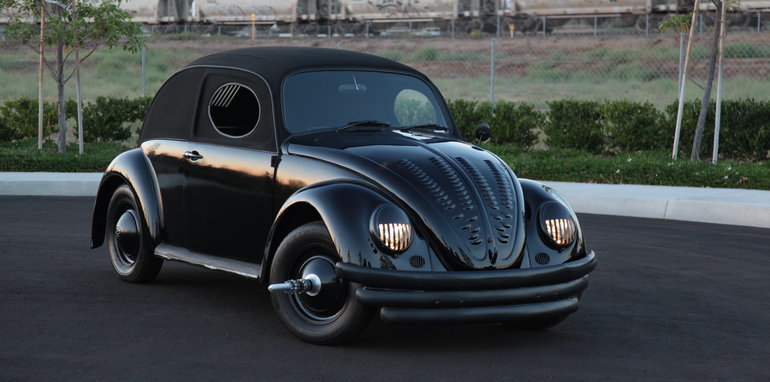 Thought Herbie The Love Bug was a children's story full of rainbows and sunshine? Think again. A TV movie called The Love Bug was released in 1997 and featured Herbie's nemesis and evil twin – Horace.
Mandy Turner is a massive VW fan and added this one to the list. No, you won't find it scary, but Horace is a menacing looking 1965 VW Beetle with spikes sticking out of the wheels and some tough looking body cladding. As you would expect, it culminates in a good versus evil road-race battle – Herbie vs Horace.
---
10. Custom cars – Death Race 2000 (1975)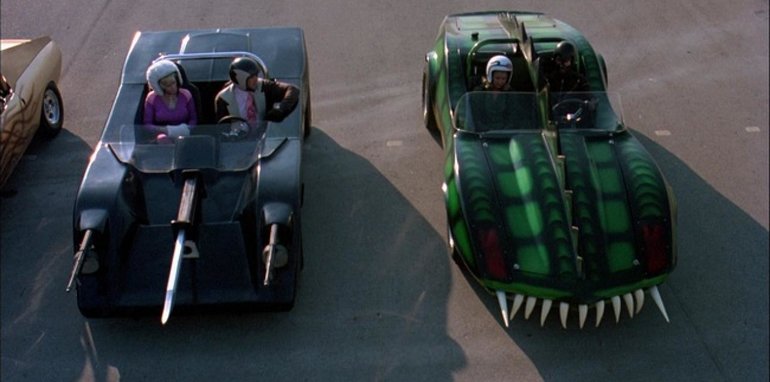 Set in the future but released in 1979, Death Race 2000 is a reality TV/game-show style movie – kind of like a mix of Monster Jam, wrestling and Survivor – essentially contestants with big personas, in crazily modified vehicles (with names like Frankenstein and Machine Gun Joe) compete in the Transcontinental Death Race, killing as many people as they can along the way.
Office administrator Marcus Sroba says this one sticks in his mind because all of the cars 'just look like total murder machines'. Fit for purpose then, hey Marcus?
Here's a couple of fun facts – a computer game called Carmageddon that was based on this movie was banned, and Death Race 2000 was remade in 2008. It was simply called Death Race and starred Jason Statham. The wicked cars are worth a look.
---
11. 1967 Chevrolet Impala – Supernatural (TV series)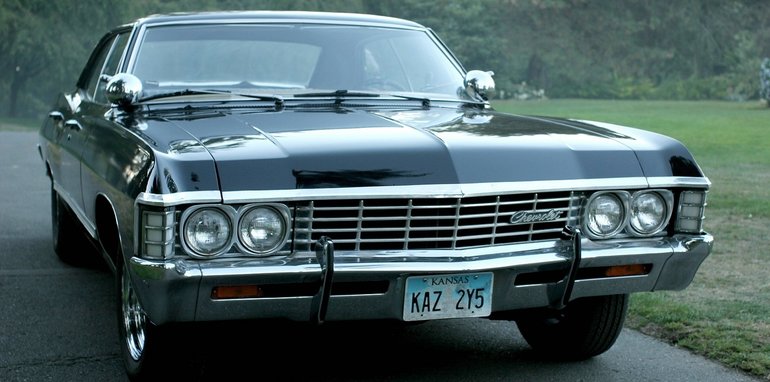 After first hitting TV screens in 2005, Supernatural has just been renewed for a 12th season. Right from the start, this freaky show featured a stunning 1967 Chevrolet Impala.
In the show, the Impala is owned by Dean Winchester and together they have travelled all over America with Dean's brother Sam, fighting demons, ghosts, spirits, angels – anything evil and supernatural.
This was my pick for the list, because although I love horror movies, this series has delivered more than it's share of jumpy moments over the years and this car sounds and looks gorgeous.
---
12. 1973 Oldsmobile Delta 88 – Evil Dead (1981)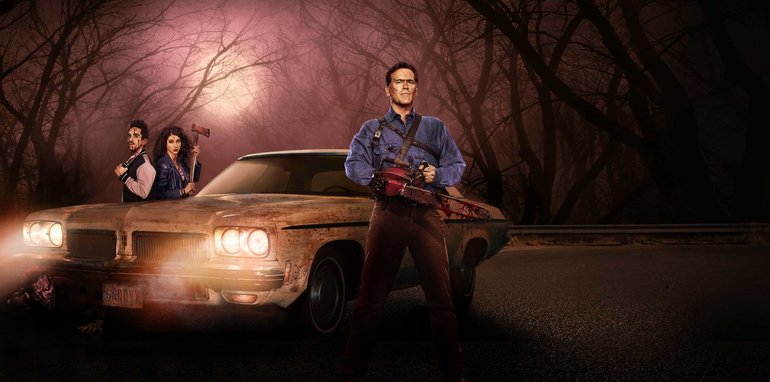 This 1973 Oldsmobile Delta 88 is owned by writer and director Sam Raimi and has appeared in all of his movies. It has starred in all of the Evil Dead movies, the first of which was written and directed by Raimi in 1981, the Ash vs Evil Dead TV series and it also made a cameo in Spiderman.
It's his personal car and rumour has it that actor Bruce Campbell who plays Ash, hates it and crashes them whenever he can. Raimi reportedly keeps a number of copies in case he needs them.
Remember the time this iconic car drove Ash and his friends to the cabin in the woods where they found the Necronomicon (book of the dead) then the evil awakes and kills everyone? So many memories over the years.
---
13. Big Red Car – The Wiggles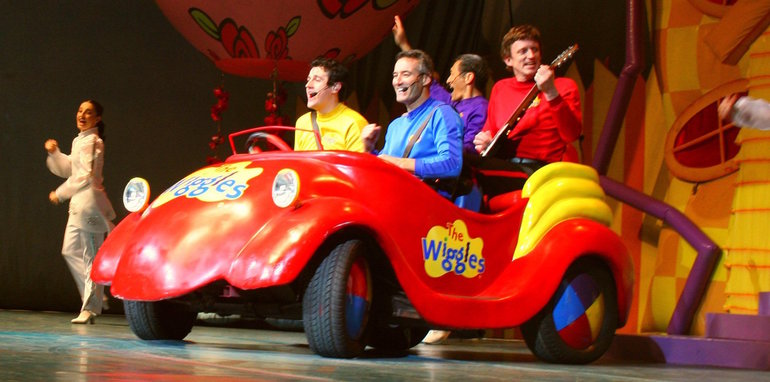 The stuff of nightmares. Our editorial production manager Rob Margeit summed it up perfectly.
"Anyone who has been a parent to young one over the last 20 years or so will recognise the horror surrounding the Wiggles' Big Red Car. From its impossible curves and those garish wheel covers to the seemingly benign 'toot toot' emanating from its happy horn, the Big Red Car is pure evil.
"And that evil is embodied by its four perma-grinning occupants dressed in matching coloured outfits while chanting a devilish dirge that worms its way into your brain where it will stay all day long, popping up and reminding you of its eminence in your head at the most inconvenient moments… 'So I'd like to present our five-year financial forecast to the board….'
"Meanwhile, 'toot toot, chugga chugga, Big Red Car, we're gonna ride all day lonnnnnnnnnng,' is happening in your head. Ah, shit not again.
---
Have you seen cars in movies or on TV that you think are scary? Which horror movie cars are your favourites? Let us know in the comment section below.
Happy Halloween!