Porsche Australia today announced a limited-edition all-black Cayman S named the Porsche Cayman S Edition 1. The enhanced Cayman S will arrive in Australia early next year.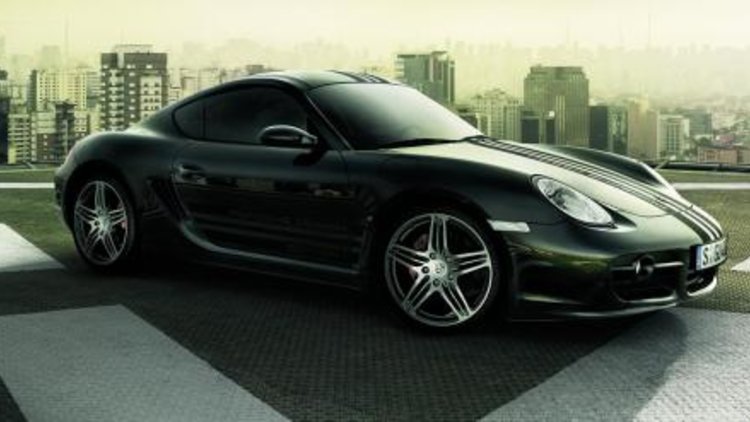 With only 777 to be produced worldwide, only a handful will make their way to Australia. Priced from $172,900 and powered by a 3.4-litre 217 kW horizontally opposed (boxer) six-cylinder engine, the Cayman S is credited to Porsche Design to celebrate the 35th anniversary of the original Chronograph 1s designed by Ferdinand Porsche.
Although there is no upgrade to the powerplant over the standard Cayman S, the Edition1 variant gets a whole range of interior and exterior enhancements. With black leather and Alcantara upholstery as well as matching instrument dials, the center console, dashboard, and door trims all glistened in black - the Edition1 Cayman is easily distinguishable.
For the extra $20,000+ over the standard Cayman you also get the threespoke sports steering wheel, the gear lever, the handbrake grip, and the roof lining all finished in black Alcantara. The Porsche logo is also embossed on the headrests.
Once you get over the interior beauty, changes to the exterior will guarantee all 777 owners a very noticeable ride. Lowered by a further 10 mm over the standard Cayman S, and riding on 19-inch wheels taken from the 911 Turbo (235/35 ZR19 front - 265/35 ZR19 rear and pushed 5mm further outwards), the Cayman S Edition1 also comes standard with Porsche Active Suspension Management (PASM).
To finish it off, if you are lucky enough to buy one of these, you also get a special equipment kit finished in the same black paint as the car. The kit includes a briefcase with a Flat Six Chronograph, pocket knife, sunglasses and a pen.
The car will appear at the Frankfurt Motor Show next month, and we will be there to report.
Porsche Cayman S Edition 1