Volkswagen has announced its all-new zero-emissions vehicle – the E-Up! concept – at the Frankfurt Motor Show.
Powered by an electric motor capable of delivering 60kW peak / 40kW nominal power and 209Nm of torque, the front-wheel drive E-Up! manages the 0-100km/h run in 11.3 seconds and on to a top speed of 135km/h.
With 240 kilograms of lithium-ion batteries on board the E-Up! still manages a low tare weight of just 1085kg all told.
The batteries have a capacity of 18 kWh which allows a theoretical range of over 130km. Through the use of proposed public charging stations 80 per cent of the vehicle's battery capacity can be made available within an hour. Using a domestic system would require a charging time of around five hours. The process is aided by a series of solar panels (totalling 1.4 square metres) mounted on the roof.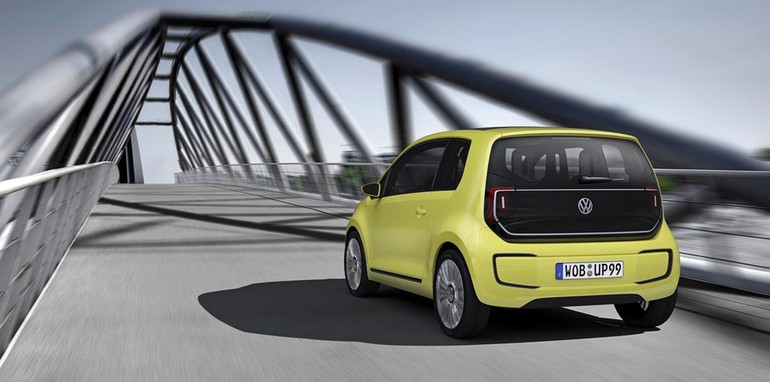 Housed under the floor of the E-Up!, the batteries are protected by a specially designed crash structure and are kept cool by a series of heat exchangers.  The entire system, including the electric motor, transmission and differential are all extremely compact to free up as much space inside the car as possible.
Drawing inspiration from the new design direction established by Walter de Silva (Head of Design, Volkswagen Group) on the Golf as well as the up! concept from the 2007 Frankfurt Show, the new E-Up! evolves the look with a distinctive 'face' and clean, minimalist lines complemented by intricate detailing around the front and rear lights.  The E-Up! measures just 3199 mm in length and sits on a 2190 mm wheelbase with minimal front and rear overhangs.
Despite the diminutive dimensions the E-Up! is spacious inside and is capable of carrying three adults plus a child.  The 3+1 seating arrangement means two adults can sit on the passenger side of the vehicle with the passenger seat mounted 50 mm further forward than the driver's seat to allow this to be possible.  On the driver's side a small space is available for occasional use by adults or children.  The total loadspace is 85-litres, rising to 320-litres when the seats are folded.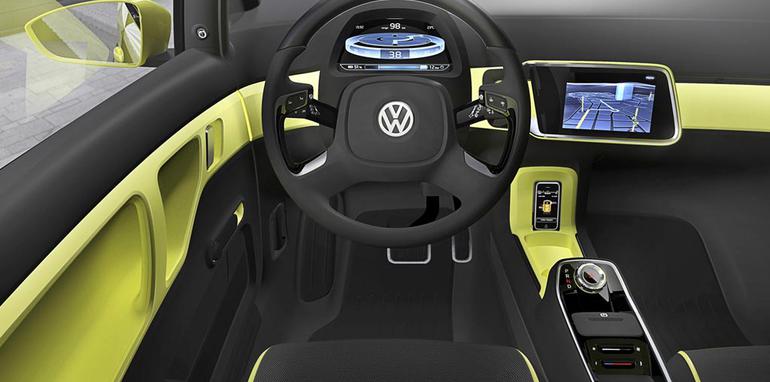 The innovative approach to the drivetrain and packaging is continued in the design of the interior.  To reduce demand on the vehicle's batteries simple mechanisms such as the mirror adjustment and windows are manually operated.  These simplistic methods extend to the touchscreen HMI (Human Machine Interface) system which relays critical information to the driver including the amount of charge remaining and offers advice on nearby recharging stations.
"Cars with pure petrol and diesel engines – which in the foreseeable future will continue to be unbeatable for mid- to long-range distances – will be supplemented by cars like the E-Up! in coming years," said Prof. Dr. Martin Winterkorn, Chairman of the Board of Management of the Volkswagen Group. "And that will happen starting in 2013. The concept now being presented in Frankfurt very realistically shows how we envision such a Volkswagen with pure electric drive technology, visually and in terms of size."
With Volkswagen Media