Stella is an interesting name for an electric car, but that's what Japanese manufacturer Subaru are calling its innovative plug-in electric car, which has gone on sale in Japan as of today. Subaru will begin deliveries from late July.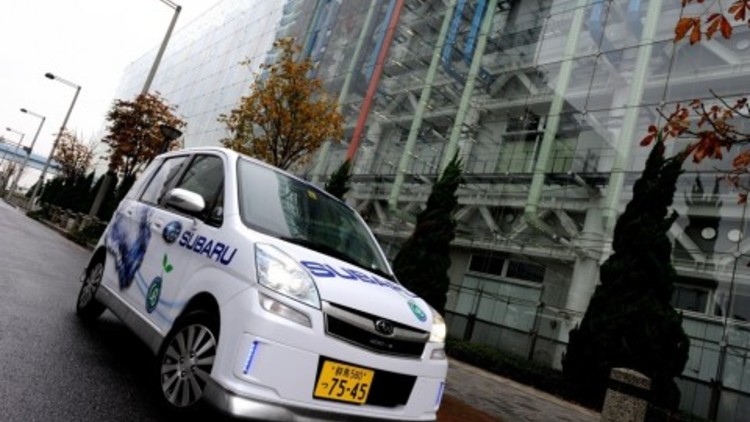 It will be interesting to see how well the Stella does in the Japanese market, which will no doubt determine whether or not we will see the car in Australia.
The all-wheel drive company (although the Stella's front-wheel drive only) expects to sell only 170 of the electric cars over the next Japanese fiscal year (finishing March 31, 2010).
The best thing about the Stella is its city-friendly nature. If you live in the City or about 10-30km away from work, the Stella would be perfect.
It manages around 90 kilometers on a single charge, which may not sound like a lot, but wait for the best bit.
It can be recharged up to 80 per cent capacity (72 kilometres) in just 15 minutes using its quick charge system.
In Australia it will be fully rechargable in five hours, so you can plug it in overnight.
While some cars claim to be environmentally friendly, given the Stella is all electric, it produces zero carbon-dioxide emissions.
There are some disadvantages though, it only has 47 kilowatts of power, which is adequate for city driving but may struggle on the highway.
For more information, read our Subaru Stella Road Test.
Subaru Stella Specifications:
| | |
| --- | --- |
| Dimensions (Length x Width x Height) | 3395mm ×1475 ×1660 |
| Curb weight | 1010 kg |
| Passenger seating | 4 |
| Max.speed | 100 km/h |
| Per-charge driving distance | 90 km |
| Electric motor | Permanent magnet synchronous system |
| Max. power output | 47 kW |
| Max. torque | 170 Nm |
| Drive-train | Front-wheel drive |
| Battery type | Lithium-ion batteries |
| Total voltage | 346V |
| Total energy | 9 kWh |
Subaru Stella Electric Car on sale in Japan