When we had the Golf R32 for a week, we came to the conclusion that whilst the car was absolutely brilliant, it could have done with just a tad more power. We did stress the "tad" bit a few times, however the crazy people at Volkswagen decided if you were going to create a fast Golf, you have to do it right. So they came out with this: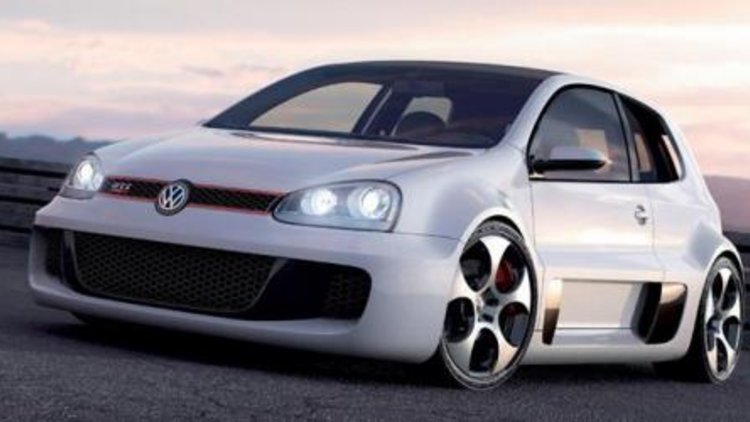 The VW Golf GTI W12-650, it doesn't matter if you modify your GTi - change the turbo, get it returned, this thing will out run a good portion of super cars. Yes the W12 stands for to V6 engines joined together - in fact its two VW 3.0-litre V6 engines joined together (with two turbos - just incase).
The engine has already seen use in the not so successful Volkswagen Phaeton. Of course in order to fit such a massive engine inside the chasis, something had to give, the back seats (who needs them anyway?).
Before you run to your nearest Volkswagen dealer, this car isn't going into mass production, infact, its not even going into any type of production, its a one-off build to show at the Woerthersee VW/Audi modified car gathering in Austria.
So just how fast does a W12 engine powerd small car go? 0-100km/hr in just 3.7 seconds with a top speed of 325km/hr. Not bad for a Golf! The car has 477kW (650hp) of power (6000rpm) and 750Nm of torque (4500rpm).
Lets put those figures into perspective. The lamborghini murcielago we had a few weeks ago produced 471 kW (633 bhp) of power at 8000 rpm and 660 Nm of torque at 6000 rpm. The Lambo did the 0-100 in 3.4 seconds. This Golf, is on par with the Murcielago!
Unlike the Golf R32, this beast is only rear-wheel-drive (unless you have the Murcielagos drive train, not many cars can take 650hp through all four-wheels) using a VW DSG gearbox.
Given the size limitation, Volkswagen haven't been able to change the wheel size too much (although it still looks mean as hell). The W12-650 rides on 19in alloys with widers tyres – 235mm up front and 295mm at the back.


The car looks the part with its the bodywork consisting of bespoke steel and carbonfibre. Actually the entire roof is carbonfibre (just like the new BMW M3).
"We strived to retain a classic GTi appearance, the biggest challenge was to provide the mid-mounted engine with sufficient air without upsetting the silhouette to any great degree." VW design boss, Klaus Bischoff said.
Gaping vents in the side hint to the cars enormous potential whilst the rear windows have a very noticeable inwards slope (since there will be no passengers in the rear seats).
This car goes to show what happens when money and resources are no limitation. The W12 Golf tops our current wish list!
Volkswagen Golf GT W12-650