The new Toyota Corolla sedan is finally available, but buyers must pay more for the four-door despite it being cheaper to import than the hatchback.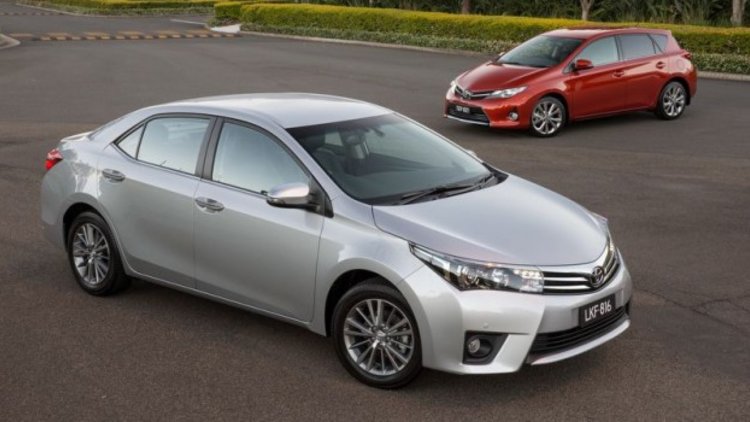 The Corolla sedan is built in Thailand, a nation that Australia shares a free-trade agreement with; the Corolla hatch, however, is sourced from Japan, which means it attracts a 5 per cent tariff.
Despite that, the new Corolla sedan is still priced over the top of the hatch, although it does get more equipment. The sedan starts at $20,740 – a drop of $250 over the car it replaces – while the hatchback range kicks off from $19,990. (Read full pricing details of the new Corolla sedan).
However, Toyota Australia executive director of sales and marketing Tony Cramb defended the Corolla sedan's pricing at the launch of the car in Tasmania.
"[The Thailand free-trade agreement] obviously enabled us to provide the extra specification that's in the sedan, like the rear camera and the rear parking sensors, the display audio – those sorts of things we could add that extra value that we talked about … and not necessarily have to charge for it," Cramb said.
But rather than settle for an identical $19,990 price tag, Cramb claimed the company has looked at what else is on offer and what customers in the market for this type of small car want.
"What we've done is, we've presented a product to the market we think perfectly matches the requirements of that customer group – and they are very different to [buyers of] the hatch," Cramb said.
"The sedan customer is looking for comfort and luxury, and is more family orientated. Whereas the hatch is more agile, more fun to drive – that kind of approach. So in terms of specification, we've matched the specification in the sedan as best we think we can for the buyer in that market."
Despite rivals such as the Hyundai Elantra, Kia Cerato, Nissan Pulsar and new Mazda 3 all offering very close levels of equipment for similar (if not slightly less expensive) prices, Cramb insists the Corolla offers better buying.
"We think we've priced this vehicle for the market, and we think at that price it's terrific value, and better value than what the customer can currently get," Cramb added.
Toyota Australia product planning manager Mark Dobson supported that view.
"You don't need to be the cheapest in the zone [of your competitors], but you have to be the best value," he said. "You give people what they want, and they value that.
"Customers have got to feel like they can tell their neighbours, tell their friends at a barbeque what car they bought and what price they paid," he said.
Stay tuned for our full review of the new generation Toyota Corolla sedan..
Toyota Corolla pricing defended : sedan costs more than hatch despite free-trade benefit