The current generation Suzuki Swift has been facelifted, and the jacked up, all-wheel-drive version is now available in right hand drive for the UK market.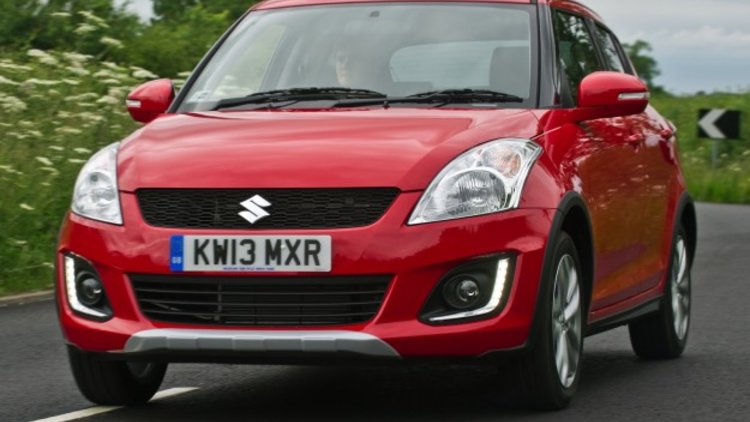 The Swift '4x4' gets 25mm extra ground clearance, and non-switchable, permanent all-wheel-drive which uses a viscous coupling to transfer additional torque to the rear wheels when needed. The Swift 4x4 weighs 65kg more than the equivalent front-wheel-drive grade.
Unlike the SX4, the Swift 4x4 does not feature a switch with 2WD, Auto or 4x4 Lock modes.
It gets 4x4 badging on the bootlid, a silver rear diffuser, and black cladding over the wheelarches.
As part of the 2014 Swift facelift leaked on Suzuki's Belgian website last week, the revised model range gets a wider rear number plate aperture and front LED daytime running lights.
The introduction of the Suzuki Swift 4x4 in the UK market follows due to the "sales success" of the model in Japan, Germany and Switzerland, according to Suzuki.
Despite referencing the company's "strong global heritage for its 4WD models" and the Swift 4x4 finally being available in right-hand-drive format, it won't be introduced here.
That is partly due to our Swifts being produced in Thailand, not Japan, but mostly because the single engine and transmission option in the Swift 4x4 is a 1.2-litre four cylinder with six-speed manual transmission.
Australian-bound Suzuki Swift models get a 1.4-litre engine, and are available with an automatic transmission option, which is near-mandatory for small cars in this country, yet is unavailable in the Swift 4x4.
The facelifted Suzuki Swift range will arrive locally mid next year.
Suzuki Swift facelifted with all-wheel-drive, but not for Oz