Here is a Lotus that you will never drive on the road, the Lotus 2-Eleven. Named after the old Lotus Eleven, (a sports racing car produced from 1956 to 1959), the Lotus 2-Eleven is powered by a 1.8L Supercharged Toyota engine. The Lotus 2-Eleven is a car built on the philosophy of light weight and high performance.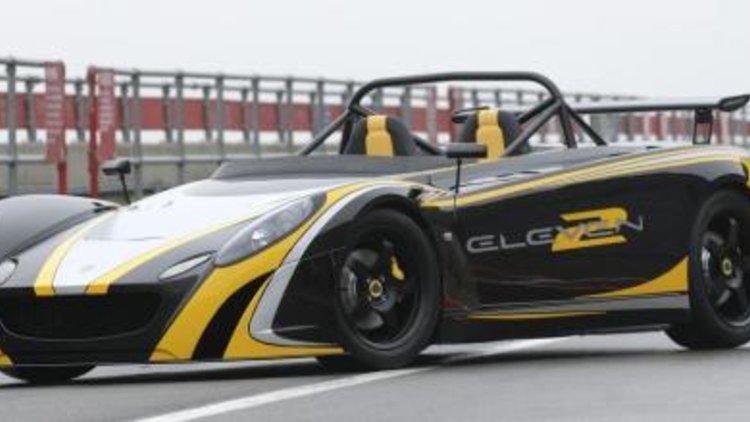 The Lotus 2-Eleven weighs just 670 kg (dry weight and 745 kg kerb weight). The 1.8L engine puts out with 188 kW at 8000 rpm and a torque figure of approximately 242 Nm at 7000 rpm.
Lotus compares the Lotus 2-Eleven as having the same power to weight ration as a 1960s Formula One car.
"The Lotus 2-Eleven takes our core brand values to the extreme. It is the ultimate track day vehicle - not only phenomenally quick, but also very user-friendly. In short, the 2-Eleven delivers everything that the modern track day warrior and clubman racer demands, and more." Said Mike Kimberley, Chief Executive Officer for Group Lotus plc
The 2-Eleven will be available with a lightweight aluminium C64 six-speed gearbox (with an aluminium casing) - with the same gear ratios as the Lotus Exige S. An open type differential is fitted as standard.
Furthermore the 2-Eleven comes with switchable Traction Control System (LTCS). The system automatically kicks in at speeds above 8 km/h when engaged.
The Lotus 2-Eleven is set to commence production in April 2007 at Hethel, Norfolk, UK. Lotus says the 2-Eleven build will be completed in dedicated Lotus Sport workshops and each vehicle will be given a Lotus Sport build plate.
You can be assured this is a real race car when you look at the brake and suspension set up. The brake system includes 288 mm cast iron cross drilled and ventilated discs, as well upgraded Pagid RS14 sports brake pads, which are aluminium alloy AP Racing 2-piston at the front and Brembo single sliding piston at the rear.
The 2-Eleven ride son fully independent suspension utilising unequal length wishbones, Öhlins 2-way adjustable dampers with coil over springs and Lotus Sport adjustable front anti-roll bar.
Given the seriousness of this car, the package also includes a rear double shear track control arm brace to cope with the expected kerb abuse during heavy track day driving.
So the ultimate question, just how fast will a 188kW, 670kg car accelerate?
0-60 mph - 3.8 secs (estimated)
0-100 km/h - 3.9 secs (estimated)
0-160 km/h - 9.1 secs (estimated)
Max Speed - 155 mph (250 km/h)
Max Power - 188 kW (252 hp / 255 PS) at 8000 rpm
Max Torque - 242 Nm (179 lb/ft) at 7000 rp
The Lotus 2-Eleven will be made in two versions, however the road legal version will not be coming to Australia, instead we get the Track-Only Version. The 2-Eleven is set to go on sale for $127,500 AUD (including GST & LCT) plus statutory government charges.
Lotus 2-Eleven - Ultimate Track Car