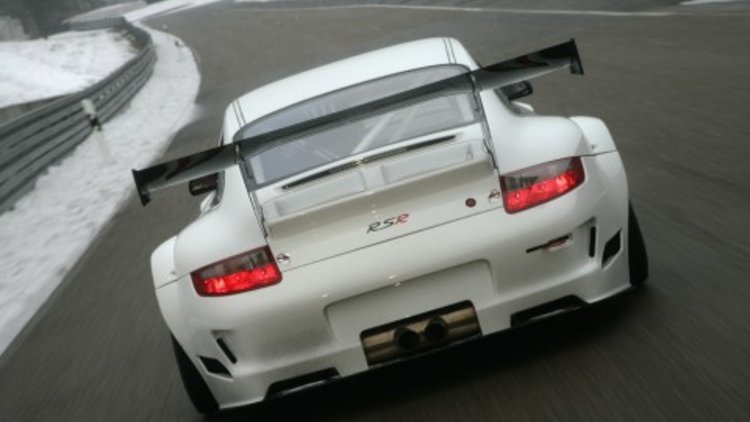 "With outputs of 331kW and 430Nm, you don't want a new 911 GT3 RSR behind you on any race circuit, especially when the guy behind the wheel is winding it up to 9000rpm, which is when the rev limiter kicks in"
If you find it difficult to keep up with what's what in Porsche's 911 road going range, then you may well have the same difficulty with their race cars.
For example, there is the 911 GT3, 911 GT3 Cup and the 911 GT3 Cup S but for the moment, we are interested in the most powerful Porsche race-car based on the 911, the awesome 911 GT3RSR.
As confusing as it may seem, this 911 variant actually races in the GT2 class in the American Le Mans Series, as well as international endurance races like the Nurburgring 24 Hours.
The 2009 model car has had an engine upgrade from 3.8 to 4.0-litres and can rev out to 9000rpm, before the limiter kicks in. The new car is also said to have better driveability than its predecessor, due largely to an optimised torque curve.
Most noticeable are the breathing vents or "louvres" in the nose panel or where the luggage is stored in a 911-road car. These are necessary due to the redesign of the air ducting for the radiators and the installation of the air-conditioning unit, which is optional.
The new GT3RSR handles better than the previous model too; with the huge rear wing able to adjust through a wider range and the aerodynamics under the rear of the car have been further optimised.
There's also a 'weight-optimised' braking system and a lighter wiring harness, which also improves the car's cornering ability.
Inside the cockpit, you'll find a new multi-function display mounted on top of the dashboard, which flashes at the optimum time to shift gears.
During long distance racing, it is imperative that cars entering the pits are easily recognised by the pit crew, usually by the driver flashing his headlights. That won't be necessary on the GT3RSR, which as a feature of the new programmable multi-function, on-board supply control system, the blinking frequency of the headlights is infinitely adjustable for immediate recognition of the car, by the crew.
Also vital in race conditions, is easy access to underneath the car, and it doesn't get any quicker than the GT3RSR with it's new air-jack system with over pressure valve.
The GT3RSR is built in Weissach, Germany and to date, is a rare commodity, with only 20 cars delivered to customer teams around the world.
You'll also need some serious sponsorship in place, with each car costing 380,000 Euro, and that's before the various import taxes cut in, depending on which country you live.
Technical Description Porsche GT3RSR (2009)
Engine: Water-cooled, six-cylinder boxer engine; four valves per cylinder; dry sump lubrication; individual throttle butterflies; fuel injection; air restrictors 2 x 29.5 mm.
Bore: 102.7mm
Stroke: 80.4mm
Capacity: 3996cc
Power output: 331kW (450bhp) at 7800 rpm
Max. Torque: 430Nm at 7250rpm
Max. revs: 9400rpm
Transmission: Six-speed gearbox with sequential jaw-type shift; oil/water heat exchanger; single-mass flywheel; hydraulic disengagement lever; three-plate carbon-fibre clutch; rear-wheel-drive; limited-slip differential 45/65%
Body: Monocoque body (basis GT3RS) of hot-galvanised steel; aerodynamically optimised front end with front spoiler; aerodynamically optimised front underfloor; adjustable rear wing; 90-litre safety fuel tank with fast filling function; air jack; welded-in safety cage; bucket-type racing seat (on driver's side only) with flame-resistant seat cover; six-point seat belt adapted for use of the HANS Head and Neck Support; electric fire-extinguishing system.
Suspension: Front: McPherson spring strut axle; Sachs four-way gas pressure dampers; double coil springs (main and ancillary spring); front axle arms adjustable for camber; adjustable sword-type anti-roll bar on both sides; power steering. Rear: Multi-arm axle with rigidly mounted axle sub-frame; Sachs four-way gas pressure dampers; double coil springs (main and auxiliary spring); rear axle tie-bar reinforced and infinitely adjustable; adjustable sword-type anti-roll bar on both sides. Complete suspension infinitely adjustable (height, camber, track).
Brakes: Brake system with balance bar control. Front: Single-piece six-piston aluminium fixed callipers; inner-vented, 380mm in diameter; racing brake pads. Rear: Single-piece four-piston aluminium fixed callipers; inner-vented, 355mm in diameter; racing brake pads.
Wheels: Front: Three-piece BBS light-alloy wheels (11J x 18-34); central bolt; Rear: Three-piece BBS light-alloy wheels (13J x 18-12.5); central bolt.
Electrical System: Motec display with integrated data recording; multi-function display with integrated gearshift indicator; adjustable traction control; battery: 12 volt, 50Ah, 140Ah alternator.
Weight: Approx. 1220 kg complying with ACO regulations,1245 kg complying with FIA regulations.