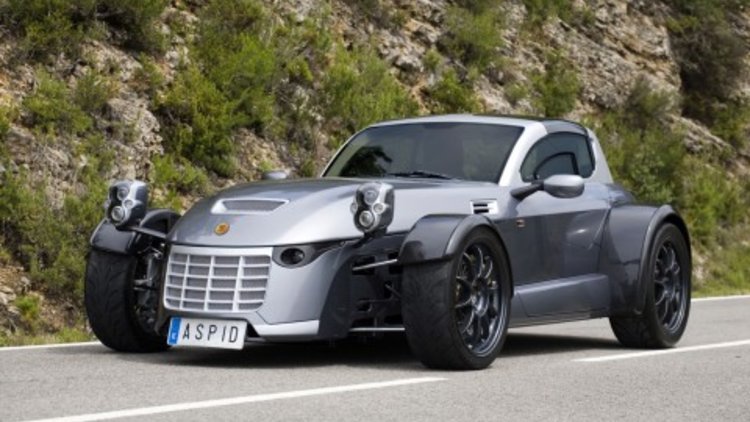 "Scary quick in a straight line sprint and WRC car quick in the S-bends, the IFR Aspid is quite possibly the most advanced supercar on the planet, but you probably haven't heard of it - yet"
You're looking at the photo above for the first time, and thinking along the same lines as I did. It's an odd little thing that looks as if it might handle quite well, but probably isn't that quick and rides like a billycart.
It's always wrong to judge a book by its cover.
You are looking at the world's most advanced supercar, which can utterly obliterate all but the world's fastest car, any time, any where!
Two-point-eight seconds, is all the time the Aspid needs to hit 100km/h from a standing start, and if that hasn't got your undivided attention, 0-160km/h in 5.9 seconds, should have you thoroughly mesmerised.
That's just three-tenths of a second slower than the Bugatti Veyron in a straight-line sprint to 100km/h, but this car uses less than 4.9-litres per 100 kilometres on a laid back, Sunday drive.
However, come across anything that resembles a bend in the road, and the Veyron becomes a victim.
The Aspid is so astonishingly fast through the twisty sections, that it beat a stage time set by five-time World Rally Championship (WRC) champion Sebastian Loeb, in a WRC rally car, in the Catalonia mountains of Spain.
IFR, is a Spanish Company founded in 2003, by former race engineer Ignacio Fernandez Rodriguez - hence IFR - formerly with Prodrive, prior to joining Mitsubishi's WRC Team.
As a pure research and development company, IFR quickly recognised the need to build a prototype vehicle to best demonstrate its design and technology.
The Aspid is a product of five years work by some of the brightest engineering stars in Europe and includes four patents, which have already attracting serious interest from several high end sports car manufacturers.
The power train is courtesy of Honda's S2000 sports car, which has been super-tuned, supercharged, and dry-sumped by IFR, to deliver a whopping 300kW.
The S2000's superb six-speed manual gearbox remains although, I would be surprised if a sequential paddle-shift option, weren't on the cards.
However, that's not the half of it, if you're expecting a stripped out, high tech go-kart of a thing, you'd be wrong again.
The Aspid is a new species of sports car, its one half Formula One race car and one half luxury supercar, but with a twist.
Take the steering wheel; it's a detachable, F1-style, carbon-fibre unit, with a built-in touch screen, which along with another even larger screen in the centre console allows the driver to remap practically every system in the car.
These include functions such as, the sensitivity of the power steering, rev limit, valve timing, power output, ABS, noise valve, brake balance, traction control, stability control, pitch, roll, yaw, ride height, damping settings and anything else I've missed, all at a touch of the screen.
The world's best selling computer games don't offer these levels of interactivity.
The Aspid's suspension is a study in engineering perfection, and might well be mistaken for fine art by some, except for the fact it will allow the car to pull 1.6g in a corner.
It consists of a bespoke, ultra-lightweight aluminium extrusion, specially developed for the double wishbone system (complete with inboard dampers) that provides F1 levels of stiffness and rigidity, in all directions, under any loads.
The aluminium-extruded chassis is another futuristic and patented design by the Spanish-based constructor, IFR.
Using a new type of composite panelling, applied to a tubular space-frame, torsional stiffness is said to be 10 times that of a conventional space frame, and weighs a remarkable 75 kilograms.
All the more extraordinary, when you consider the whole car weighs in at just over 700 kilograms.
Then there are the brakes, which require a special mention. The Aspid will pull up from 160km/h to a dead stop in a mind-blowing 3.1 seconds and no, they're not even carbon ceramic.
IFR calls it a Twin Brake Disc system (yet another patent), comprising two ultra-lightweight stainless steel discs with turbine shaped slots it is designed with maximum cooling and braking efficiency in mind.
What's more, it weighs up to 70 per cent less than conventional brake systems.
Inside, is where the Aspid offers even more surprises. There's high quality leather trim around the cabin, and climate-controlled air-conditioning compliments GPS navigation, wi-fi technology, ethernet interface and Bluetooth connectivity.
For those frequent track days, the system allows for data logging, which can be configured for onboard diagnostics.
This means that you can download telemetry from a professional race driver from a previous lap, and the system will flash the precise braking points on the steering wheel for you.
Its safe too, even on the race track. The Aspid meets all FIA safety requirements as well as homologation standards; so you can drive the car to the track, go racing and then drive home while listening to your iPod.
The IFR Aspid is unquestionably a car that fits our Full Throttle video category, and we look forward to bringing you a seriously hard core film on this machine, from behind the wheel, in Spain.