- Anthony Crawford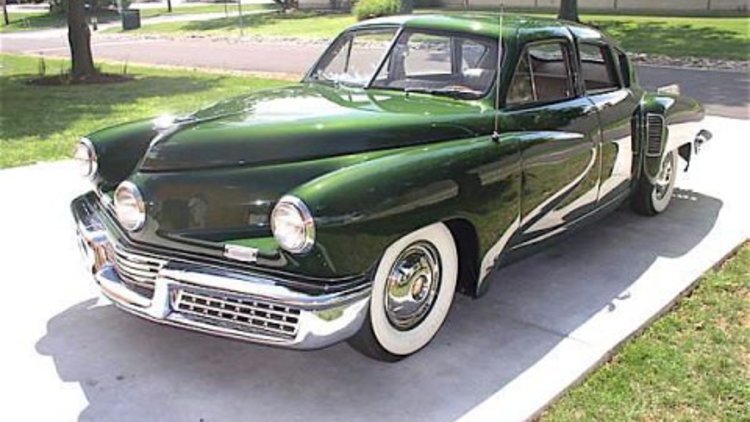 If you're reading something on CarAdvice.com.au, please tell me you have seen or at least heard of, the 1988 Francis Ford Coppola movie, entitled Tucker: The Man and His Dream.
If you're a fan of the underdog battling big business, then you are going to love this film. It's about Preston Tucker and his quest to build the 'Car of Tomorrow' back in the roaring '40s.
He succeeded in building just 51 Tucker 48s as they were called, and amazingly, 47 of these cars survive today, most of them in pristine condition.
The car was revolutionary in every way, with a Franklin air-cooled, flat-six, helicopter engine, which was converted to water-cooled and produced 124kW (166bhp) and at US$2450, must have scared the pants off the likes General Motors and Ford at the time.
It was a reliable powertrain, which was run at full throttle for 150 hours during testing, or the equivalent of 18,000 miles. Naturally, Tucker bought the Franklin Company thereby securing engine supply for future production.
Here was entirely modern design, light years ahead of anything Detroit was building, which could accelerate from 0-96km/h (60mph) in 10 seconds and had a top speed of 193km/h (120mph) while carrying up to six passengers.
Even with the fastback styling and low roof line (for those times) there was a heap of room in the car.
Another innovation was the directional third headlight, set in between the two headlights, which lit up whenever the steering wheel turned 10-degrees.
Tucker's chief designer Alex Tremulis, who had styled for both Cord and Duesenberg, hired Philip Egan, who died recently, to come on board while he was a consultant at a New York design firm working with Preston Tucker on his dream car.
Mr Egan designed the innovative driver control area, as well as other details on the car, and was later asked by Mr Tremulis to stay on at Tucker, after the design work was completed on the car.
Clearly concerned about its own welfare, Detroit launched a vicious publicity campaign against The Tucker Corporation, that led to charges against the executives, which despite being dropped, were said to have influenced the company's untimely demise.
Mr Egan then went on to design for the likes of retail giant, Sears Roebuck and even Lucasfilm, where he worked on sound and editing equipment.
He also wrote several books including; Design and Destiny, the Making of the Tucker Automobile and was a consultant during the making of the Tucker movie.
He is sure to be missed.
Tucker Designer, Philip S. Egan, Dies at 88