The world land speed record is being challenged yet again; however this is merely a consolation prize with engineers aiming to crack the 1000mph barrier on the ground.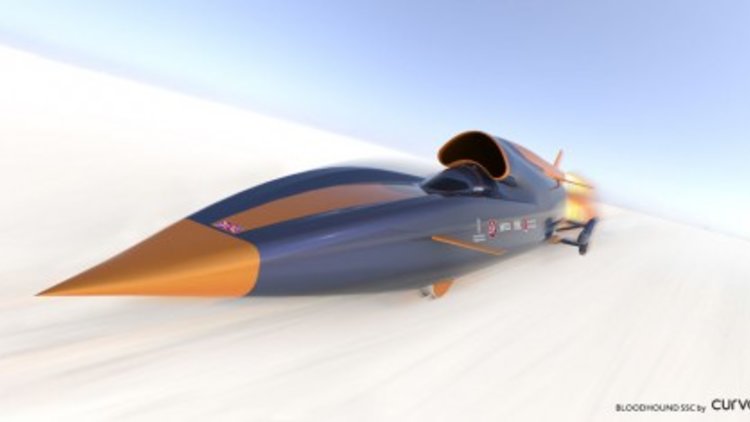 Twelve years since punching through the sound barrier and setting the current record of 763.053mph, current record-holder Andy Green and his predecessor Richard Noble are preparing to write the latest chapter in the history of World Land Speed Record attempts.
If successful, the record attempt will not only be the largest incremental increase in the history of the land speed record, but will also earn the fastest low altitude speed record - an honour currently held by a jet aircraft.
The Bloodhound Project, which is being partly funded by the British Government, has been established to re-ignite interest in science, technology, engineering and mathematics in schools, and raise the numbers entering technology careers.
"I've met graduate engineers who are adamant that our previous record was what inspired their career choice as youngsters: that sort of thing makes all the effort worthwhile." Andy Green OBE.
At 12.8 metres long and weighing in at 6,422kg, the Bloodhound SSC is expected to accelerate from 0 to 1,050mph in just 40 seconds - powered by a unique combination of jet, rocket and piston-engined power.
At maximum velocity it has been calculated that the pressure of air bearing down on its carbon fibre bodywork will exceed twelve tonnes per square metre and its 900mm diameter wheels will spin at over 10,000rpm, generating 50,000 radial G at the rim.
As the record is broken, pilot Andy Green will literally be travelling faster than a speeding bullet - covering a distance equivalent to over four football pitches, or 500m, in the blink of an eye.
The project, based in Filton, Bristol, will start with an 800mph bid in 2009, then the car will be continuously developed, with a 900mph run in 2010 and the ultimate goal of 1,000mph will be aimed for in 2011.
"We're going to invite everyone to follow our adventure in this, the most exciting and extreme form of motorsport – the World Land Speed Record. Both as a Mathematician, and as a Royal Air Force fighter pilot, I can't think of anything better."
True to its intentions of inspiring a new generation to consider a career in science, the entire development will be undertaken in the full public gaze at the team headquarters in Filton, where visitors will have access to see the car take shape.
World's fastest car Bloodhound SSC