BMW has joined the hybrid party with the introduction of a 7 Series hybrid concept car which will be shown at next month's Paris motor show.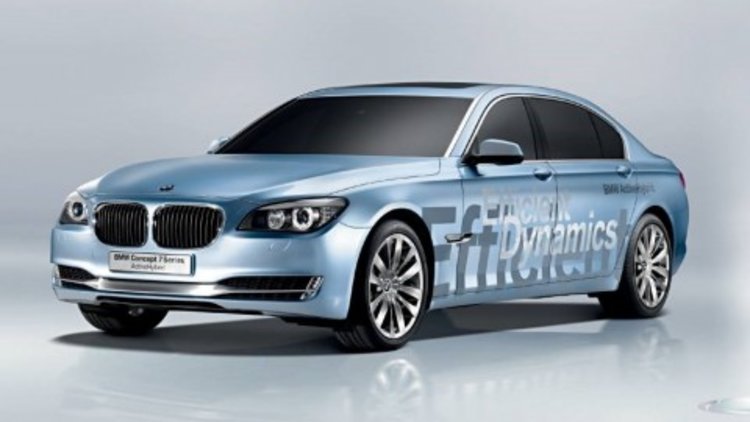 Although we have previously seen the 7 series in hydrogen form, this concept is a little more traditional-hybrid in its underpinnings and may simply be the German company's way of saying, we can do it too.
The BMW Concept 7 Series ActiveHybrid is based on a BMW 750i, which is powered by a mighty 300 kW (600 Nm of torque) V8 petrol engine with twin turbochargers and high precision jnjection.
The petrol engine is kept intact, with an electric engine added only as an aid, making this B-em-veh what the industry calls a mild hybrid.
Generating its power from brake energy regeneration, the main purpose of the electric motor is to supply electric power to the power-consuming items on board. Allowing the petrol engine to run more smoothly
Fuel and emissions ratings have both improved by a respectable 15 per cent compared with the stock 750i. Meanwhile the electric engine has added an additional 15kW of power and peak torque of 210 Nm (this does not necessarily mean the concept has 810 Nm of torque).
The concept sounds rather familiar as its core design philosophy is similar to that of the Toyota Prius. However it does differ, in the most important way, batteries!
The Big T has had well documented problems integrating Lithium-Ion batteries in the new Prius, meanwhile BMW has equipped this concept with a high-performance lithium-ion battery integrated in the luggage compartment.
Of course, it is just a concept and whether or not the Germans have a lead over the Japanese in terms of Lithium Ion battery development still remains to be seen.
From the outside the concept is differentiated by an aluminium band stretching across the entire width of the front end beneath the number plate as well as its 20-inch light-alloy rims in V-spoke design.
BMW 7 Series ActiveHybrid concept