The convertible version of Audi's R8 supercar has been spotted testing in Germany without a hint of camouflage material. These latest images of the test car reveal that the new convertible will gain a conventional fabric roof but misses out on the R8's trademark aluminium side blades.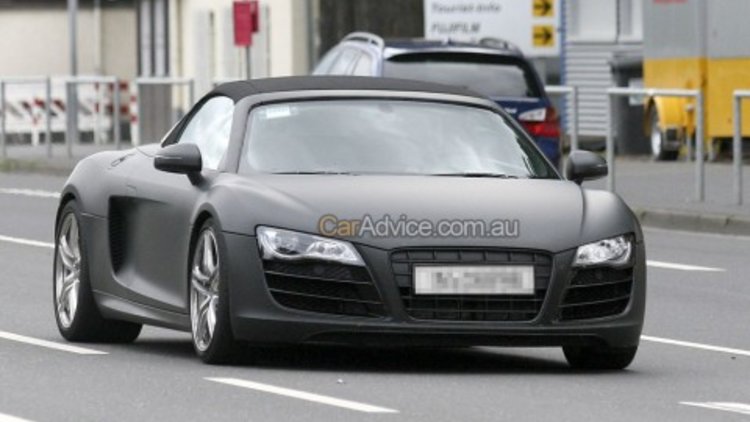 Other major changes for the new Spider that are expected to make it to production will be additional air intakes located behind the seats as well as a pair of safety roll-over bars.
The placement of the fuel filler cap will also be changed due to the missing rear pillars, while changes under the sheetmetal will likely include extra chassis strengthening.
While the base model will likely stick with the hard-top's 420hp (313kW) 4.2L V8 engine, there's talk that Audi may shoehorn the 5.2L V10 from the S6 and S8 sports-saloons into a mid-level model and reserve the 5.0L twin-turbo V10 from the RS6 for a high-performance RS-variant.
The differences between it and the standard V8 model will extend beyond just horsepower outputs. The chassis has reportedly been modified to accommodate the extra power, gaining upgraded suspension, steering and braking systems.
This particular test car is thought to be the top end RS version of the new R8.
Tell-tale signs are the exhaust pipe and diffusers, which are the same as those fitted to Audi's other V10 models, as well as the new grille design. Onlookers even claim the test car had the sound of a V10 and not a V8.