Imagine the shock on our photographers face when he pulled into a petrol station to see a priceless supercar prototype parked there with only a few small pieces of camouflage.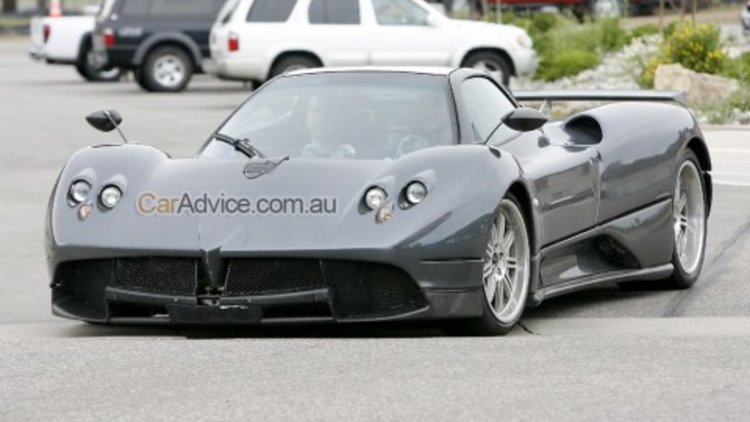 While the badges were covered in black tape, there was no doubt we were looking at the 2010 Pagani Zonda F. Up front, this next-generation Zonda F will get an all-new front clip. At the back, the rear quarter panels have been re-sculpted to allow for significantly increased airflow.
The rear diffuser has also been redesigned and there is a totally new air scoop that sticks up from the middle of the engine cover.
Inside, we can see the "Zonda F" nameplate above several toggle switches. Other than a new shifter, we don't see any major interior changes. This Pagani has absolutely enormous 335/30/ZR20 Pirelli Pzero Rosso tyres at the back and 255/35/ZR19 tyres at the front. Inside the wheels are equally enormous carbon ceramic brake rotors.
What power plant this supercar might be packing is a bit of a mystery. Pagani certainly wants to keep the motor a secret as the clear engine compartment panels were covered with black tape. Judging from the new, larger air intakes on this prototype, whichever motor resides under the cover obviously needs more airflow than the Mercedes AMG 7.3L V8 found in the current Zonda F.
There are rumors of the 5.4-Litre supercharged V8 from the McLaren SLR 722 or perhaps the bi-turbo V12 from the recently debuted Mercedes SL65 AMG Black series providing motivation for the Zonda F.
Whatever the motor, it should be good for 600-700hp. The Zonda F should start production sometime in the first half of 2009. If you want one, count on an MSRP of at least $1,500,000 AUD.
Read our Pagani Reviews:
2010 Pagani Zonda F spy photos