Renault Australia has announced two new models to complete its range of hot hatches, the new Clio Sport 197 and the Megane Renault Sport dCi 175.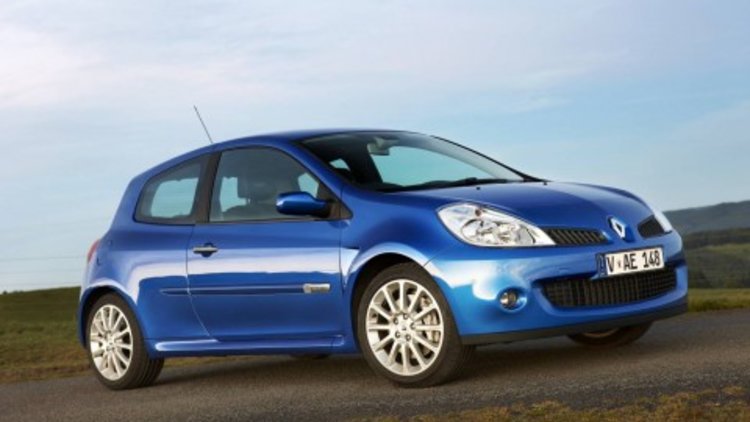 The Renault Clio Sport 197 (or as Renault like to call it, the Clio Renault Sport 197) is powered by a naturally aspirated, 4-cylinder, 16 valve engine which generates 145kW (197hp - hence the name) at 7,250rpm and 215Nm of torque at 5,550rpm. You can pick one up from just $36,490.00.
The engine is essentially the same as the one which powers the Clio II Renault Sport 182, but with 15 more hp. The new figure puts the power output at almost 100hp per litre.
The 145kW are pushed through a new six-speed manual gearbox, which leads to a 0-100km/h time of 6.9 seconds. Rather quick for a N/A.
Renault says the extra 15hp has come from numerous modifications and optimisations to the powertrain, including modified intake and exhaust port length and profiling, valve seat aerodynamics and better calibration of the camshafts.
The company is also happy to admit that it has spend considerable time making sure that whilst the Clio drives well, it also sounds good too. With a noticeable discreet pitch at low revs, the 2.0-litre engine note builds through the rev range, reaching its peak and producing its trademark 'bark' as the 7,250rpm red line approaches.
The desire for a better noise has led to the spare wheel being replaced by an exhaust silencer housing with a streamlined, flat panel under-cover. The French giant has also flush fitted the dual exhausts within the outer channels of the diffuser to ensure minimal aerodynamic interference with the system.
The engine aside, the actual chassis of the car itself, is slightly different compared with those of Clio III. Modifications include a slightly longer wheelbase and wider front and rear tracks (lengthened by 10mm and with an increase in track width of 48mm to the front and 50mm to the rear). Additionally there is a double-axis strut system and aluminium components to complete the package.
External features include a wider front and rear wing, lowered suspension (15mm) with side skirts, a semi-rigid under-bumper splitter joined together with the extractor vents and diffuser to emphasis the car's sporty nature.
The Sporty Clio rides on 215/45/R17 light alloy wheels which house a set of Brembo brake calipers and big discs.
From the inside the 197 interior also receives its share of sporty features such as aluminium pedals and perforated-leather steering wheel with red centre-point stitching, gear-change indicator light while the Renault Sport logo appears on the instrument backgrounds, door sills and front seats.
Being a Renault you can be assured the Clio is about as safe as a car can get. The 197 comes with, wait for it... eight airbags. Additionally there are new generation height adjustable front headrests, integrated seatbelt pretensioners and load limiters. The usual package is also included with ABS with Electronic Brake Distribution and a switchable sports-tuned ESP stability control system.
Standard equipement includes
17" Renault Sport alloy wheels,
leather steering wheel with red stitched centreband (rake adjustable),
electric windows,
drilled aluminium pedals,
multi-function trip computer,
Cruise control (with speed limiter),
30W AM/FM radio with single CD
60/40 split folding rear seats.
Options include:
Metallic paint ($800),
Xenon lights ($1750),
4x40w AM/FM stereo with dash-mounted 6-CD stacker ($800),
Panoramic electric glass sunroof ($1890)
The Renault Clio Sport 197 retails for $36,490.00 and is covered by the company's 3 year/100,000km warranty.
2008 Clio RenaultSport 197