The highly anticipated fully electric Nissan LEAF will hit Australian showrooms in June 2012 with a manufacturer's recommended price of $51,500.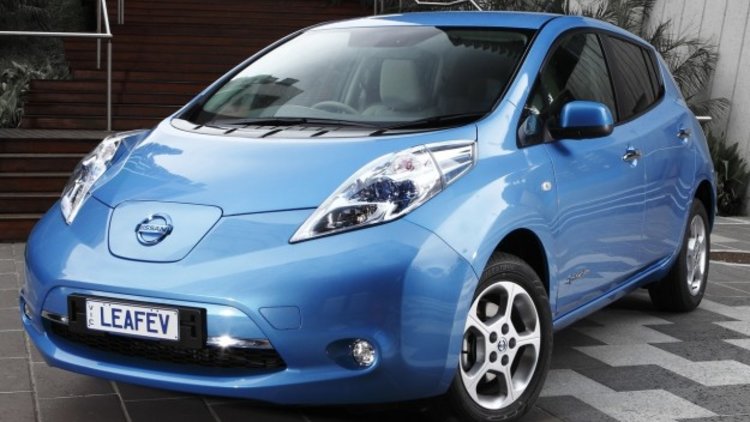 It will initially go on sale across 13 qualified dealerships in Brisbane, Gold Coast, Melbourne, Sydney, Canberra and Perth but will be offered in other prominent Nissan dealerships over the coming years.
With over $5 billion dollars invested in electric vehicle development by Nissan since 1991, the company has taken the lead in EV sales, having already sold more than 20,000 LEAFs worldwide.
The $51,500 asking price is for a LEAF and its batteries as well as all options as the vehicle is only available in one variant. The price will position it very competitively against the smaller Mitsubishi i-MIEV ($48,800) and makes Holden's job more challenging with Volt pricing.
Unlike a traditional car, buyers can't simply go to one of the 13 authorised dealers and place an order on a whim. Nissan Australia has organised a customer journey program whereby the buyer's needs are assessed to see if a LEAF is suitable. From there a home assessment takes place to ensure adequate power supply is available and a charging station can be installed. Prices for that can vary depending on the state of power components in each home.
The Nissan LEAF will offer a real world driving range of around 140km per charge, which is significantly more than the daily average Australian commute. Powering the vehicle is a series of lithium ion batteries, which provides 80kW of power and 280Nm of torque. It can easily achieve the 140km/h top speed (read our Nissan LEAF review) and given that all that torque is available from a standstill, it's rather zippy around town.
Although there are currently only 16 LEAFs in the country as part of an EV trial, Nissan Australia CEO Dan Thompson said the LEAF is not a niche product and is expected to have mass market appeal, with sales to count in the hundreds in its first year.
"We've stated before that we expect to see meaningful sales volumes from LEAF as a contribution to Nissan Australia's market growth expectations and zero emission leadership aspirations." he said.
The main difference between the LEAF and its main EV rival, the Mitsubishi i-MIEV (of which 27 have been sold so far this year), is size. The LEAF is more than one metre longer and offers generous interior space. It's also designed specifically from the ground up to be an EV.
The battery pack is expected to last around a decade and servicing (intervals are yet to be decided) is significantly less involved than a conventional car given there is no internal combustion, which should also mean it's cheaper to maintain.
Nissan expects to sell at least 250,000 EVs a year by 2014, and plans to launch seven other battery-powered vehicles over the coming years.
The Nissan-Renault alliance has bet a great deal of its future on the success of electric vehicles, but given the LEAF has so far won World Car of the Year, European Car of the Year and Japanese Car of the Year, it may just prove to be the best bet of the century.
Nissan LEAF Australian pricing announced