The world's most anticipated hot-hatch of the year has finally made its official debut, with Ford today releasing the official details of its new Focus RS.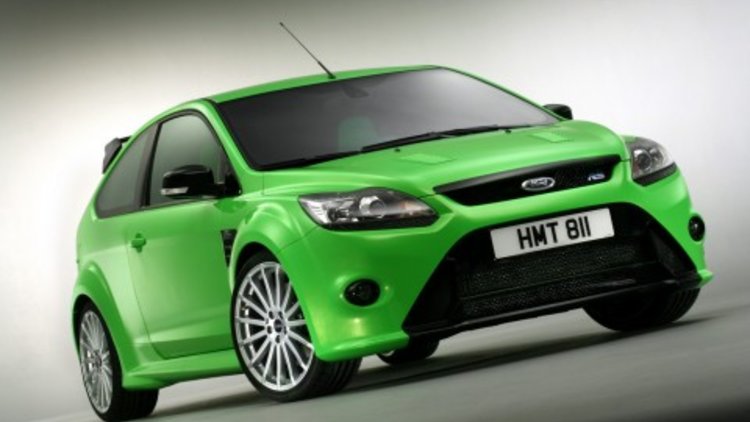 The all-important performance figures stand at 220kW - compared to 166kW for the XR5 - and peak torque of 410Nm from its 5-cylinder turbocharged engine.
Early performance testing conducted by Ford place the acceleration to 100km/h at less than 6.0 seconds.
Unfortunately, previous reports were accurate with the RS model featuring front-wheel drive rather than the popularly speculated all-paw configuration - albeit with the addition of a Quaife Automatic Torque Biasing limited-slip differential.
In addition to this, Ford has also developed a unique front suspension setup, an innovative 'RevoKnuckle' system is designed to reduce unwanted steering disturbance and torque steer - apparently eliminating the need for AWD according to Jost Capito, Ford Europe's Director for Performance Vehicles.
"Our work has shown clearly that our approach in combining a tuned RevoKnuckle with the Quaife differential is an ideal solution for a high performance front-wheel-drive road car like Focus RS", said Jost Capito.
"As you would expect, we gave all-wheel-drive careful consideration, but by combining and tuning these elements and learning from Ford's expertise in industry-leading handling, we have managed to eliminate the weight of AWD from the car and still have been able to target a class-leading balance of traction, handling and performance. The result is a lightweight set-up, that will deliver the right blend of traction and razor sharp controllability" Capito concluded.
The Focus RS also features a host of handling and suspension upgrades including a 40mm wider track, lengthened driveshaft, revised springs and dampers, a thicker, longer rear anti-roll bar, retuned steering system and Ford's ESP system featuring a custom calibration designed specifically for the RS.
The exterior treatment truly speaks for itself - hardly what you would call a subtle sports hatch, making its debut in a flamboyant hyper green finish with contrasting gloss black highlights to the front bumper, grille, side inserts and high-mount rear spoiler.
The cabin of the RS also receives a sports makeover with two tone Recaro race bucket seats, carbon-look centre console and brushed aluminium accents.
The new Focus RS will go on sale in Europe in early 2009, with Australian sales likely to come shortly after - possibly under the FPV nameplate.
[gallery=331]
2009 Ford Focus RS official details