For the first time in Australia, the BMW 3 series now comes with a V8. Of course in M3 guise, that is. But for those 'M' car lovers with kids, let us rejoice. You will soon be able to have your M3 and take kids to sport on the weekend. Is that a good thing or a bad thing?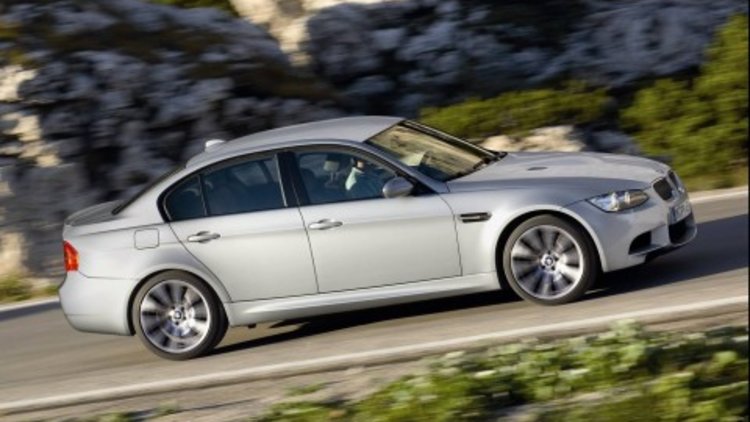 According to BMW, the M3 sedan will be priced under the Coupe model, too. Bargain.
If you're interested, don't wait around as BMW Australia says the first shipment will be "a very limited supply". According to BMW, it's Australia's love affair with high-performance V8 engines that has convinced the German giant to bring the M3 Sedan as a regular model to sit alongside the M3 Coupé and new M3 Convertible.
"We have been asked for some time to bring this car in so we are delighted we are now able to deliver on the wishes of our most ardent supporters" said Tom Noble, General Manager Marketing at BMW Group Australia.
The engine is shared with its two brothers, producing 309 kW and 400 Nm of torque, not that we are complaining because when you can redline a V8 at 8,400 rpm you know you have something very special! So special in fact, that it will go from 0-100 km/h in just 4.7 seconds, using an unbelievably low 11.9-litres of fuel per 100 km (European combined cycle).
Just like the M3 Convertible, the M3 Sedan will be available with both the conventional six-speed manual gearbox and the all new seven-speed M double-clutch transmission with Drivelogic.
"The refined, engaging performance and handling, the five-seat practicality, and the unique visual appeal of the M3 are sure to make it a winner. Of course the concept of a light-weight V8 engine in the already agile and perfectly balanced 3 Series Sedan guarantees a stimulating drive each time you climb in." Noble said.
Despite the four doors and five seats, it's by all means, still an M. Easily recognisable by its aggressive front mask (slightly different to the coupe), bulging bonnet with air intake grilles, mudguard gills, sport side sills, rear air diffuser and of course the trademark quad-pack exhaust pipes. The Sedan rides on 18-inch light alloy M design wheels and hugely powerful brakes.
Despite the obvious similarities between the standard 3-series and the M3, BMW says between 70 and 80 percent of the M3 Sedan is unique, which explains why the M3 is regarded worldwide as a race-bred sportscar in road car drag.
BMW has so far sold 180,000 M3s since 1987 of which about 12,500 were the E36 M3 Sedans.