Following our previous story on the FG01 V8 Supercar, Ford Australia has today finally unveiled its new 'Nitro' blue with white themed V8 Supercar. The car is scheduled for its first public appearance at Sandown in Melbourne this weekend.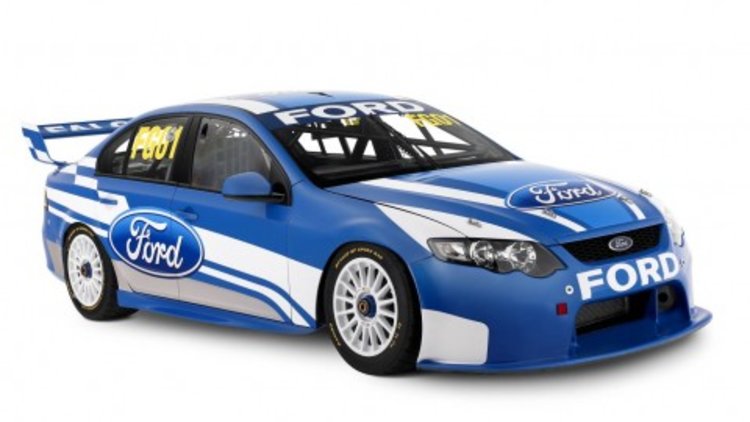 The new weapon against Holden was built by major Ford V8 Supercar teams Ford Performance Racing (FPR) Triple 8 (T8) and Stone Brothers Racing (SBR) and it's based on the recently launched FG Falcon XR8 sedan.
Ford says the car took over 18 months to build, during which time Ford focused on meeting specific design requirements as well as applying the Touring Car Entrants Group (TEGA) 'Blueprint specifications'.
The TEGA specifications dictate many aspects of the car, including length, width, height, weight, wheelbase, wheel track, suspension mounting points, front bumper and rear wing positions, plus a number of secondary mounting point positions.
"Aside from the obvious lines and aesthetics that we've inherited from the FG Falcon XR8 road car, the adjustments to create a unique and functional V8 Supercar have come together into one extremely well rounded vehicle which we are very pleased with. said Ford Racing Manager, Ray Price.
Ford says the colour scheme was designed by a Ford employee specifically for the FG01 prototype.
"Developing FG01 was an intricate process and the design and build centred around meeting TEGA specifications alongside the goals of Ford and its major V8 Supercar teams, which were mainly related to cost reduction, reparability and safety." Price. said
Ford spent considerable time and effort to ensure that the maximum amount of parts from the BF Falcon could carry over into the new FG chassis to assist with cost control and minimise redundant parts.
"Ford teams agreed that as a priority this V8 Supercar had to be less expensive to build as a new shell, and less expensive plus quicker to repair in the event of an accident," said Ray Price.
The new Supercar also has safety in mind, the biggest improvement being moving the driver seat as far inboard as possible, for the largest gap between the seat and driver door.
"The overall functionality of our new racecar combined with its aggressive look will ensure the Ford teams are able to continue building competitive, race winning Ford V8 Supercars.
First to drive the new Falcon V8 Supercar will be Craig Lowndes and Channel Seven pit reporter Grant Denyer riding as passenger. But it all gets serious when the FG V8 Supercar and Ford's traditional line-up of Falcon's will hit the track this weekend at the Midas 400, Sandown Raceway June 7-9.
Ford reveals FG01 V8 Supercar