The car which can keep up with Porsche GT3 Cup cars, Lamborghini Gallardos and Aston Martin race cars, the Lotus Exige GT3, has received a power boost and is ready for an assault on the supercars at the 2008 GT Championship (prior to the Australian Formula 1 Grand Prix this weekend).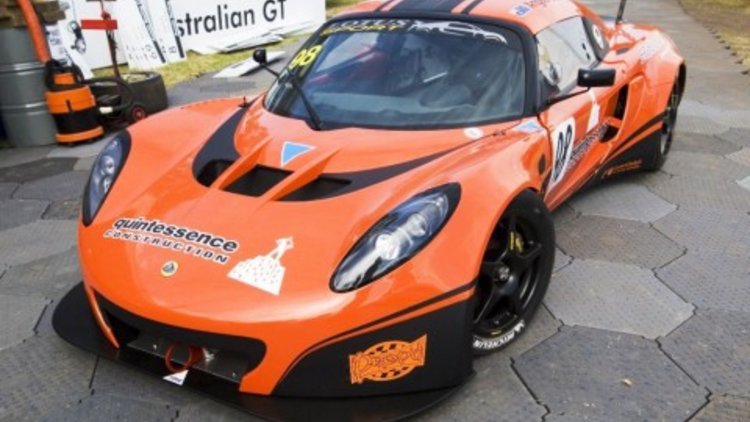 The best and easiest way to describe this car, is to call it the world's fastest Lotus. Not only does it have a top speed of 320km/h, but that comes from a highly modified 1.8-litre Toyota engine!
The engine is the same as the one found in the Exige S road car. The difference is more tune and extreme aerodynamic aids to keep the car steady at high speed.
"We wanted to give it a freshen-up over the off season, so we used the opportunity to update to the 2007 spec and the performance improvements it offers. We've been doing some 20 hour days and the guys have put in a lot of effort just to get it to the F1 support race this weekend." said Angelo Lazaris, the car's owner
Owning the world's fastest Lotus does tend to attract the attention of Lotus itself, and they have sent along Russel Gibbons from Lotus Sport UK. Gibbons was a key member of the Lotus Exige GT3's success in the 2006 British GT championship.
The Exige GT3 weighs less than a ton and puts out 261kW (at 7000rpm) and 305Nm (at 6000rpm). An absolutely remarkable feat from the 1.8-litre four-cylinder engine. So remarkable, in fact, that it's worth talking about.
The power figure shows a massive 89 percent increase over base specification, which results in 148kW per-litre! To put that into perspective, a Holden Commodore SS road car comes in at just 45kW/litre while the Bugatti Veyron manages 92kW per-litre!
What ever you have planned this weekend, cancel it, because you don't want to miss the 2008 Australian Formula 1 Grand Prix (on ten).
Lotus Exige GT3 in Melbourne