The Bloodhound SSC team has successfully tested one of the wheels that will help the jet and rocket propelled car achieve 1609km/h (1000mph) on a salt flat in South Africa. At that speed the wheel will not only heat up, but grow in size and vibrate...
---
After more than three years in the development process, the vehicle aiming to break the World Land Speed Record – the Bloodhound SSC – will enter construction this week. The Bloodhound project is the work of a British consortium, and has been designed not to simply eclipse the current record – which stands at 763mph (1228km/h) – but smash past it at a speed of 1000mph (1609km/h)...
---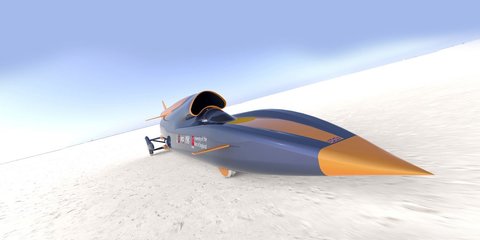 The car attempting to break the world land-speed record – the British-engineered Bloodhound SSC – will require bulletproof, aluminium wheels if it is to have a chance to reach its target of 1000mph (1609 km/h). Weighing 97kg, the 90cm diameter discs will be forced to spin faster than any wheel in automotive history – up to a staggering 10,200rpm, or 170 revolutions every second...
---
Intel, the technology partner behind the BLOODHOUND SSC, has created an animation which showcases its role in breaking the 1000mph barrier along with the world land speed record. The BLOODHOUND SSC will employ three Intel Atom chips which crunch the countless calculations behind the car's complicated propulsion system...
---
The current world land speed record was set in 1997 by Britain's Andy Green in the ThrustSSC. He reached 763.035 mph (1,227.986 km/h) – the first supersonic land speed record. Now 12 years on, the Brits are at it again, however the goal is far more ambitious this time...
---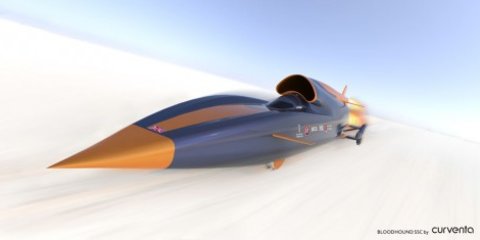 The world land speed record is being challenged yet again; however this is merely a consolation prize with engineers aiming to crack the 1000mph barrier on the ground. Twelve years since punching through the sound barrier and setting the current record of 763.053mph, current record-holder Andy Green and his predecessor Richard Noble are preparing to write the latest chapter in the history of World Land Speed Record attempts...
---