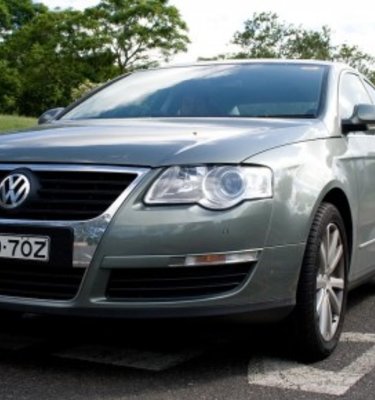 2008 Volkswagen Passat review
Current Pricing Not Available
2008 Volkswagen Passat 2.0TDI Sedan & Estate Review
Handling, Performance, Quality Fit & Feel, Quiet
Reverse Gear, Basic Stereo, Torque Steer.
CarAdvice rating: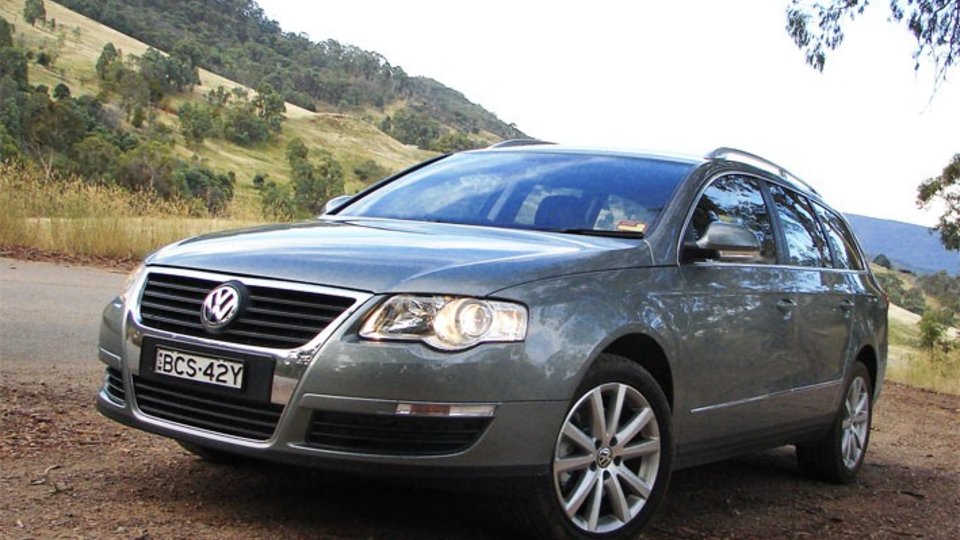 Alborz - Before getting myself to Volkswagen Brisbane, I was a little pessimistic about the car, "Not a Paassaaat..." I said to myself in that 8-year old tone-of-voice better suited to words like "homework" or "vegetables".
One thing automotive journalists don't like to admit all that often is that in this day and age, it's quite rare to really hate a car, yes the Proton Savvy and the Colt Cabriolet made me incandescent with rage, but I didn't HATE them, I just wished they would go away and drown in the Brisbane river.
When they say first impressions count, they don't lie.
The most obvious problem with the Passat diesel is that it's just too quite, and while you may think that is a good thing, I don't, because it means I can't go on and on about how utterly annoying it is to drive a noisy diesel.
I really didn't want to like the Passat as I thought that would be a sure sign that I am getting old, but there is so little to dislike. It's smooth, refined, beautiful, economical and practical, and if you're expecting me to say it has no soul, it has that too (even if it is German).
Although not a performance car at heart (wait for the R36), being a VW means it's no slouch either. As with all cars that come through the Brisbane office, the Passat was taken through the Mt Glorious driving range to find out if it has any sporting credentials.
The important figure that potential buyers need to consider is the 350Nm of torque, which allows for excellent in-gear acceleration from low revs.
Going around Mt Glorious for the third time, a few things became obvious. Firstly, the Passat is no boring German family car, it really does have some character.
Torque steer is a word I hate writing, but the Passat has forced my hand. Power out of a tight corner and the steering wheel will remind you that you're, after all, just in a front-wheel drive 2.0-litre turbodiesel.
If you want a proper performance-orientated Passat, you should either wait for the R36 or go for the 3.2-litre V6 FSI (using the R32 engine). But what you get with the diesel model is a saving of $12,000 and unbelievable fuel economy.
Matt - While Alborz was still going around Mt Glorious (we think he gets lost and doesn't know how to get back, so he keeps going around and around), I was taking a different approach.
Next page... One of the many things the Germans do well is building motor cars. Their long history in ordered, precise and no nonsense engineering sets them apart from so many of the world's leading marques, I mean just how many cars do you see these days being hailed as 'German designed'.
My test model, the middle of the range 2.0TDI Estate (wagon), boasts an elegant, stylish and modern design which although classy enough to be distinguished from the masses, is subtle enough not to attract thumb nosed glances from those jealous types.
It's a well finished vehicle, even down to the smaller details so often looked over in mass produced vehicles.The doors for example have that reassuring solid feel on closing, and with solid linkage hinges, will stay open at one of the three pre-determined clicks rather than lofting back against your leg in a stiff breeze. The driver's door even boasts an umbrella holder.
Take for example the Climate Control. I can't begin to think how many cars I've jumped in which claim to have climate control only to be faced with an automatic fan - fail. The VW however has a true dual zone climate set up which when dialled to a temperature will maintain it flawlessly until otherwise instructed, no bailing out when it can't be bothered any more. It also comes up to temperature surprisingly fast and with little fuss or noise.
Next page... Your usual run of options quite expected from a mid-$45K vehicle are of course there with fast glass one touch power windows, folding/heated power mirrors, at speed remote central locking, electric tailgate ($750 option on Estate), heated (front only) leather trim, climate, cruise, full trip computer, auto lights, auto wipers, bluetooth, six stack CD and electric memory seats with 3 presets and electric lumbar support.
The seating is comfortable without compromise. Some comfy cars usually end up so soft that on the first corner you're visiting the passengers lap. Handy on a first date but hardly something I'd like to live with day to day. The Passat is different. It's adjustable to suit any position you could care for whilst still offering a level of support needed at the cornering speeds this car is capable of.
Now I bet I can imagine your thoughts right here, did he say cornering speeds? This is after all a station wagon is it not? Well, I guess if you look at it that way, then sure, it's a wagon, but punt this thing in to a corner and the level of grip offered is remarkable.
The braking offered is again surprisingly reassuring, flat and progressive. The pedal feel is so well weighted in terms of feedback that stopping with no "sit back" is achieved with very little adjustment on the driver's behalf. There's very little need to adjust your pedal pressure on stopping to ensure a smooth stop, even under aggressive braking. The ABS is very well set up for a car of this size and even on loose gravel roads found its footing very quickly.
With the drive by wire system, the amount of input required is constant no matter which speed, which means simply that if you push a certain distance the amount of speed gained will be quantitative to that input, regardless of speed. It's hard to explain, but drive one for a week and you'll wonder why it's not more commonplace.
When you realize the technology powering this vehicle is quite sophisticated by comparison to your average wagon, you appreciate the need for such little technologies. The 2.0-litre TDI may look rather tame on paper, but utilizing some clever technology and the über-shmick DSG gearbox the amount of power delivered to the front wheels is really rather impressive.
Next page... Performance mayn't be a word associated with your average wagon, but then again, Passat is far from average. It manages the 0-100 run in 8.8 seconds which although doesn't seem much, certainly feels quick in a large wagon and is impressive given the fact that after all it's a two-litre oiler under the bonnet.
There's a brief turbo lag till about 30km/h, then a big surge to 80km/h. After that the pull is steady but linear through to about 180km/h and then on to a top speed of 227km/h a little more leisurely.
You really have to be a very sloppy driver, incredibly distracted, or find yourself in a very sudden evasive manoeuvre before the ESP light comes on. Yet another indicator of a well set up vehicle utilising a great chassis to maintain vehicle dynamics instead of relying solely on the ESP to bail you out.
Fuel economy is tremendous, with highway cycle returning 4.3 litres / 100km when cruising at 100km/h (cruise on / climate on / ambient temp 26degs) and around town returning 8.1 litres/ 100. On average this came to 6.2 litres to 100km, half a litre under the ADR 81/00 average of 6.7.
I almost got to the magic 1000km limit from the 70 litre tank, falling slightly short at 990km. I put this down mainly to the fun had experiencing the turbo surge from 30-80km/h.
Once you're on the move though it is reasonably fluid with the strange exception that it will appear to hold third or second coming in to roundabouts and the likes, before briefly selecting second or first then back again first or second ever so briefly, with seemingly no change in throttle pressure. It's very brief, and you do have to be on your guard to notice it, but it does happen nonetheless.
Next page... Jumping back briefly to the park brake, it's another one of those little marvels a lot of manufacturers seem to be toying with these days. Some are floor mounted, dash, consul, right of the seat… Passat is a push button, toggled when you apply pressure to the brake pedal and activating a servo which locks the rear callipers. It's kinda nifty, very simple to use, and frees up some consul space for some nice big drink holders, and some extra storage.
Storage abounds in Passat. There are two trays under the centre dash vents to pop your phone in, a purse/wallet holder above your right knee, deep cavernous console, big door buckets, the umbrella holder in the door (sorry I know I've mentioned it before but I think it's cool), chilled glove box with separate storage above for the owners manual, and a large cargo area with separate side buckets, retractable cargo cover, pull up privacy shield and under floor spare wheel storage for the standard full size alloy spare wheel.
Dull black tones further in to the lower parts of the dash and again up toward the windscreen present the feeling that this space is rather larger than it really is, and through your peripheral vision, almost appears to not exists. It's pleasant, subtle and puts more emphasis on those things you should be more focused on, like what's on the windscreen.
As you may know notice, the Passat has made an impression on us that won't soon be forgotten, and really sets a benchmark to which other manufacturers should be meeting. From it's lovely, quiet, flowing drive, to it's raft of features and quiet comfortable ride it really is a family wagon you'd be more than happy to show off to your mates. Why test the rest when you can drive the best.
Click to watch Volkswagen Passat - Interior video

CarAdvice overall rating:
How does it drive:
How does it look:
How does it go:
Engine: 2.0-litre four-cylinder turbo diesel
Power: 125kWTorque: 350Nm
Top speed: 227km/h
Safety: Eight airbags, ESP and comprehensive protection systems as a standard.
0-100km/h: 8.6 sedan - 8.8 wagon
NCAP rating: 5
Turning circle: 11.4
Fuel tank: 70 litres
Fuel consumption: 6.7/8 litres per 100km sedan/wagon
Fuel type: Diesel