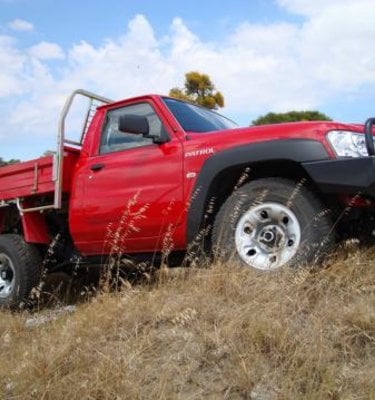 2008 Nissan Patrol Cab Chassis review
2008 Nissan Patrol Cab Chassis review
CarAdvice rating:
Model Tested: DX Coil suspension
Recommended Retail Price: $49,790 (DX Leaf), $50,180 (DX Coil), $52,890 (ST Coil)
Options Fitted: Alloy Bull Bar - $1620, Underbody Tyre Hanger Chequerplate tray - $1997
- by Karl Peskett
As we walked in to Nissan's head office to pick up this week's car, the affable lady behind the desk, Tara, got up with the keys and said, "I'll just be two seconds; it's around the back."
No worries. Tara is so helpful and easy to get along with that we were happy to wait a little. She came around the corner, in the bright red, diesel Patrol Cab Chassis, that you see here. Complete with red tray and big bullbar, there was only one thing I could say to her. "This is definitely a country car."
Tara agreed. "It even comes with hay and seeds in the tray for you," she said. I thought she was kidding. But she was right. Fresh from a display at the Dowerin Field Day (click here) where Nissan was exhibiting, the Cab Chassis did indeed have farm fodder stuck in gaps in the tray. This was especially evident when I brought it home. Our garage started smelling like a shearing shed.
So the workhorse aspirations of the Patrol Cab Chassis are pretty clear. Further evidence of its single objective is visible on entry into the cockpit. I can count on one hand the amount of press cars I've driven which haven't come with automatic windows. Most car companies option up their loan vehicles to give a good impression. But here, staring me in the face, was stark proof that I was going to have to put some effort in, and actually use my entire arm to get some fresh air - window winders.
So, it's basic. But it gets worse. The floor in the DX model we tested was sheeted plastic. There's a bench seat for the passenger. The dash is about as soft as Lego, and the pressed metal which forms the rear bulkhead is sharp, and visible. The interior is about as elegant as a rhinoceros's hind leg.
But this is no luxury grand tourer. It doesn't need to be elegant. It just needs to be practical. So practical it will be. Take for instance, the seats. Sure there's a certain amount of padding, but they're not exactly cosseting. The plus side is they're easy to climb in and out of. They're also covered in a cloth which can be readily cleaned after being caked with mud or dust.
The glovebox is a decent size, and the dash is flat and broad, meaning dusting it's a breeze. For such a large vehicle, the room behind the seats is disappointing though - not everyone is going to want to carry their bike helmet in the tray. The stereo is adequate, but MP3 compatibility would have been nice. Instruments are all plainly marked, and again, there's no pretension here. So don't expect the drive to be a standout experience.
The gear lever juts out of its gate like the leaning tower of Pisa, and is just about as tall too. It's a brute of a gearbox which is a strong as an ox, but thankfully it's not too heavy to use. There's no automatic option either. Just one single drivetrain specification – a 3.0-litre turbo diesel with a five-speed manual and low range transfer case.
Clutch action is as expected, that is, on the weighty side, but still takes up cleanly. Braking is average, meaning it works, but it's still not in Toyota's league, with more bite needed. Where the Patrol Cab Chassis has got the wood on its competitor is its steering. Where the Landcruiser feels disconnected and far too light, the Patrol still has a sense of weight and feel. This is especially handy off-road when sudden slackness tells you you've traversed softer ground. Still, adjustment for reach wouldn't go astray.
The ride is certainly bouncy. According to Nissan's glossy sales brochure, the coil Cab Chassis we tested had 3 link front and 5 link rear suspension, meaning a "smoother ride." Umm, no. Not even close. You know this is a purpose built machine before you've even finished a lap of the block. Suspension hits are followed by a springy wobble that doesn't seem to upset the car's balance, but is a dead giveaway to its function as a manual labourer. There's also a fair bit of roll. If this is what coil suspension is like, I'd hate to be sitting in the leaf-sprung version.
Of course, the flipside is it works off-road. When you need to scale that boulder to make sure the sheep get fed, then it fares better than a soft-roader. It does mountain climbing well, and the low range and ground clearance mean there are not too many places it won't go. It's more comfortable when four-wheel-driving, but still not what you'd call relaxing.
The four cylinder turbo diesel isn't the last word on quietness either. Sure, it is torquey (380Nm), but you still get a lot of noise in the cabin, and comparisons to names such as Kenworth and Mack aren't too far off the mark. The good thing about it is its tractability (or should that be tractorability?...) as it will pull from basically idle onwards. There's a bit of lag too, but it's easy to predict, as there's only 118kW to play with. Once in low range however, the power deficit is negated, and so is the lag, meaning its role as a bush basher is fulfilled in every sense.
One area where the Patrol Cab Chassis is simply outstanding is its range. Being turbo-diesel, fuel economy is decent to start off with, listed at around 11 litres/100km. Combine that with a 95 litre fuel tank and you've got about 850km to play with. But that's not the end of the story. There's a further 700km to be had once the sub-tank is brought into action. Yes, the secondary fuel tank is an amazing 80 litres.
In theory, nearly 1600km can be wrought from the two tanks. Of course filling up is going to hit you hard, especially with fuel prices as they are currently. If you run the Cab Chassis dry, expect a trip to the servo to cost you the better part of $290. Ouch. And that's a best case scenario. Get stuck filling up on the Nullarbor somewhere and you'll be looking at $320-350. Thankfully, because of the range, you won't be having to do that so often.
But if you are loading up hay bales, you'll appreciate the massive (optional) tray. Sized at 1900mm wide, and either 2250 or 2400mm long, it really does carry a lot. But, it should be a delete option, as you get slugged anything from $1794 and upwards for it. The other increase is the Patrol Cab Chassis's braked towing capacity which is up to 3.2 tonnes from 2.5.
Australian's have embraced the Patrol Cab Chassis, as shown by local sales. The Aussie market accounts for 80 per cent of all the Cab Chassis sales worldwide. But really the pricing isn't much different from the Patrol Wagon, which represents much better value. The trick with the Cab Chassis is to get fleet pricing which is several thousand dollars less than the retail price. Bargain with your dealer, long and hard.
The Cab Chassis is certainly agricultural in its design, function, purpose and marketing. Even the sales brochure portrays a working dog on the back of this working ute. The Patrol Cab Chassis has no pretension. It fulfills its role with no apologies. It does its job with no luxuries. It has no refinement. But if you're a farm hand who needs to give his farm a hand, this just might be the tough-as-nails ute you're after.
2008 Nissan Patrol Cab Chassis specifications
Engine: 3.0-litres
Power: 118kW
Torque:380Nm
Top speed: N/A
Safety: Dual front air bags - ABS
0-100km/h: 17 seconds
NCAP rating: N/A
Turning circle: 12.5m
Fuel tank: 95-litres, Sub tank: 80 litres
Fuel consumption : 11.3-litres/100km
Fuel type: Diesel
2008 Nissan Patrol Cab Chassis review