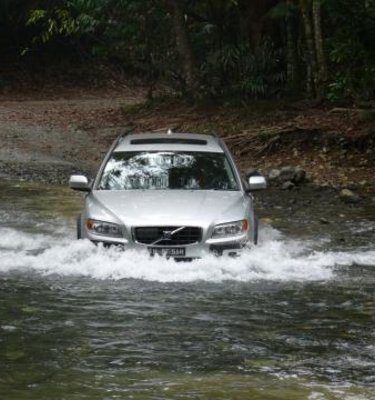 2008 Volvo XC70 Review
"There is little if anything out there in car land, which has the sheer versatility and skill set, to compete with Volvo's new-generation XC70"
POSTSCRIPT: Some other media outlets have suggested the XC70s on the North Queensland launch drive "drowned" attempting a water crossing at their stated wading depth of 300mm. Caradvice was there at the crossing and due to a rising tide the water depth was considerably more than 300mm, more like 400mm. The real story is that when the XC70s were put through a water crossing that because of unforeseen circumstances exceed their design limits, they got through. The cars that stalled in the water were able to restart and drive out - their engines did not ingest water and they did not "drown", even when pushed beyond their design limits.
Anthony Crawford
Test models: Volvo MY2008 XC70 3.2 AWD & XC70 D5 AWD
CarAdvice rating:
Recommended Retail Price:
• XC70 3.2 $58,950
• XC70 3.2 LE $64,950
• XC70 D5 $60,950
• XC70 D5 LE $66,950
- by Anthony Crawford
Where it sits: Just below the seven seater XC90 SUV which starts at $69,950 for the 3.2 litre.
The Map in the glove box clearly stated in bold letters "4WD only past Cape Tribulation" and that's precisely where our convoy of XC70 wagons were heading for tomorrow, on the way through to Cooktown, in far north Queensland.
With daytime temperatures hovering around 34 degrees along with punishing humidity, inside the XC70 for up to six hours, will be a good place to be.
The nights are significantly more comfortable at a balmy 24 degrees, but even then, you can break into a sweat if you're chowing down a la fresco, without the aid of a sea breeze.
This third generation "Cross Country" Volvo, is exactly that. A prestige wagon, equally at home on the rough stuff, as it is hurtling along a highway with family and luggage in tow.
For me, the superseded model never really worked. It looked like a tarted up V70 wagon that had taken just one course of steroids before it's liver packed it in.
The 2008 XC70 has been designed as a multi-tasker from the ground up. Not only has Volvo succeeded, they have got the styling pretty much spot on.
That said it's unmistakably a Volvo wagon, with the trademark large rear taillight assembly, now with LED powered brakelights which extend and integrate into the roof. There's also more pronounced Volvo badging, on the grille and tailgate sections.
The Swedes are clearly proud of what they are building and rightly so.
There's a modern hexagonal look at the rear of the car, while metal accents have been used extensively around the body, to give a decidedly upmarket finish. You can also opt for real wood inlays, but I wouldn't bother, the metal look better suits this modern interior.
Of course, the very nature of the XC70 with its off road ability, calls for some well deployed plastic body armour on the lower sections of all side, front and rear panels.
The "Silver Bright" 17-inch alloys are on the stylish side, but more importantly, they will need to be hard wearing and warp resistant, against some of the rougher sections of the Daintree. Standard fit rubber for the Volvo, are courtesy of Pirelli Scorpion Zero 235/55 which cover on road/off road and high performance duties, reasonably well.
You don't need full time four-wheel drive to conquer dirt tracks or even cross a dangerously deep weir, on a rising tide. At least, not in the XC70, you don't. What you do need is ground sufficient clearance and all wheel traction.
The XC70 has a raised ride height, with just on 210mm of ground clearance, which allowed us to cross the Daintree River in 300mm of water, on our way up the cooktown. Just don't get out of the car if you should stall, as you could be eaten – by a croc!
Both the XC90 and XC70 get their off-road ability from a computer controlled Haldex All-Wheel Drive system (third generation), which distributes drive between front and rear wheels.
Haldex has a fourth generation "XWD" system on the way, which is way more sophisticated, so let's hope Volvo get access to this on future models.
There was no problem climbing out of the river, on an altogether slippery bank. "Instant Traction" shifts the drive to the rear wheels at warp speed, allowing trouble free starts on ultra-low grip surfaces.
Hill Decent Control (HDC) is a feature borrowed from the Land Rover range, which allows the vehicle to safely descend a steep off road slope at a 10km/h crawl speed.
Frankly, I'm not sure how relevant this technology is to the XC70. I'd suggest it has more use in towing applications than actual hill descents.
German car manufacturers do some beautiful interiors, but Volvo is punching well above its weight in that department too.
The XC70 borrows heavily from it's flagship S80 sedan, complete with its Bang & Olufsen style-floating console, together with the low profile, soft touch and sweeping dash. Proper metal switchgear adorn the centre stack.
Superb soft touch, leather trim is enhanced by either brushed aluminium or real wood inlays throughout the car.
The design is clean and functional. So called Scandinavian style, which to be honest, is a welcome change to the 'button clutter' employed by some manufacturers.
I'll put money down on the XC70, having the most anatomically comfortable seats on the planet. You could do a straight 1000kms in one of these and arrive at your destination without a hint of stiffness, almost perfect.
Almost. My co-driver and I, thought there wasn't quite enough side-bolster on the 'seat' section, especially when enjoying several twisty sections, but several other colleagues disagreed. To each his own, I guess.
In standard guise, there are all the usual luxury features, which I'll get to eventually, but I can't resist jumping forward to a unique to Volvo safety feature and an absolute godsend for those of us with kids, less than ten years old.
I'm talking about the XC70's dual integrated child booster seats. Just pull on a lever below the rear seat (both sides if you want) and presto – up pops heavily padded booster seats, which allow for two separate height positions.
For the life of me, I cannot comprehend why other manufacturers don't offer this feature. I can only surmise that the designers probably aren't even married, let alone have kids. It's reason enough to buy a Volvo!
There's plenty of room and load space in the XC70, given its a larger vehicle all round, than the outgoing model. That's odd, because visually, I would have said the opposite.
You can almost stretch your legs out now, with another 48mm of legroom, whilst knee room as been extended by 21mm.
Lowering the rear seats, which fold virtually flat, will free up 1600 litres of carry space, while rear seats up will deliver a commendable 575 litres, including a strut dampened underfloor storage area.
I'm not sure how many of you have used those strange shopping bag hooks found in the boot area of an ever-increasing number of new cars today, but they are brilliant. It took me ages to work out what they were for or be bothered using them, but after arriving home one day with thirty-five Roma tomatoes playing 'catch me if you can' in a station wagon, I soon worked it out.
The Volvo has a bunch of these hooks, as well as a useful but optional, cargo rail system which will hold fast any number of awkward cargo items.
The XC70 ships with two engines, one petrol and one diesel.
The 3.2-litre in-line 6 cylinder, lacks low down torque, meaning, you're into the right pedal constantly, which hurts overall fuel consumption. What it does offer though, is a smooth ride with low 'in cabin' noise levels, at least when highway cruising, but it wouldn't be my choice.
The pick would have to be Volvo's second-generation 5 cylinder D5 ("D" for turbo diesel) powertrain, with 400Nm of enormously useful torque, coming on song from 2000rpm.
User friendly would be how I would best describe the XC70 D5 from behind the wheel.
Regardless of whether you need to travel cross-country (let's say from Yass through Wee Jasper and down to Tumut in southern NSW) or five hundred plus kilometres on the bitumen, this engine, in this wagon, is an entirely effortless drive.
It's no slouch either, we reckon the top speed figure of 205km/h in the specs for the six-speed auto, is properly calibrated.
It's a real shame we don't have European style roads and the speed limits that go with them in the greater part of outback Australia, because the D5 would be happy sitting on 170km/h all day long, and would still deliver less than 12 litres/100kms. Not bad, when you consider its tare weight of 1890kg.
Standard transmission across the XC70 range is a 6-speed auto unit, which although smooth enough, is like all Volvo transmissions – shifts up or down, seem to take forever. It's certainly not a deal breaker, but I'm quite sure, an equally friendly, yet quicker shifting box, could be sourced from somewhere deep in the Ford Group parts bin.
You can join the XC70 club for as little as $58,950 for the 3.2-litre petrol, but don't think for one minute, it's a poverty pack edition. On the contrary, standard kit includes; Dynamic Stability Traction Control, Dual zone climate control, Rear Park Assist, a truly premium eight speaker audio system, Retractable outside mirrors, rain sensor, Electric driver's seat, and cruise control and that's not the complete inventory.
If you have the funds to step up into the LE – for $6000 additional, you can add a whole bunch of goodies including; Power sunroof, Power opening tailgate (use this once and you'll somehow find the extra dollars), add Front Park Assist, Modern wood trim (although I prefer the standard brushed aluminium look), Electric passenger seat, Auto dim rear mirror, 18 inch alloys, 6-stacker CD and IAQS (Volvo's Internal Air Quality System) which should benefit asthma sufferers. That's considerably less than you would pay, if you were to tick individual options boxes at the dealership.
And if you've had a really good year and your kids are earning their keep at Maca's, then you may as well stick your hand up for the "Technology Pack" for another $6000. That's another bargain, which adds Satellite Navigation, Active Bi-Xenon Headlights (follows the steering wheel around bends), Bluetooth, Compass in rear vision mirror and BLISS (Blind Spot Identification System – this works).
The Swedes are a humble race – I think too humble. I can't find any mention whatsoever of the superb leather bound sports steering wheel, in any part of the XC70 media kit. This is a standout piece of kit, quite thick and very sticky (as in tactile).
I found the steering weight near perfect too, which allowed for some reasonably quick driving through several switchback sections, but the gearing, while comfortable, could be a tad sharper.
Brakes are front line hardware when it comes to safety, and the XC70 has employed some additional wizardry in that department.
When you jump on the brakes in most cars these days, you are assisted by vacuum pressure from the servo.
On board the XC70, you have a far more effective emergency braking system, which Volvo calls Hydraulic Brake Assist (HBA).
Rather than simply relying on the servo, brake pressure is also applied hydraulically, which works in concert with the cars ABS to maintain strong pedal feel even after prolonged use. Little or no brake fade is the end result, and that can be lifesaving in some decent situations.
Something else. When you're hard on the brake pedal and deceleration exceeds 0.7g or the ABS is activated, the brake lights start flashing. Think of it as an early warning system for those 'not so alert' drivers behind you.
Volvo own Safety, always have, always will.
There are simply too many safety systems on board the XC70 to begin explaining. It would be an exhaustive process to go through each and every feature on this car; such is the company's obsession with occupant protection.
2008 Volvo XC70
Engine: 3.2 litre in-line 6 Cyl, 2.4 litre 5 Cyl direct injection common rail turbodiesel
Power: 175kW (235hp) at 6200 rpm, 136kW (185hp) at 4000 rpm
Torque: 320Nm at 3200 rpm, 400Nm at 2000-2750 rpm Transmission: six-speed Geartronic automatic
0-100: 8.6 sec, 9.9 sec
Top Speed: 215km/h, 205km/h
Length: 4838mm
Weight: 1878kg, 1890kg
Luggage capacity: 575/840/1600 litres
Safety: ABS – DTSC – AWD with Instant Traction – Hill Descent Control - Power Park Brake – Hydraulic Brake Assist – Ready Alert Brakes – Optimised Hydraulic Brakes – Fading Brake Support – Second-generation WHIPS – Dual adjustable Child Booster Seats – Extended Inflatable Curtain airbags – Dual Chamber side airbags – SIPS.
ANCAP Rating: not tested
Wheels: 17 inch alloys with optional 18 inch
Turning Circle: 11.5
Warranty: 3 years/unlimited kilometres
Fuel tank: 70-litres
Fuel Consumption combined: 11.4-litres/100km, 8.3-litres/100km
Fuel Type: Premium unleaded 95-98, Diesel
"Volvo's XC70 has superior on road dynamics to any of the current crop of high riding, soft roading SUVs. It's also a whole lot better looking"