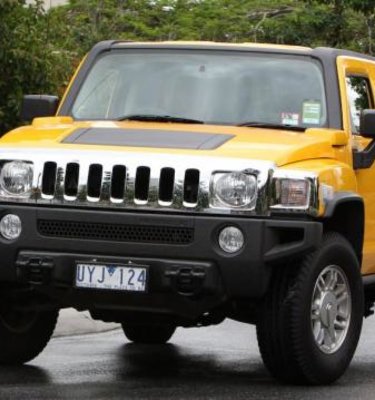 2008 Hummer H3 review
Yes it's big, yes it's yellow, but damn it looks good!
CarAdvice rating:
Models tested: H3, H3 Luxury
Recommended Retail Price: $51,990-$59,990
Options Fitted: None
- by Alborz Fallah & Karl Peskett
This review is broken up into four parts:
Hummer H3 Review (City)
The H3 is comparable to a supercar in many ways, it turns just as many heads (if not more), car enthusiasts all have their own views on it and more importantly, environmentalists absolutely hate it, which is a good reason to love the Hummer.
My first week was spent in a yellow standard-trim Hummer H3 with the second week finishing in a gunmetal grey Luxury variant. Karl had his way in the H3 Luxury in Perth and spent his time off-road. Before I begin, let me go over the treatment of the Hummer by some Brisbanites.
There is no denying that all 4WD/SUVs attract a certain amount of attention from those more worried about saving the planet than personal hygiene. The Hummer though, takes this to an extreme level.
From the few who see the Hummer as the vehicle used by the US army to invade sovereign states to those that think every single minute a Hummer is allowed out, a fluffy penguin dies in the north pole, the ignorance of some citizens is astounding.
Driving around a different car every week makes you realise just how sensitive some people are to certain cars, but you get used to it... or so I thought.
The abuse I copped in the Aston Martin V8 Vantage and the Lamborghini Murcielago LP640 (think pinky finger) to the "you need to think about a smaller car" comment from an elderly citizen when I was in the Volvo XC90, do not even come close to colourful abuse endured in the Hummer.
To cut a long story short, the Hummer got egged. Yes, some idiots egged the Hummer, but best of all, they had the audacity to stuff a few save the planet flyers in the spare tyre.
Pages: 1 2 3 4 5 6 7 8 9 10 11
Now excuse me if I get a little angry, but let's start with some facts. The 3.7-litre five-cylinder H3 puts out 327g of CO2 per kilometre, an equivalent Mitsubishi Pajero puts out 322g of C02/km. See my point? It's not much different to other similar sized SUVs.
But it's a Hummer. As a result idiots found the need to bombard the passenger side with at least 6 eggs. Many motorists fail to realise that the car is essentially the size of any other SUV. Sure it looks big, but it really isn't. It's actually easier to drive than the majority of similar sized vehicles.
Fortunately for every idiot that thought hurling abuse at me would cut CO2 emissions, there was someone that gave me the thumbs up. So let's get back to the car itself.
I am not a fan of SUVs. I actually agree that big SUVs need to be banned from CBDs. Nonetheless I absolutely adore the Hummer. This is a car built for one reason - to look good.
You don't buy a Hummer because you want to go off-road or because you want practicality and lots of room. Nor do you buy it because it has massive ground clearance and the ability to overcome tough terrain - you get all that for free, what you're really paying for is the Hummer badge and the looks. And it's well worth it.
I never thought I'd be saying this about an American car, but starting from just $51,990, the Hummer H3 is a bargain.
You can of course go buy a base model Ford Territory, Holden Captiva or Toyota Kluger for around 40k, and many do, but not only are all those cars incapable off-road, but they blend into the background like Kevin Rudd at a Star Trek convention.
Investing in a Hummer is not like any other SUV, you have to consider the repercussions. Are you willing to entertain the 100 people that ask you questions each week? Are you willing to give kids the thumbs up when they wave? What about the already-mentioned negativity? For me, the answer is simple - absolutely.
From the outside there is no denying this car is American, it truly does capture everything we love about our closest ally, its big, bold and some will argue even beautiful. I won't go that far.
Let's be honest here, Hummer is not for everyone. This is a car made for those who want to make a statement.
Driving the Hummer is almost intoxicating. There is nothing like the menacing stance of the beast. The number of people pointing at the car (especially in yellow) far outnumbered any car I've driven before (excluding the Lambo).
Hummer uses the slogan "Now get lost" for their advertising campaign and whilst I think the H3 is a little friendlier than that, it does reflect its attitude.
Behind the wheel you will find a high driving position overlooking a massive flat bonnet (which looks superb in yellow). Getting comfortable is not that hard, simply adjust the seat and steering wheel (which really needs to be telescopic). Remember, this car is made for Americans, so we should all be able to fit.
Turn the key and the five-cylinder engine comes to life. With 180kW @ 5600rpm and 328Nm @ 4600rpm, the Hummer seems underpowered on paper and with a kerb weight of 2178kg, it's not the quickest SUV on the road.
The clutch is essentially like a normal car and the whole gear changing process is no different to your average Corolla. If you know how to drive a manual, buy the manual - avoid the auto.
The four-speed auto gearbox is nothing special and certainly not worth the extra $2,000 cost on the base model (Luxury variants come standard with auto). Gear changes are quick and seamless, but power is noticeably reduced.
You're not going to be doing much city traffic driving in a Hummer, well, you shouldn't be, so I'll say it again, buy the manual.
While the 180kW engine does a decent job, there is an obvious desire for more power and with rumours of V8 versions coming to Australia next year (with a possibility of a diesel as well) - it may be wise to wait a little longer. However if you're the type that waits till Tuesday to fill up, the V8 isn't for you.
Hummer says the H3 manual will use about 13.7L/100km for combined city/highway driving, with the auto coming it at 14.5L/100km. I found the figure slightly closer to 14.5L/100km for the manual, and about 16L/100km for the auto.
Driving around town the Hummer is very well behaved, parking is made easy with a turning circle that betters that of Ford's Territory.
As expected there is noticeable body roll when pushing hard into a corner but for general driving, you really wouldn't notice it.
The main problem I found with the H3 is visibility. Sure everyone else on the road can spot a yellow Hummer from 2km away, but can you spot them?
Shoulder checking is practically useless as the Hummer-style short windows do little to help. As for reverse parking, by all means tick the parking-sensors box (standard on luxury) on the options list. You'll need it. The H3 recently received 0 stars from the NRMA for its rearward visibility.
The interior is a surprise. I expected some cheap American rubbish with safety warnings telling you to "avoid death". You still get the safety nonsense but you also get a well finished and practical interior with a superb stereo.
The CD-player in the base model played MP3s and standard CDs, but the Luxury variant's stereo failed to read the same MP3 disc. For some bizarre reason, the six-disc CD-player upgrade that you get with the Luxury and Adventure models cannot play MP3s!
The chrome centre console appears a little tacky at first, but it grows on you. As for the sunroof in the Luxury variant, it is easily the largest sunroof I've ever encountered. It is just enormous. You can almost call the H3 a convertible with it open.
As for the steering wheel, it upgrades to leather when you hit the Luxury grade, but it could do with a little more... bling.
Next page...
Safety is taken care of by dual front airbags with passenger sensing system and curtain bags, as well as StabiliTrak® electronic stability control system, traction control, ABS and dynamic rear proportioning brakes, all of which come standard on all H3 variants.
Picking between the Luxury and the base model can be hard for some but the Luxury has been the best-seller so far. The standard H3 doesn't get the leather seats, sunroof, chrome mirrors etc, but it's still my pick, simply because I would buy the manual.
Sitting inside the H3 is a pleasant experience, you can't feel the bumps and there is minimal noise inside the cabin. As for the stereo, think Pimp my Ride and you won't be disappointed.
The H3 is not without its problems though. Apart from visibility it has one other large problem, it can't tow. With a towing capacity of 1360kg, it is the equivalent of a Holden Astra and is easily beaten by the likes of a standard 3.6-litre VE Commodore that can manage 2100kg. It's also hard to get into if you're vertically challenged.
"Can you live with it everyday?" Sure you can, it's not fun in traffic, but it's manageable. Want my advice? Don't buy the H3 to replace your primary vehicle, it's not the sort of car you want to leave in a shopping centre car park - trust me.
But if you want to be noticed, there is no other car this side of $60,000 that will do it like a Hummer H3. What you really need to do is have about $5000 set aside for a set of 22-inch rims and the darkest possible tint, because really, that's what a Hummer is all about right? Karl disagrees.
Check out the Hummer H3 Gallery (City) then read the Hummer H3 Off-road review.
The H3 is available in three variants – the H3, H3 Luxury and H3 Adventure.
H3: $51,990 (manual) $53,990 (automatic)
Features: Cruise control, electro-chromatic rearview mirror with eight point compass, power windows, fog lights and halogen headlamps, five 16 x 7.5 inch alloy wheels, remote entry with panic alarm, single in-dash CD, cloth seats and 60/40 split rear seats.
H3 Luxury: $59,990 (automatic)
Features: All features from entry model plus automatic transmission as standard, leather seat inserts, electric heated front seats with eight way power adjustment, leather wrapped steering wheel, exterior chrome package including door handles, roof cross bars and mirror caps, six-disc in-dash CD Monsoon sound system and glass sunroof.
H3 Adventure: $57,990 (manual) $59,990 (automatic)
Features: Manual transmission as standard (optional automatic), the same level of specification as the Luxury model (excluding sunroof), adding a fully locking electronic rear differential and heavy duty two-speed transfer case with a super low range ratio of 4.03:1.
Click to read Karl's Hummer H3 Off-road review.
Hummer H3 Review (Off-road)
Old men scoff. Girls point and giggle. Young men stare. Babies cry.
Yes, we're driving a Hummer. But the real beauty of this box on wheels, is not the bold, overstated looks. Nor is it the glances and wonderment that comes from onlookers. It's what this thing can actually do when asked.
In discussion with several hardcore four-wheel-drivers, the H3 was seen as a pretender. All flash, no substance. Which meant a challenge was on the cards. It called for an off-road excursion, with seasoned contenders. Would the Hummer's independent front suspension help, or hinder? Is the body up to the task? Would ground clearance be a problem? All would be answered during a day spent on Perth's Powerline Track.
Starting at Mundaring Weir Road, and heading off into the Darling Ranges until who-knows-where, the Powerline Track is a mix of sand, gravel, rocks and mud. Straight, flatter sections can be tacked by softroaders, but the ascents and descents are another story all together.
Each segment of climb is separated into an easy-way-out (commonly known as a "chicken track") and one or two difficult sections. Making the task all the more interesting is the marble gravel - common in these parts - which litters the path, effectively reducing your grip to levels akin to sneakers on ice. You either have to have a lot of skill, or have a damned good stability control system. I'm hoping, then, the H3's stability control won't let me down. . .
Our fleet of heavily modified off-roaders included a Holden Jackaroo, a Holden Rodeo, a Toyota Hilux, a Toyota Landcruiser SWB, a Mitsubishi Canter 4x4, and a bog stock, straight off the showroom floor, Hummer H3 Luxury. Yes, that's right, the Luxury.
The first job was for the air-conditioning to be up to scratch. It was. The forecast was for a 39-degree day, with the hills easily reaching 5 degrees above that. Put simply, it was going to be a scorcher. Thankfully, the massive sunroof's tint took the bite out of the sun, notwithstanding the aircon's competence in maintaining an arctic climate inside the car.
On the highway heading out to the hills, the Hummer behaved like any dedicated off-roader - excesses of tyre roar, body roll, stiffly sprung ride, and dive under hard braking. Thing is, it's not a very plush car for around the city.
But all that fades into the background as we reached Sawyer's Valley Tavern. The group congregated, adjusting tyre pressures to eliminate chance of rocks piercing tread. Once set, we took off, following scrub tracks and century old trails, until the bush cleared, and the powerlines appeared.
Initially the track seems fairly easy. Rocky sections are dry and coarse, with sharp edges, and we're careful to limit our speed, not wanting to use up the tailgate mounted spare. As it turns out, it was beneficial to begin where we did, as it enabled familiarity with the H3's characteristics.
The large perforated leather steering wheel is only adjustable for height (unforgivable in a $60,000 car) but the driving position suffers little. Thankfully, feedback is fairly good, allowing accurate placement of the wheels. It's quite direct too, with an outstanding turning circle for a four-wheel-drive (11.3m). On changing surfaces, the steering responds in kind, giving you the confidence to push on further, and explore other abilities.
Our navigator radioed through fairly steep hills ahead, and the group rubbed their hands with glee. Apprehensive, in a car that didn't belong to me, with bright blue paint that could have easily been scraped off by boulders in close proximity, I opted for the chicken track on the first few sections.
But as we approached steeper areas, and noticed that the Jackaroo (which didn't exactly have the ride height of a monster truck) was getting through, the consensus was the Hummer would do it easily. And so it proved. Having wheels at each corner of the car, the H3's climbing ability is nothing short of staggering, with excellent entry and exit angles available. You would in fact hinder the H3's capability if you fitted a bulbar, or towball.
The ride is also transformed when hitting the beaten track. All of a sudden the front chairs become comfortable, although rear seat passengers still won't appreciate the squab being as short as it is. The booming stereo is also appreciated, especially when rollin' wid da homeboyz, and crankin' out Fiddy.
But the biggest surprise (and help) was the H3's skillful stability control system. Savvy in a way that is uncanny, it negated the need for locking diffs and/or hubs.
When climbing, if you feel the car start to slip, you need to have faith. Simply backing off causes more problems than pressing on. So, keep the foot buried, and let the electronics do their work.
One slice of slippery slope was awash with gravel, but undulated severely, so at certain points, you couldn't see what was ahead of you. Confidence built, we just kept our foot on, light blinking on the dash, clickety-click coming from the wheels, and as one wheel lost grip, it was stopped. Another wheel took over, and they swapped backward and forwards, side to side, as torque was fed to whichever wheel had the most hold. 2200kg of Hummer walked up the hill, climbing over boulders, re-evaluating, in split second time, the surface.
The crew looked on in awe, as wheels hung in the air, yet didn't spin. All you have to do is pick your path, and let the car do its thing. Tenacious? You betcha. Couple that with plenty of ground clearance (but could be lifted further with easy modifications) and the H3 is a true go-anywhere machine.
At the end of our trip, the Hummer H3 had gone higher, farther and easier than anyone else present. There's one sole reason why I am enamoured by the H3: It made me look like I had some skill.
Check out the Hummer H3 Gallery (Off-road).
Hummer H3 Gallery (City)
[gallery=58]
Hummer H3 Gallery (Off-road)
[gallery=56]