2008 Hyundai Santa Fe review
Current Pricing Not Available
2008 Hyundai Santa Fe SLX review
CarAdvice rating:
Options available: Metallic Paint $350

By: Matt Brogan
Hyundai's previous Santa Fe was an ungainly, underpowered and dated affair lacking any credible driving finesse - things have changed. The new Santa Fe demonstrates just where the big H's capabilities lie and indeed where their future is headed.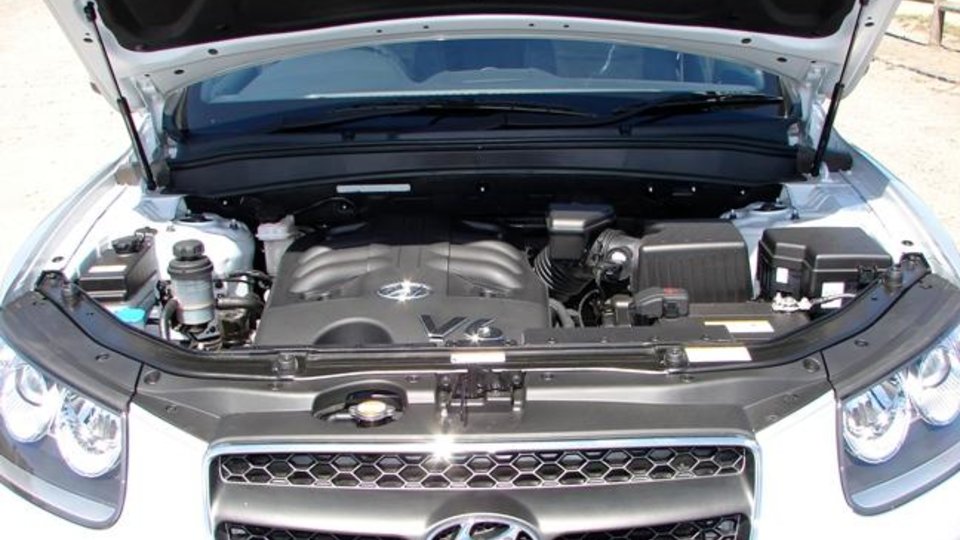 Santa Fe's exterior styling is youthful, modern and fresh with smooth flowing lines, tough proportions and a quality finish that's becoming pleasingly consistent across Hyundai's entire range, but open the door and things become just a little peculiar.
At night the funky blue back lighting, whilst undoubtedly trendy, is a tad overwhelming even when fully dimmed, and the instrumentation though adequate, isn't exactly cutting edge. But there's a neat flip down convex mirror for keeping an eye of the little ones, numerous nifty storage compartments, and a chilled centre compartment big enough to hold a two litre tub of ice cream.
The third row seats, whilst undoubtedly handy are not entirely practical. Once deployed there is effectively no remaining luggage space and you really do have to wonder who over the age of eight would comfortably fit back there. But in two- or five-seat mode the luggage space is tremendous. Fortunately, the seating combinations are flexible enough to work around most situations.

The five-speed auto does a slick job of shuffling smoothly through the cogs and can be assisted by the use of manual mode should the need arise. Claimed fuel economy is10.7 litres per 100km (combined) which I found a little conservative. My week's driving instead returning a 12.5 l/100km combined average.
As SUVs go, the Santa Fe drives incredibly well, I'd even go so far as to say it's second only to Kluger for the FWD lot. Handling is well above what you'd expect from a high riding family car and the steering is well weighted and superbly balanced. It's even easy to manoeuvre through the narrowest of car parks.
There's a very slight tendency to understeer when pushed, which is exaggerated in the wet, but thankfully the standard ESP works very well at keeping you in line. Body roll is virtually non-existent and lateral weight transfer, while noticeable, did not upset the car's balance, even on unsealed roads.
So if you're considering an SUV, and expect a family car to be both manageable and capable then take the 3.3-litre Santa Fe for a spin. It's a great package for the money, an excellent driver's car by class standards and boasts a warranty few competitors can match.