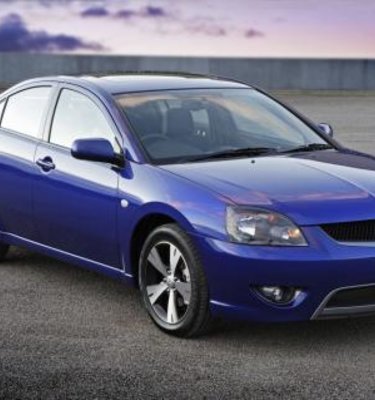 2007 Mitsubishi 380 VRX Series III review
Looking for a deal on this car?
2007 Mitsubishi 380 VRX Series III Review
The recently released Series III has made an already appealing package, even better.
CarAdvice Rating:
Recommended Retail Price: $38,990 - five-speed auto
Options fitted: Metallic Paint $350, Sunroof $2,000
- by Alborz Fallah
If you've bought a base model Commodore or Falcon in the last 12 months, I want you to tell me why. Apart from the rear-wheel-drive vs front-wheel-drive argument, you won't be able to convince me the other two are any better than Mitsubishi Australia's only child.
With the shrinking market for large family cars, Mitsubishi Australia - with a limited budget - has produced arguably the best car in the segment. Great reviews followed, but sales didn't eventuate as expected. So Mitsubishi has tried again, with the Series III.
The Series III update includes a rework of the car's interior appointments, multiple external styling updates and specification upgrades.
After driving the 380 VRX around Brisbane for a week, I really do wonder why Mitsubishi, with the best warranty in the business, is struggling. Compared to the current VE Commodore, BF MKII Falcon and the Toyota Aurion, you would be hard pressed dismissing the Mitsu as inferior.
Powered by a 3.8-litre 24-valve SOHC MPI V6 engine which manages 175kW of power (at 5250 RPM) and 343Nm of torque (at 4000 RPM), the 380 is behind its competitors as far as power goes (Toyota Aurion - 200kW, Holden Commodore - 180kW, Ford Falcon – 190kW), not that you would notice it. It goes from 0-100km/h in just 7.6 seconds, ahead of the base model Commodore and Falcon, losing out to the 200kW Aurion by just 0.2 of a second.
Before we get to the drive, let me tell you where the 380 actually sits. Starting from just $28,990 for the ES manual sedan, the 380 undercuts the competition considerably. To be fair, we'll compare the entry model automatic ES Sedan which retails for $30,990 to its entry model auto competitors.
The ES auto is $4,000 cheaper than the Aurion AT-X, $5,000 cheaper than the Falcon XT and $3,500 cheaper than the VE Commodore Omega. Better yet, the auto ES makes use of a five-speed INVECS II "Smart Logic" automatic transmission with Sports mode, this is compared to the Falcon XT and Commodore Omega's dinosaur four-speed gearbox (the Aurion betters the 380 with a six-speed sequential auto).
The 380 also wins on standard equipment across the range with standard dual front and side SRS airbags, ABS brake system with EBD, automatic climate control air-conditioning, power windows and mirrors, remote central locking, cruise control, power adjustable driver's seat and steering wheel audio controls.
Power options aside, the dual front and side SRS airbags are both an option on the Falcon and Commodore. The 380 ES also comes standard with 16" alloys while others will charge you even more. I can go on and on pointing out why the 380 is better on paper than its competitors, but there has to be something about the car that reflects the sales figures!
Just like Volvos, Mitsubishis had never inspired me (bar the Evo). The 380 was no different, it is after all, a generic family car. But after spending almost 2 months behind the wheel of the entire Mitsubishi lineup, I am starting to think a little differently. One broke down on the highway, one made me question my sexuality and one ended up with its own personalised photo, courtesy of Queensland police.
So why is it then that out of the entire Mitsubishi lineup, the only car that really surprised me was the 380? Some take this for granted, but Mitsubishi has been building cars as far back as 1917 and they have learnt a thing or two in the process. My test vehicle was an auto 380 VRX ($38,990), the sporty variant.
Driving out of Mitsubishi HQ and heading for Mt Glorious, one thing became obvious, the perception that the 380 is an inferior car is completely unjustified.
From corner to corner, the grip from the 17" wheels is incredible, with little sign of torque steer. Mitsubishi's TCL system combined with the cars well designed chassis proved to be a joy going up the mountain. The five-speed gearbox works beautifully in both D and Sports mode. Gear shifts are instant and seamless.
I can go on and on about the great handling characteristics of this car, and I will. Before I do though, let me just get to the elephant in the room. Yes, this is a front-wheel-drive, and no you can't ignore that when you go shopping for a family car. But here is the thing, I'll be the first to admit a proper driver's car needs to be either rear-wheel-drive or all-wheel-drive, but the 380 is essentially a family car, and given its fantastic TCL system, you will have a very hard time trying to lose control.
Even around the hardest bends, comfort is not sacrificed. With minimal body roll from one corner to another, the VRX's sports seats hold you tight. There is none of that 'hold on to the steering wheel' factor in this car.
As far as 'the drive' went, the 380 left me with a desire to charge up the mountain over and over again, unlike the TRD Aurion, which made me get life insurance. It's hard to fathom the 380 being a bit of a driver's car, but it is.
From the outside, you can argue either way, while the 380 is designed to be a rather inoffensive and sedate car to appeal to the masses - a move away from the horrid last-generation Magna it replaced - it can still be better.
Compared to the Aurion and the VE Commodore, the 380 looks a tad outdated. The front lights and grille don't really do the car justice, but the VRX badge and the sexy 17" wheels set it apart. As for the rear, it's a bit of a hit and miss. For a car which Mitsubishi Australia has put its life and soul into, it could do with a little more personality.
The interior is modern yet simple. There is a small LCD screen which shows everything from aircon to audio settings, this is a good and bad thing, I for one prefer my audio system separate to the aircon.
The instrument cluster is nothing to show your friends and for the VRX model I would have expected a little more sportiness. The rear seats will comfortably sit three adults with sufficient leg room, but the lack of 60:40 split is a let down. The boot is good for 437 litres.
The VRX can do with sport pedals and something to replace the plastic gear stick, but as far as interior finish goes, there is no sign of the cheap and nasty Mitsubishi interiors of the past. Overall interior refinement compares favourably with its rivals.
As a model range, the 380 wins with high levels of standard equipment, great entry price and Mitsubishi's unbeatable warranty, but for the VRX variant, there are a few things to consider.
Toyota's Aurion Sportivo SX6 is $500 cheaper than the VRX, the six-speed auto Falcon XR6 retails for $1,000 more and the five-speed auto VE Commodore SV6 sits a further $1,000 above the Falcon, so the choice is not as easy as it seems.
If you were going for an entry model family car, there is no question the 380 ES is the pick, your only dilemma would be lack of ESC (which is the 380's weakest link), but once you start going up towards the VRX price, the Mitsu starts to lose a bit of its appeal.
Given the current Falcon is about to be replaced, the choice is between the Aurion, 380 and Commodore and if reliability is a big deal, it comes down to the two Japanese rivals. From here its a personal choice. The Aurion lacks some soul and fails to inspire, but it is arguably the better built car overall, in saying that, I'd still buy the 380.
If you're like most traditional buyers and are quick to dismiss the front-wheel-drive 380, do yourself a favour and walk into your local Mitsubishi dealer and prepare to be surprised, at the very least, you'll have the gratification of telling me I was wrong. But I doubt it.
Mitsubishi 380 Spec Sheet
ENGINE
3.8 litre V6, SOHC 24-valve with roller rockers and auto lash adjustersBore x stroke 95mm x 90mmCapacity 3828cm3Compression ratio 10.0:1Fuel system Electronically controlled multi-point injection
PERFORMANCE
Power (DIN) 175kW @ 5250rpmTorque (DIN) 343Nm @ 4000rpm
FUEL TANK CAPACITY
67 litres
FUEL CONSUMPTION l/100km (ADR 81/01)
5-speed manual 11.45-speed auto 10.8
TRANSMISSION
Manual transmission 5-speed, all synchromesh, fl oor shiftAuto transmission 5-speed INVECS II 'Smart Logic' automatic transmission with 'Sports Mode' sequential gearshift
BRAKES
Power-assisted 4-wheel discs Anti-lock Braking System (ABS) with Electronic Brakeforce Distribution (EBD)Front 294mm x 28mm vented discs with twin piston calipersRear 302mm x 18mm vented discs with single piston calipers
SUSPENSION
Mitsubishi's Body Optimised Suspension (MBOS) system.Front Independent MacPherson strut with coil springs, lower A-arm and anti-sway bar Rear Independent low mount multi-link with upper and lower control arms, coil springs, telescopic shock absorbers and anti-sway bar
STEERING
Type Power-assisted rack and pinion
TURNING CIRCLE (m)
11.2
Looking for a deal on this car?
2007 Mitsubishi 380 VRX Series III review