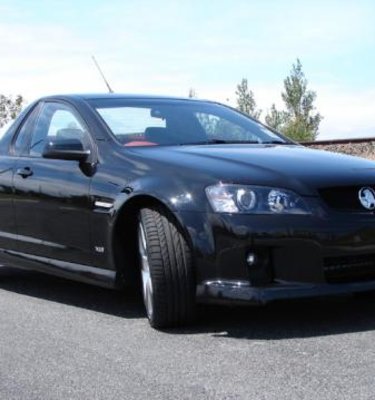 2007 Holden SS-V Ute (Manual) First Steer
Current Pricing Not Available
2007 Holden SS-V Ute (Manual) First Steer
It's been quite a lead up to the release of Holden's much anticipated VE Ute. CarAdvice has had spy pictures and reader information for months now, but until Karl's review on Friday, getting a drive was almost impossible.
Now though, we're all getting a shot, and for my first steer I had the SS-V with a six speed manual gearbox finished in a very sinister Phantom Black metallic and shod with tough five spoke 19" alloys, just to see how it rates against Karl's auto.
In my humble opinion, the Tremec T56 manual is a far better box than the six-speed auto. The ratios are well spaced for laying down every last one of those 270kW and allows for incredible in gear acceleration from any of the first five gears.
Sixth is more about easy cruising and fuel economy, but will allow enough pull if you're not too hurried. The box is easy to master with a short throw shifter making a small flick of the wrist all that's required to swap cogs.
The clutch has that certain V8 feel to it, I'd be disappointed if it didn't, but is by no means heavy or cumbersome with excellent springback weighting and responsive feed back feel through the uptake point. Infact the whole driveline feels exceptionally well sorted and brings a huge grin (and a little chirp) through every quick shift at the top of the tacho.
Utilising (no pun intended) Holden's all new Linear Control Suspension, with 53:47 weight distribution, the Ute feels more like driving a car than most sedans do, and with its more compact lay out, suspension intrusion in to the load area is minimal.
A direct acting stabilizer bar and lowered ride height promotes flat, sharp handling and ensures none of VE's superb handling characteristics are lost. Power is put to the ground cleanly which keeps cornering sharp, centred and surprisingly neutral.
The SS-V Ute is a drive that inspires confidence. Tough yet comfortable with seemingly endless V8 grunt on tap, this Ute is a big boy's toy any self respecting Aussie male would want in their garage.
Red Hot Leather seats and dash inserts with matching instrumentation and a full list of interior features and make the SS-V a workhorse worthy of a spot in even the classiest of stables.
2007 Holden SS-V Ute (Manual) First Steer