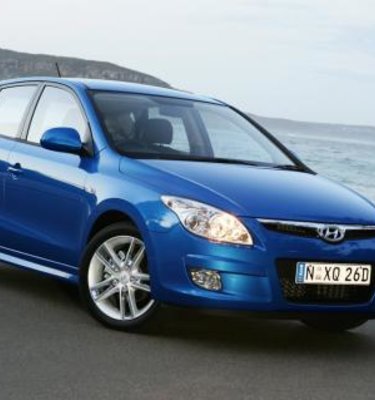 2007 Hyundai i30 SLX Review
CarAdvice rating:
Recommended Retail Price: $23,490 (as tested: $26,780)
- Matt Brogan
By now I guess you've seen the ad on TV, a cute Jack Russell terrier, pretentious valet, and a 'stolen' Hyundai. Its fun, draws a smile, and gets you thinking that perhaps the big H has come of age.
From the outset, the i30's German design is clearly evident. The handsome, contoured nose leads effortlessly up to a flowing bonnet then down over discreetly pumped guards to a side profile not too dissimilar to BMW's 1 series.
The shoulder line high over crisp wheel arches then moves subtly aft ward to a taut, upright rear-end with Mercedes A class fashioned tail lights and C pillar window.
Cupped in the tail is a smooth, sculpted tailgate complete with a VW-style hatch release and logo combination offset by a short 'bee-sting' aerial mounted on the roof.
Paint finish is first rate (Metallic Paint $300) and matched with superb panel fit and smart sixteen inch alloys, I would go so far as to say that with the badges covered, you would not pick this car as Korean.
Inside, you could almost be forgiven for thinking 'Golf'. Funky blue backlighting, smooth one touch buttons and simple user-friendly operating controls are not at all typical of Hyundai's bygone efforts.
The modern, ergonomic lay out of the dashboard abounds with features and the quality of materials is well above average. Reserved décor, contemporary sculpting and sensible colour toning make i30's interior a very pleasant place to be.
Among the long list of standard features is the anti-carjacking HALO (Hyundai Active Locking Operation) system which locks all the doors once vehicle is in motion, then unlocks them once the ignition key is removed (or in the event of a collision).
Further features include a drinks cooler in the glove box, steering wheel mounted cruise control, iPod connectivity, climate control, fog lights, trip computer, immobiliser with alarm, and a sassy leather wrap steering wheel with audio controls.
Seating is supportive and comfortably accommodates four adults (five if you're feeling friendly). Rear leg room is surprisingly adequate and head room in all seating positions is ample, unlike so many cars of late where rear passengers are left needing a trip to the chiropractor.
Cargo space is very generous, even with the rear seats up, but when folded down the true fold flat floor lends munificent proportions that are as practical as they are adequate. The rear seat folds completely out of the way and usability of the whole package is very easy to employ.
Under the hood is a choice of either the tried and tested 2.0 litre CVVT (Continuously Variable Valve Timing) petrol engine, developing 105kW and 186Nm, or the all new 1.6 litre Common Rail diesel (85kW and 255 nM – road test pending).
For this test I had the automatic petrol variant and found i30's performance to be more than adequate. Initial acceleration is very confident (sprinting especially well from 30km/h through 80km/h) and becomes only a little more progressive as speed increases.
NVH is minimal and overall engine noise is unobjectionable until pushed hard. I did notice a little vibration at idle with the climate switched on, but this was not evident during the course of driving the vehicle and did not seem impact upon the performance of the vehicle at all.
The four-speed auto box shifts fluidly and feels well composed through all but the most aggressive of manoeuvres. There was some momentary reluctance to change down gears under heavy in-gear acceleration, but again this was not evident in normal driving situations.
Claimed fuel economy is 7.6l / 100km (combined) with my worst total for the week being a respectable 9.8l / 100km in heavy stop-start traffic. Out on the open highway i30 managed to achieve a 6.1l / 100km average.
Surprisingly the ride provided by suspension 'tuned for Australian conditions' was the first thing I noticed about driving the i30. Although not revolutionary (MacPherson struts upfront and multilink IRS behind) it compliments the all new more rigid body superbly and provides a solid 'larger car' feel over all but the biggest of craters.
Cornering is quite flat and settled with minimal body roll. Ever vigilant Bosch ESP (optional with 'Protectz' Safety Pack) is always ready to step in should any unexpected nasties arise. Understeer, which is of course evident is almost any front wheel drive car, is minimal and did not pose an issue even with the ESP switched off.
Braking is very sure and has a positive pedal feel providing accurate feedback, even in repeated hard application. Fade was negligible and wet weather application was superior to many same class rivals I have tested.
Road noise isn't an issue around town or on smooth city freeways, but was prevalent on the more coarsely tarred country roads. Wind noise is negligible, thanks mostly to the large sweeping windscreen, and overall I'd have to rate the internal acoustics as well above average of those expected from a mid-sized hatch.
Visibility is excellent all round, with the possible exception of the small rear window in the C pillar, which did pose occasional hindrance when reversing from 45 degree angle parks.
Safety has come along way since Hyundai's conception, and rightly the i30 has not been left begging. Side intrusion beams, TCS (Traction Control System), ABS (with EBD), Front, Side and Curtain Airbags are all included. As mentioned, the ESP is optional, and although I feel this should be standard on all new cars, is in my opinion worth the extra money.
The i30 narrowly missed out on the coveted five star crash rating (achieving four stars) with testers citing "potential driver's knee and femur injury in the event of a serious frontal collision" as the reason for falling short.
Perhaps driver's knee airbags, as seen on models such as Toyota's Corolla and Mitsubishi's Lancer, should be a future inclusion. The body structure did however remain stable through the impact.
In all Hyundai's new i30 is a brilliant car and for the price you simply will not find a more well equipped, better value-for-money package in a new vehicle. The i30 ranges from $18,990 to $28,490 and will be available in SR Turbo mid-2008.