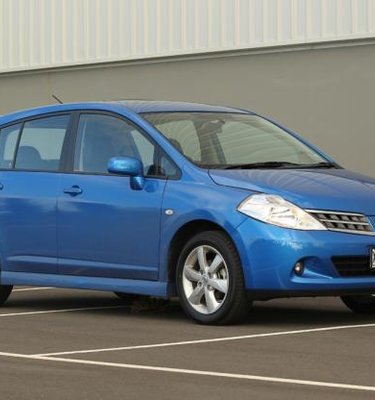 Nissan Tiida Road Test and Review
A great car let down by lack of safety features.
A great car let down by a lack of safety features

CarAdvice Rating:
Ever since, the Tiida has been a sales flop for Nissan, down almost 10% this year (compared to last) and well short of the company's initial prediction of 1500 units per month.
Since the car's launch in 2005, I've never actually had the chance to drive the Nissan Tiida. I was apprehensive about what to expect, but came out surprised – on many fronts.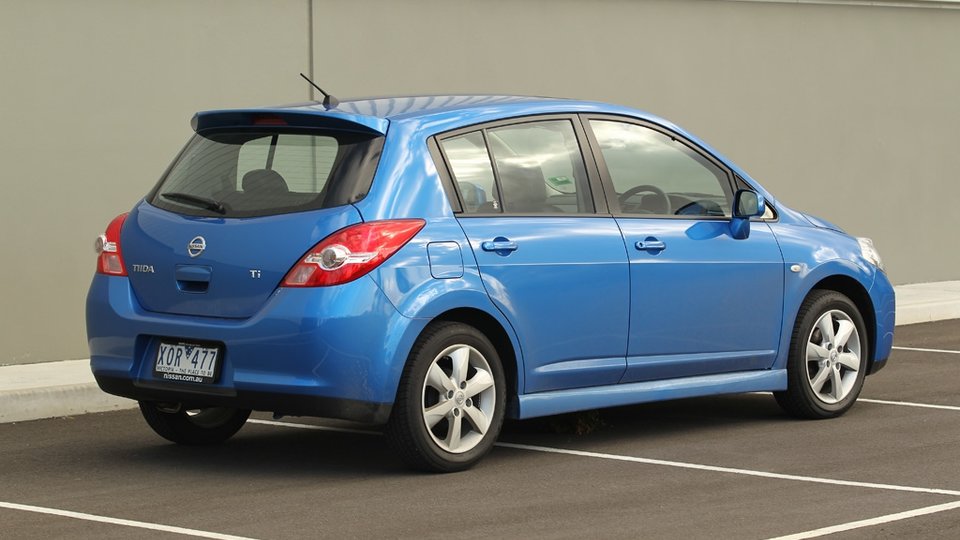 Although styling is subjective, the exterior of the Tiida is far from appealing in my opinion. The design is pinker than it is blue and softer than it is hard. That characteristic alone rules out most men, and certainly all men that I asked, out of buying one.
The top-spec Ti model test driven comes with 16-inch alloy wheels, fog lamps and rear spoiler to differentiate it from the rest of the range.
Inside the cabin, opinions are transformed. Where the outside is more feminine than masculine, the interior is decidedly unisex and carries a premium feel. The Ti model receives leather seats and steering wheel, in addition to a sunroof and six-stack CD-player.
The automatic climate control and audio buttons are conveniently laid out and are easy to find while driving. The cabin has an airy feel to it, with ample leg room both in the front and rear. The boot is also very spacious, with a built in removable cargo blind.
Behind the wheel, the Tiida opens another envelope of surprises with a perky and sporty engine. While 94kW and 174Nm doesn't sound like much, the car's 1130kg mass gives it an impressive power to weight ratio.
Torque is delivered through a six-speed manual gearbox (or optional four-speed automatic gearbox) that offers smooth shifts and an easy and soft clutch pedal.
While the handling and braking won't blow away an BMW M3, it holds its own through corners and is sufficiently sporty if you encounter a few chicanes in your travels.
Fuel economy from the 1.8-litre four-cylinder power plant is equally impressive, with an official ADR figure of 7.6L/100km, which was easily achieved on test and bettered during the highway portion of testing.
So far, the Tiida had me sufficiently impressed and I wasn't sure why it was such a miss with the buying public. It was when I started investigating the Tiida's safety features – or lack thereof – that I started getting concerned.
Let's start with the most obvious omission. The rear centre seat only has a lap-sash seat belt. It's one of the few cars still on the market that doesn't use a three-point seat belt for the rear centre seat.
The next major omission is the lack of Electronic Stability Control, let alone Traction Control. Aside from ABS, the Tiida is one of the only vehicles in this segment to lack either Traction Control or Electronic Stability Control. Also out of the dark ages are drum brakes fitted to the rear wheels.
Safety is somewhat redeemed with driver and front passenger airbags, in addition to head airbags for the first row of seats and head airbags for the second row of seats.
The lack of these key safety features beggar's belief, especially considering the rich competition on offer in this segment. Electronic Stability Control is available on Tiidas in the European segment, so it's hard to imagine why it's so hard to have the life saving technology fitted to Australian specification vehicles.
Nissan Tiida pricing starts at $17,990 for the manual ST hatch. The top-spec Ti model test driven retails for $21,990.
The Nissan Tiida is a car that shouldn't be taken at face value. It offers great value for money and is loaded with features considering the price. While the safety aspect is inexcusable, if the Tiida was to feature a three-point seatbelt for the middle rear passenger and Electronic Stability Control, it would be an exceptional purchase.
Until then, I couldn't recommend the Tiida. Despite the great price and fit-out of the interior, it still lacks life saving technology that is available on almost all of its competitors, even the $12,490 Suzuki Alto.

Ratings:
CarAdvice Overall Rating:
How does it Drive:
How does it Look:
How does it Go:
*Pricing is a guide as recommended to us by the manufacturer and does not include dealer delivery, on-road or statutory charges.