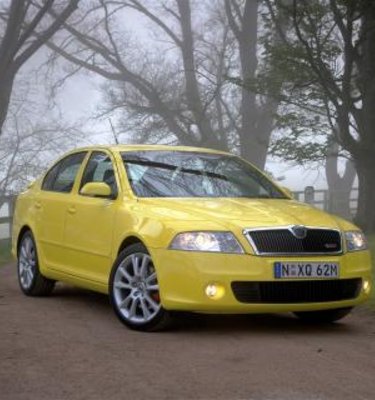 2007 Skoda Octavia RS First Steer
2007 Skoda Octavia RS First Steer
"I can hear you all mumbling to each other out there, who'd buy a Skoda? Me, especially the Octavia RS with the same engine as the Golf GTI"
The Czech Republic is surrounded by Germany, Austria, Poland and Slovakia and one thing it's not known for, is great food. Stodgy dumplings and generally heavy fare, take top billing on the menu most nights.
What it does do well though, is build cars. Lots of them, and they all wear a Skoda badge.
2007 should see over 600,000 Skoda cars leave the factories. Not only that, they have been proudly building cars for 102 years, so its fair to say they know a thing or two about the process.
Better still, in 2000, the Volkswagen group became outright owners of the brand, which has benefited enormously from the global resources and automotive know how within the VW Group.
Skoda is easily the Czech Republic's largest corporation and by far the largest employer. They all want to keep their jobs too, so the build quality of Skoda cars is said to be superior to many of the more expensive Euro marques.
Don't take my word though.
In 2006, Top Gear Magazine ran a reader survey, which rated owner satisfaction over 152 different cars. The result saw Skoda ranked - numero uno.
Still not convinced – then we'll keep going. The highly regarded J D Power and Associates in the UK, found that Skoda was held in such high regard by owners, that the brand was rated second only to Lexus in it's customer satisfaction survey. I could go on, but that should do for now.
The Octavia RS is of course Skoda's hero model, and is armed with the potent 2.0-litre turbocharged direct injection unit, found in one of our favourite cars, the Golf GTI.
Although the RS is relatively subtle in the looks department, you should have no trouble spotting the car.
First off, you can only get it in two colours, Race Blue Metallic and Sprint Yellow and to be honest, it's hard to pick one over the other.
You'll also recognise the RS badge on the front and rear of the car, the twin chrome exhaust tips and the very decent 18" alloys shod with what I regard as the world's best sports rubber, Michelin Pilot Sport 225/40's. They'd want to be too at $600 per corner.
Of course like any real sports car, the body is factory lowered, by 15mm.
Inside, it's all sports kit. The highly bolstered front seats are superb, as is the three spoke leather steering wheel. Instrumentation and trim materials look to be of a high quality with tasteful metal accents throughout the car.
There's a decent dose of luxury in the Octavia range too with the RS loaded up with goodies. Central locking with remote fob – identical to Volkswagen kit, Climate control with two-zone air conditioning and cooled centre console box for drinks etc, Cruise Control, CD changer (6 CD) with direct Ipod/MP3 input, rear parking sensors and heated front seats, round out the highlights.
The brand statement that Skoda is using is "Simply Clever" and I've got no argument with that, particularly if we are talking about the "Roomster".
You can have the Octavia RS as a five-door hatch or wagon, but let me explain the hatch. Appearances would have you believe this to be a sedan, i.e. with a boot. It's downright deceiving though, as you lift the hatch to reveal one of the largest cargo spaces on the planet. That's 560 litres of load space with the rear seats up, and a massive van like 1420 litres with the rear seats folded flat.
I said the powertrain was potent and I meant it. This Skoda will hit 240km/h and do the 0-100km/h sprint in just 7.3 seconds. More to the point, it feels quick and very well planted on the road, while the six-speed manual gearbox makes for rapid shifts.
It's well sorted too. We were fully into it last week on the track and through the corners body roll was negligible, thanks to a rigid chassis and superb steering set up.
The ride is firm and yet even over poor road surfaces, you don't ever feel any body jarring through the cabin. This feels very Golf GTI like and that can only be a good thing.
There's a tonne of safety built into the RS such as six airbags and active safety headrests on the front seats. Active safety features include the latest Electronic Stability Program (ESP) supported by every known electronic safety acronym in the book. That's ABS + EBD + MSR + ASR EDL + HBA + DSR.
You will need to use RON 98 fuel, but with a kerb weight of only 1400kg and a combined consumption figure of 7.9L/100km – this would have to be one of the most fuel-efficient performance cars on the market today.
The Skoda Octavia RS is also affordable, at least against its closest rivals.
At $37,490 for the five-door sedan and $39,490 for the RS wagon, it undercuts its competition substantially. The Mazda 6 MPS will cost you $54,645 with leather and Subaru's similar sized Liberty GT Sedan will set you back $54,990 and the wagon $56,990 although both come with auto transmissions.
"Anyone with aspirations of owning a proper Euro style family sized car with genuine sports car performance and below $40,000 better find out where their nearest Skoda dealer is. I guarantee you won't be disappointed"
By Anthony Crawford
2007 Skoda Octavia RS First Steer