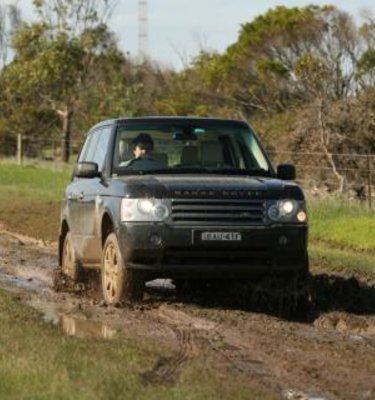 2007 Range Rover Vogue Luxury TDV8 Road Test
2007 Land Rover Range Rover Vogue Luxury TDV8 Road Test
Test Model: 2007 Land Rover Range Rover Vogue Luxury TDV8
Price: $166,900
CarAdvice Rating:
Drive through any wealthy suburb and you're bound to stumble across at least one form of Range Rover, be it the Sport or the Vogue. There must be some reason these things are so popular, so with that in mind, I picked up a Range Rover Vogue Luxury to see exactly what all the fuss was about.
First and foremost, this thing is massive. The driving position is extremely commanding and visibility through all four corners is superb. Although all the buttons located on the dashboard look daunting initially, they are intuitively placed to provide as little distraction to the driver as possible. A brilliant satellite navigation system, an actual demister in the front windscreen and an amazing sound system headline the features list up front.
Head to the second row and rear seat passengers are treated to two in-seat LCD screens which can play video/audio from individual sources via wireless headphones. Leg room is above average for a four wheel drive of this size and the seats and door line cater for people of all sizes.
Most importantly, I wanted to find out how good the Vogue was off-road. Weighing in at just over 2.7-tonnes, the Vogue is no light weight. The height adjustable suspension allows the vehicle to lift enough to avoid obstacles, while the turbo-diesel V8 moves the Vogue along with little haste. It tackled the off-road course with little trouble – partly thanks to the automatic operation of the 4WD system, variable upon the drive mode and terrain selected.
Under the bonnet, one of the best diesels in the business powers the Vogue. Producing 200kW and a stellar 640Nm of torque, the frugal motor sips through 9.8-litres/100km – which is very impressive for a vehicle that weighs some 2.7-tonnes. Power is sent through a slick-shifting 6-speed automatic gearbox.
The Vogue is a relatively competent car through corners too. Normally a vehicle of this size wallows when pushed through corners, but the Vogue is surprisingly responsive and provides decent feedback through the wheel, while the Brembo front brakes provide adequate stopping power.
The Range Rover Vogue range includes three models – the TDV8, priced at $142,900, the TDV8 Luxury, priced at $166,900 (being test driven) and the Supercharged, priced at $185,900.
Standard features included in the Range Rover Vogue Luxury are: Heated/cooled front seats; heated rear seats; heated steering wheel; front/rear window demister; leather seats; satellite navigation; 6-disc DVD player; 6-disc CD player; power windows; power mirrors; auto-dimming rear vision mirror; electric driver and passenger seats with memory; cruise control; bi-xenon headlights; sunroof; adjustable air suspension and alloy wheels.
Safety features include: Driver and front passenger airbags; side airbags; curtain airbags; ABS brakes; Electronic Stability Control (ESC); hill descent control (HDC); brake assist (BA) and engine immobiliser.
In a world where 'bigger is better' and 'less is more', it's hard to find a reason to rationalise the Vogue. If you are constantly driving only one or two passengers around and rarely venturing off the beaten track, you are far better off buying a small car.
If, on the other hand, you do cart a small army of passengers around and do hit the bush on weekends, the Vogue couldn't offer better value for money. Take into account the 3.5-tonne towing capacity, along with the massive list of features and you will soon see the reality behind the asking price. The turbo-diesel V8 provides plenty of torque, along with excellent fuel efficiency, it's hard to want anything more in such a well equipped, luxury 4WD.
2007 Range Rover Vogue Luxury TDV8 Road Test