2007 Audi TT Roadster 2.0 Road Test
2007 Audi TT Roadster 2.0 TFSI S tronic Road Test
CarAdvice Rating:
Test Model: 2007 Audi TT Roadster 2.0 TFSI S tronic
Colour: Sahara Silver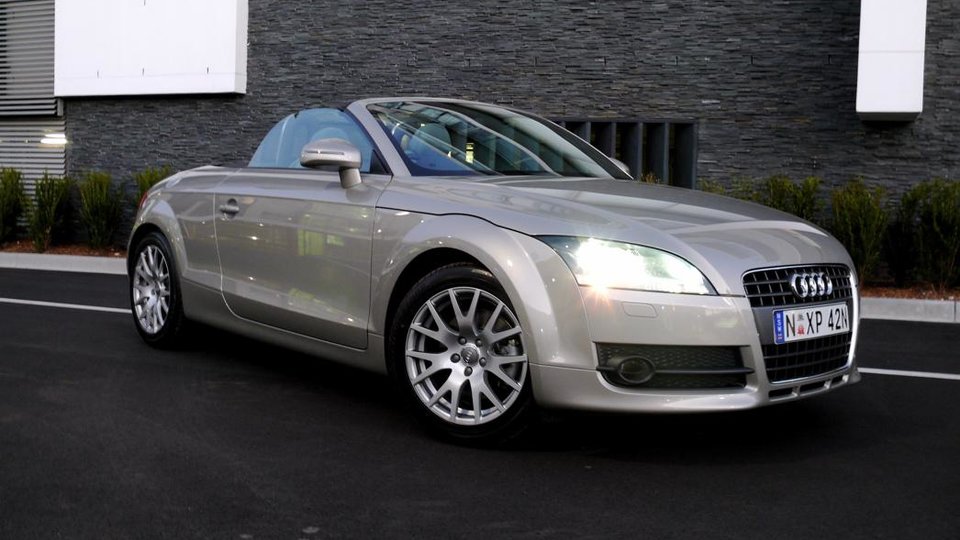 Options Fitted:

Metallic Paint @ $1300 (yes because flat colours don't suit the TT)
Fine Nappa Leather @ $800 (yes- for comfort alone)
Electric Front seat/Lumbar support @ $2100 (No should be standard and the manual system works well)
Xenon Plus Headlights @ 2500 (I'm a huge fan of Xenon and Bi-Xenon but at this price on this car I'd pass)
Acoustic Rear Parking (a must – but again, rear sensors should be standard fit)
Recommended Retail Price:
$77,500 without options
But more power is not always better. Never so true than with the smaller engine TT Roadster 2.0 T (for Turbo) FSI fitted with Audi's warp-speed shifting S tronic gearbox.
There's barely any turbo lag, and that, with a positively decent 280Nm of torque, all the way from 1800rpm to 5000rpm, would have you believing this car is quicker out of the blocks than its 3.2- litre big brother. With a top speed of 237km/h its just 13km/h off the pace of the V6 which is limited to 250km/h.
If that doesn't do it for you, then 22kms of deserted snake bends (somewhere on the NSW coast) will see you begging for more. Bend to bend performance is erotic. Scuttle shake – non-existent. This is a seriously good drive.
And that's not the only reason this TT Roadster behaves impeccably on the road. Unladen weight is just 1,295 kilos, which is remarkable when you consider the additional size and additional structural integrity.
You can put much of these improvements down to one major component. Audi's space frame body. It's 58% aluminium and only 42% steel, which adds hugely to the driving dynamics of this Roadster.
The electro-mechanical Speed Sensitive power steering does its job of ensuring the right amount of boost in almost all driving situations.
The car feels well planted at all times with wider low-profile rubber in 245/45 sitting on the standard 17-inch alloy rims. They look fine, but the optional 18's and 19's look better.
As good as the TT Roadster is as a fully-fledged sports car, it probably isn't the prime reason for buyers choosing this car.
It's all too easy to forget that the TT Roadster is also one of the finest looking drop tops in the automotive world. It's also got the fastest electric roof in the business. Twelve seconds flat – even at 30km/h and that's guaranteed. We timed it. MG die-hards lament.
The benefits are more to do with driveability than practicality. Less weight in a roadster is a major plus and when the roof is up – the centre of gravity is even lower.
The TT's folding roof is a clever system for a number of reasons; the framework under the fabric is a blend of aluminium and steel with an integrated glass rear window. Most folding roofs whether fabric or metal rob the boot area of valuable space, rendering them next to useless as a luggage area. Not so with the TT Roadster.

I'm running out of superlatives for this review, but I need a couple more to describe the TT Roadster's interior fit out.
Audi does the finest production car interiors today, and that's just fact. But they seem to raise the Bar when it comes to their iconic TT.
I'm utterly surprised that this thing only puts out 140watts but unfortunately there's still no standard fit MP3 input which allows you to plug an iPod directly into the head.
The driving position is Porsche like. I mean 911 Porsche like, in that you are sitting in the car – not on top of the car. The ergonomics are particularly well sorted and driver focussed. You could do a long trip in this car and still manage a game of golf at the end of it all.
As far as German rivals for the TT Roadster 2.0 TFSI go, you could look at the Z4 2.5si Roadster, but that's going to cost you $80,000 with a 6-speed auto. It's also slower and not nearly as stylish.
You might take a peak at the SLK 200 K from Mercedes Benz, which has a 1.8-litre supercharged engine with a 5-speed auto and good for a 0-100km/h time of around 8 seconds. Problem is – you'll need to find $89,474 before you tick any of the options.