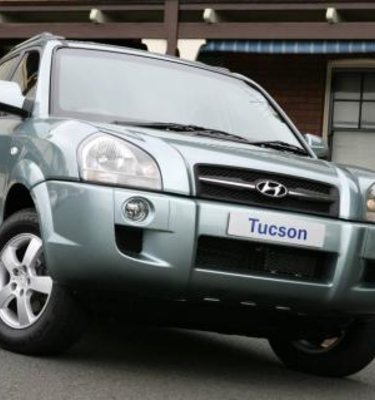 2007 Hyundai Tucson City SX Road Test
2007 Hyundai Tucson City SX Road Test
As a model range, Hyundai have put together another winner with the Tucson. An affordable medium-SUV with more than enough room, plenty of standard features and practicality that will put the competition to shame.
Starting from just $24,990 for the Tucson City SX Manual (test car), you get air-conditioning, ABS with EBD, 16" alloy wheels including a full size spare, cruise control, leather steering wheel and gearshift knob, power windows and mirrors, dual front airbags, MP3 compatible CD-player, roof rails, front and rear fog lights and more.
Add another $5,000 for the Tucson City Elite and you get a four-speed auto gearbox with ESP and traction control, curtain cabin-side airbags, side thorax airbags in the front seats, electric tilt/slide sunroof, six-speaker audio and auto headlights and more.
To top it all off, the All-Wheel-Drive V6 variant provides a reasonable choice if you really need the AWD setup. It starts from $30,990.
Standard features aside, the Tucson is tapping into a booming market, aimed at those who are a bit bored of buying yet-another Mazda3 or Focus, Hyundai believes the Tucson will appeal to young, active urban singles, couples or younger families.
Although I fit into that group, I was left slightly unimpressed reviewing the Tucson. Despite the great value for money, there are some annoying draw backs.
The SX City proved to be an almost undriveable car in the rain, without ESP or traction control, having to take-off from the lights meant a guaranteed traction loss for the front wheels, and before you say anything, this was a normal 2,000 RPM take-off.
As for the ride and handling, it can be greatly improved, it has noticeable body-roll around corners and at times, you tend to use the steering wheel for support as oppose to negotiating a bend.
This is surprising given the Tucson's credible suspension setup. With MacPherson struts up front and multi-links at the rear.
This is called a Tucson City because it's tuned for urban driving, so despite its high ground clearance, the ride can be a little bumpy at times, and definitely don't expect to go off-road.
Don't get me wrong, you can buy this car, drive it every day for years and never fault the ride and handling, but the second you decide to put it around a corner at reasonable speed, you will be faced with some serious understeer, failing that, the steering wheel will give your arms a good work out.
For everyday driving though, the Tucson City SX provides a reasonable handling package, although I would highly recommend the Elite variant as it comes with ESP and TC. The Tucson has a 10.8 meter turning circle.
The four-cylinder 2.0-litre Elantra sourced engine powers the Tucson City with 104 kW (@ 6000rpm) and 184 Nm (@ 4500rpm) on standard 91 RON fuel, which pushes the car to 100km/h in a little over 10 seconds (manual model tested).
Gear ratios are a delight, ensuring a comfortable and easy driving environment. The four-speed automatic variant is $2,000 more. Unfortunately, the 5-speed manual is only available on the entry model City SX.
The clutch is easy to engage, but finding third gear became a constant problem and although I would usually recommend a manual over an auto, the 5-speed manual isn't something I'd want to live with everyday.
Looking at the Tuscan, it's hard to get too excited, the front is an instantly recognisable Hyundai job, with a simple and somewhat bland look, and the rear is not any better. Thankfully though, 16" x 6.5" alloy wheels (215/65 tyres) and the car's high ground clearance give the Tucson a more prominent stance, with standard foglights finishing up the package.
The V6 AWD variant gets slicker tyres and dual exhausts.
The package misses out on one essential feature, rear parking sensors, when cars like the Proton Savvy come with it, it's time Hyundais did as well. Rear vision is terrible and reverse-parking is a nightmare; aftermarket parking sensors are worth considering.
The interior doesn't have a great feel to it, there is just far too much noticeable plastic, the leather rim steering wheel needs to be replaced with a proper leather steering wheel, the centre console does a good job, although it can do with a little more excitement. The entire interior is as Spartan as it gets, you have the essentials, and that's about it!
Don't be alarmed, the interior might look a little cheap, but practicality-wise, this is perhaps one of the best designed medium-SUVs on the market. There is loads of room to store nearly anything.
Small lipped trays under each door pull, provide an excellent space for a mobile phone, there are four retractable shopping bag hooks, three 12v points (thank you!), pockets with bottle holders on all doors, an overhead sunglasses console and two wet compartments under the rear floor by the alloy spare wheel.
The stereo system in the SX needs to go, sure it plays MP3s but does it have to look like a calculator from the 80s? Thankfully it's not integrated, so it is easily replaceable. As with most new Hyundais, the speakers are well above average quality with sufficient base and mid-range to play your favourite tunes.
Sitting in the driver's seat, there is not much to complain about, if you don't intend to drive too enthusiastically, you can sit back and relax. The rear also does a good job with comfortable support for grown adults and children alike.
Comfort aside, the rear seats can do a whole lot more, with a 60/40 split setup, you can fold each backrest forward to sit flat and level with the boot floor. This gives the Tucson an enormous 1.855 metres of flat load length right up to the front seat backs (or 1.635 meters if you have the front seats all the way back).
That's not all though, you can go one step further and fold the front passenger seat forward to a horizontal position, giving over 2.5 meters of in-cabin load length on the left side.
Fuel economy is very respectable at 8L/100kms for the manual while the auto manages 9.9L/100kms.
If you're worried the car will break down and you'll be plagued with endless quality issues, stop worrying. Bar Mitsubishi, Hyundai have the best warranty on the market, the Tucson comes with Australia's first unlimited kilometre, five-year, fully transferable, factory new car warranty.
If I had to sum up the Tucson in one word, it would be practical. Sure it's not that fun to drive, doesn't have much go and the interior looks a little out-dated and cheap, but for $24,990, you really can't complain about the sheer size and practicality, besides, show me another car that gives this much for less!
Ideally, I'd recommend you go for the mid-range Tucson City Elite for the extra $5,000. Not just for the ESP and traction control, but also for the extra side airbags and the auto gearbox.
If you're after an affordable medium-SUV to get around town, pick up the kids and do the occasional beach/park run, the Tucson is an excellent choice.
2007 Hyundai Tucson City SX Road Test