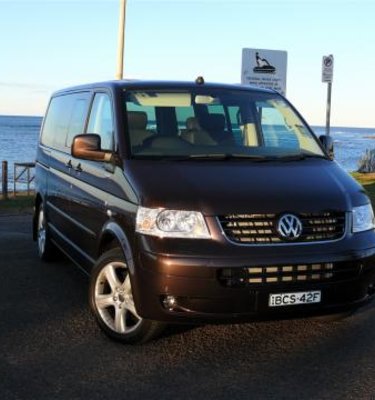 2008 Volkswagen Multivan First Steer
2008 Volkswagen Multivan Sport 2.5 TDI Tiptronic – First Steer
"The coolest Kombi Van on the planet – Volkswagen's Multivan Sport TDI is also a super luxo ride for seven people"

Test Model: 2008 Volkswagen Multivan Sport 2.5 TDI, Tiptronic.
Options Fitted: None – although you can get a glass sunroof for $2000 – which for this kind of freight, should be standard kit along with roof racks, no ifs or buts.
Recommended Retail Price: $76,990
Where it sits: It's a proper Limited Edition – Volkswagen has only produced 50 of these – so you are guaranteed exclusivity. You have a choice of just two colours, Samoan Red (as you can see) and Reflex Silver M – which we haven't seen.
The Multivan range starts at $56,990 for the Comfortline 2.5L TDI 128kW six-speed auto, and goes all the way up to this special edition.
You can also get a 3.2L V6 173kW petrol engine, and if you choose the six-speed manual version – you can opt for Volkswagen's All Wheel Drive system, known as 4MOTION.
I should have been writing this review about the base model Touareg R5 TDI but when I arrived at Volkswagen Australia to collect it – a funny thing happened. I was given the keys and was wondering around the compound trying to locate this sizeable SUV when this Multivan T5 flashed its lights at me.
Someone had made a wrong entry in the schedule and until Volkswagen could arrange the Touareg – I decided to see what a Multivan was all about.
I've never owned a van but as far as vans go, this is the business. The Samoa Red metallic paint job looks particularly sweet as does the 235/50 Pirelli P Zero Rosso rubber all round, on some very unique 18-inch alloys.
It sits low to the ground and all bumpers and outside trim is colour-coded as well as "Sport Edition" badges located on each front panel.There's also some tasteful metal step inserts with lighting, which make entry and exit for passengers a breeze.
Adding to the looks are the dark tinted windows all round. Side windows slide open, albeit manually.
It's big, very tall and very long! Overall length is 4890mm and that's 100mm longer than a Toyota Tarago but surprisingly, shorter than a Chrysler Voyager by around 20mm.
At 1954mm though, it leads the class in the height department. You can literally walk around inside this thing without stooping, it's that tall.
All seven seats are trimmed in beautifully soft, two-tone leather they call Grenadine, and it definitely gives the interior an upmarket David Jones quality look.
Given the high levels of luxury kit aboard the Multivan, I'm surprised by the omission of a power driver's seat at least, given you need to reach down quite low to find the manual slide mechanism. There's also a lack of side bolster support on both front seats despite their comfort in straight line cruising.
The seating configuration is hugely versatile. There's a three-seater rear bench along with two middle row swivel seats with dual armrests. All seats, including the rear bench, are on a track so that you can move them into almost any position possible. You can also remove all rear seats, which will free up a massive 4.3 square metres of load space.
Although there's no centre console – there are endless compartments for all your bits and pieces and the side door pockets are enormous. You'll also find sliding drawers under all of the rear seats.
Let's talk about access – this is half the fun. Both sliding side doors are electrically operated from either the remote fob, or via buttons on the dash. Perfect for school picks ups and drop offs although, hotels and their guests would also find this feature useful.
The rear tailgate is enormous and is a perfect rain shelter if you happen to be suiting up for surf, on one of those stormy but perfect days!
Whether your transporting hotel guests, kids or grommets – they'll all be blown away by the 23.5cm LCD screen with an "easy to use" DVD player and eight speakers in total.
Also standard is a six-disc CD changer, Sat Nav – which is not touch screen but quite simple to work out without resorting to the tortuous task of reading the manual.
Passengers can also kick back and have a few drinks on the way to diner, as there is a very handy bar table in the rear, which can not only move forward and aft but also raise and lower its height.
An inventory of interior functions is too extensive to list suffice to say, this thing has everything you could ever need for any purpose in life.
Front and rear parking sensors, 3 zone climate control, Sports leather steering wheel, rain sensors are just a few of the goodies.
The headlights, although Halogen not Xenon, are superior to any previous halogens I have experienced.
Powered by Volkswagen's 2.5L TDI with 128kW and a serious 400Nm at 2,905rpm, this van can accelerate up one of the steepest roads in Sydney's Balmoral – and that's no mean feat.
Highway cruising is effortless, regardless of a full load or not although, the engine drone is a little on the noisy side under revs, but it's not that nasty diesel clatter that affects some auto species. That said, it could be quieter.
The six-speed Tiptronic does a fine job with smooth gearshifts making the Multivan Sport a piece of cake to drive, as does the rack and pinion power steering delivering a respectable turning circle of 11.9m and that's not far off your average SUV.
Handling for such a large and tall vehicle is surprisingly good with minimal body roll through corners. Poor road surfaces are not much bother either, with McPherson Struts and anti-roll bars handling suspension at both ends.
If you've never driven a large van like this before, don't panic, you'll be able to drive a Multivan, no experience necessary.
If you're a petrol miser – you'll like VW even more. Even with a decent load aboard the Multivan, your 80-litre tank of diesel will probably get you close to the official figure 8.7L/100km. I was driving around for a day or two before the fuel needle finally moved off the "full" mark.
As a people mover – you would expect plenty of airbags and electronic safety aids, and that's exactly what you get.
Passive safety includes; dual front airbags, front side airbags with curtain airbags front and rear.
Electronic Stability Program – a must for any large people mover and SUV is of course standard, as are Anti Lock Brakes with Electronic Diff-Lock (EDL) and Anti Spin Regulation with Engine Drag Torque Control (EDTC) which all assist with traction in various conditions.
"Enormously versatile, enormously well appointed, Volkswagen's Multivan Sport is a unique vehicle and in a class of its own"
By Anthony Crawford
2008 Volkswagen Multivan First Steer