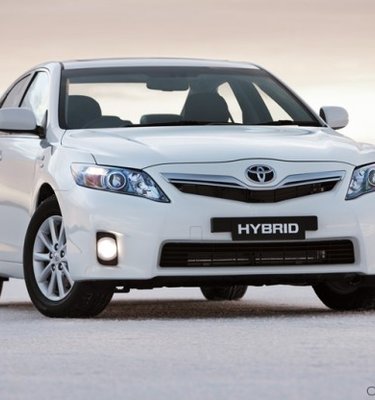 Toyota Camry Hybrid Review
Is the new Camry Hybrid a motoring hedge against future fuel price rises?
Having spent the best part of the last two days with Toyota's new Camry Hybrid, a car Toyota claims is its most important model in 50 years, it should come as no surprise that this car is every bit as good to drive as its regular petrol-powered sibling, and in some ways, even better.
Toyota Australia senior executive director, Mr David Buttner, says the new Toyota Camry Hybrid will "totally redefine Toyota", and after driving a route spanning everything from inner-city gridlock, to fast-flowing freeways and even winding back-country lanes, it's pretty clear that Australia's first locally built hybrid car is well on track to becoming a serious success story for the brand - with both fleet and retail buyers alike certain to flock to Camry's new flagship model.

The decision to commit to a local build also increases the potential of more Australian-built hybrid models in the future, though at this point any decision on model type is speculative (though a Toyota RAV4 model was hinted at), and increases Avalon's export opportunities, of which there are already a considerable few. At this point Toyota's Hybrid Synergy Drive system is imported from Japan, though production may begin here if volume allows. The same goes for recycling of the battery pack at the end of its usable life.
From sign-off to production, the process of delivering the first Camry Hybrid has only taken six short months - an impressive feat for any manufacturer, and while based to a fair degree on its American Camry Hybrid Sportivo counterpart, Australian built Camry Hybrid models benefit from significant alterations to both the suspension and steering settings, a move necessary to appease Australian drivers' need for better road feel and handling dynamics.

The long-travel, all-coil, fully independent suspension arrangement (MacPherson Strut - front / Dual-link Strut - rear) saw revised spring and damper rates all-round, changes to the rubber stiffness of the front upper suspension support and an altered front stabiliser.
The changes have made Camry Hybrid 8.5 per cent stiffer up front and 12.5 per cent stiffer in the rear, as compared to the petrol-powered model, but softer in its front stabiliser bar (by around 5 per cent) to reduce understeer, making the car more agile when cornering.

The boot offers 389-litres of cargo space, (or four standard sized golf bags in the traditional Japanese measure), a full-size spare wheel and 60:40 split fold rear seats - though a lot of the through space has been compromised by the battery pack.

Interestingly the ride seems just as pliant as the regular Camry model being both controlled over lumps and bumps and well-settled on the choppy 'C' roads of Victoria's panoramic Mornington Peninsula.The cabin is comfortably suspended and also suitably quiet. An acoustic deadening windscreen plus additional sound insulation between the engine bay and cabin helping in the cause.
At the traffic lights, when the stop-start function switches off the petrol engine, Camry Hybrid is silent, almost eerie, but very serene. It's a relaxing experience, and quite enjoyable, once, that is, you get over the "stalled" sensation that occurs. Upon taking off from rest the car uses electric power until more motivation is needed, at which point the petrol motor seamlessly jumps to life for that added push.

The upper-spec Camry Hybrid Luxury models also features a Prius-style read out on the centre satellite navigation/audio screen, further detailing multi-info economy graphs and energy flow display.

The electronic power steering (EPS) also offers an improved feel and draws less energy than traditional hydraulic units with a solid on-centre feel that becomes continuously progressive the further off-centre you turn. It's a refreshing change for an electronic system to offer this level of feedback while still being light at car park speeds.

The 16-valve petrol unit, which coincidentally runs on 91RON unleaded petrol, develops 110kW at 6,000rpm and 187Nm of torque at 4,400rpm while the electric motor adds 105kW (and 270Nm) for a combined system power rating of 140kW, or just one kilowatt less than the V6 engine that powered the previous generation six-cylinder Camry. The electric motor also acts as a generator while coasting to provide charge to both the 244.8-volt hybrid battery and 12-volt regular battery, also mounted in the boot.
These changes now mean Camry Hybrid takes the honour of being the most powerful and most efficient model in the current Camry range.

Power is delivered to the front wheels via a continuously variable transmission (CVT) to ensure smooth and strong acceleration with no compromise in performance or fuel economy. The electronically controlled transmission utilises planetary gears in place of belts or pulleys to ensure greater longevity and nearly imperceptible shifts in ratio.
The Camry Hybrid boasts a 0-100km/h time of just 8.9 seconds and a combined average fuel economy figure of just 6.0L/100km. Both electric motors and the CVT fit into the one compact casing.
Low CO2 emissions (Euro IV standard) of just 142g/km are further aided by other technologies throughout Camry Hybrid's powertrain that include a single drivebelt on the engine (powering only the water pump), kinetic energy recovery and stop-start technology.
Other ancillaries such as the power steering pump and air-conditioning compressor are of electric operation to reduce strain on the engine while the alternator and starter motor are non-existent, replaced instead by a smaller electric motor cum generator that provides electrical charge, petrol engine starting and, peculiarly, the car's reverse "gear".
Camry Hybrid's kinetic braking system and throttle are also electrically operated.
On the styling front, the Camry Hybrid is rather understated with most of the changes made more about function than form.
A revised front fascia with smaller grille and larger lower air intake allow additional cooling for the altered under-bonnet air flow requirements needed by the hybrid system. Flatter sides at the front corners of the bumper allow smoother air flow down the car's profile, while underneath, diffusers beneath the engine compartment, rear floor assembly and fuel tank help Camry Hybrid carve a more slippery path through the air.
These refinements bring the Camry Hybrid's drag co-efficient to a very low 0.27Cd.
Safety equipment includes VDIM, ESC with Traction Control, ABS braking with EBA and EBD as well as front, side and curtain airbags. The current generation Toyota Camry scores a four-star ANCAP rating due to its lack of driver's knee airbag and passenger seatbelt warning lamp.

As the most efficient, most advanced sedan on the Australian market, Toyota plans to sell around 10,000 examples of the new Camry Hybrid annually (split 80:20 between the Base and Luxury models respectively), with 1,000 pre-sale orders already filled. The big T says that by the year 2020 it aims to sell one million hybrid units annually worldwide with a hybrid example of every model in the Toyota range available that same decade.
Pricing:

Toyota Camry Hybrid Base (based on Ateva spec.) - $36,990*
Toyota Camry Hybrid Luxury (based on Grande spec.) - $39,990*
*Pricing is a guide as recommended to us by the manufacturer and does not included dealer delivery, on-road and statutory charges.
Option Pricing:

Base model option package (includes Premium Audio System, Satellite Navigation and Bluetooth connectivity) - $3,000
Luxury model option package (includes Premium Audio System, Electric Tilt & Slide Sunroof, Bluetooth connectivity and Rear Seat Cabin Lamps) - $4,500