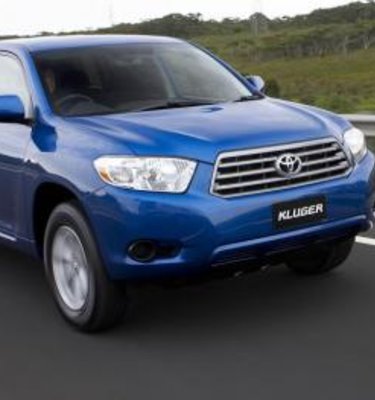 2007 Toyota Kluger Road Test
2007 Toyota Kluger KX-R (2WD) Road Test
With excellent on-road manners, quiet and effortless performance, you'd be hard pressed to find a more suitable and practical family car.
CarAdvice rating:
Recommended Retail Price: $39,990 (plus ORC)
Options available: Metallic Paint, Park Assist, Sunroof
- by Matt Brogan
It would seem there's a running theme to my road tests lately, the ever-popular SUV. Now if only I could borrow some kids and a golden retriever I'd be all set. But seriously, how does Toyota's all-new Kluger shape up?
Completely re-designed and re-engineered from the ground up, this is not some half-hearted attempt at a mid life face-lift. It's bigger, smarter and more grown up, well suited to a discerning family buyer. Toyota aims the new Kluger squarely at buyers who'd have previously considered a Camry wagon.
Outside, the Kluger's appearance is absolute. No edgy unfinished lines or horrible try-hard ruggedness - those days are gone. The new Kluger carries itself with poise and understated style; something lacking in many of its out dated rivals.
Standard 17" alloys, discreetly pumped guards, and a high shoulder line give a no nonsense stance that suits the larger dimensions of the vehicle. A large, high set grille with softer, flowing lines and rounded edges lend Kluger a striking and bold presence, without being too vehement.
Jump in the captain's seat you get the sense that Toyota has tried hard to impress this time. The revised steering column position is spot on and allows you to feel more involved, just like you're driving a real car, rather than some gawky behemoth. Plastics and fabric is of reasonably good quality, and appearance is durable and sensible rather than exciting.
Seating is practical, comfortable and supportive, and best of all you can buy a grade of vehicle to best suit your needs, similar to Ford's Territory. Don't need a seven-seater? Then buy the five. Don't need an AWD? Buy a 2WD. It's that simple.
Considering I had the 2WD (front-wheel) base model KX-R five-seater, the list of standard options was quite satisfactory. Electric everything, cruise control, audio controls on the wheel and a very quiet ventilation system (with rear outlet), it leaves the others playing catch up. The single disc stereo is reasonably punchy and the iPod adaptor very welcomed.
There's even a reverse camera standard across the range, something I believe every high riding car should have fitted. I'm not saying you shouldn't turn your head to reverse, but being able to see any little ones below window height could potentially be a lifesaver.
Moving up the range you'll get a six disc CD player, blue tooth compatibility, leather trim, sat nav and even a DVD player, and with eight variants to choose from, there's a package suited to every different buyer's budget and need.
It's as if Toyota has listened to what people want from a wagon, instead of dictating like Mussolini from the balcony. Bravo Toyota.
Driveline is everything we've come to expect from Toyota, strong, smooth and surprisingly driveable, no NVH or feedback here. The 3.5-litre V6 (same as Toyota Aurion) pumps out a gutsy 201kW, and with 337Nm on tap, the bulky 1,835kg wagon gets up to speed with vigour. Toyota claims eight seconds to 100 and, for once, this claim is pretty close to the mark.
Torque steer is negligible thanks to the amplitude of electrical assistance (ESP, TC, BA, HAC, DAC (AWD only) & ABS), which also add markedly to the overall safety of the vehicle. Consider also the seven airbags standard (seventh being driver's knee airbag) and you're talking class-leading safety.
The five speed auto box (no manual available) isn't what I call spectacular, but is well sorted enough not to draw any complaints. Manual mode is there, which you may occasionally find use for if towing up to the 2,000kg rating offered, but generally speaking is a waste of time for most drivers in a car like this.
There were a few times when I found the car struggled for grip on hard starts but generally the drive was very good, and the in gear acceleration is incredible. Through varied driving I found a return of 12.5l/ 100km was about the average, just over the claimed 11.
Braking is very strong with excellent pedal feel and feedback. I could repeatedly get the big beast to stop as sure and smoothly as a small hatch back.
The balance of the Kluger isn't easily upset either, even before the little light tells you the electronic aids have come to your rescue. The chassis is well sorted and carries the front drive dynamics of the vehicle without fuss, in fact through all but the hardest of driving, you wouldn't know it's a front wheeler.
Cornering is fluid and even mid corner bumps won't upset its line. There's almost no body roll to speak of and although this comes a little at the compromise of a supple ride, once there's a few bodies and some luggage in the car, things sort themselves out nicely.
Luggage space is huge, and with extra storage in the floor (even a compartment for the cargo blind when not in use), you won't go wanting for a place to put things. The rear seats fold flat to increase space and can be manipulated independently as required for bulky or long items when you still have bums in seats. Ski trip anyone?
Ranging from just under $40K up to $64,490 for the fully loaded Grande, I doubt too many rivals can offer the same reliability, durability and versatility for the price. It's not the cheapest car of it's class but when you consider the whole of life cost a Toyota offers, the value speaks for itself.
2007 Toyota Kluger Road Test