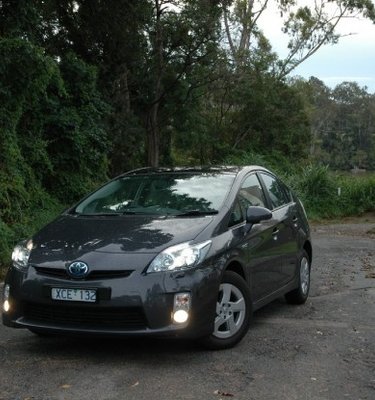 Toyota Prius Review Long Term Update
After one solid month with the new third generation Toyota Prius hybrid my opinion still hasn't changed. It's quite possibly the smartest, yet the most uncool car under $60,000.
Whilst I've had the Prius I've also got behind the wheel of two other cars, a Jaguar XF-R and a Lexus IS250C. Although completely different cars entirely, the Prius' cleverness has left me wanting more from the other two, particularly the Jag. The Prius simply makes driving feel like a much easier experience than it has ever been.
Of course it wouldn't be an irony if the second ever infringement notice ever gotten in a press vehicle wasn't in a Toyota Prius.
No, it wasn't for speeding, I wouldn't live that one down, it was for having the foglights on. Queensland Police have taken it upon themselves to target drivers who drive around with their foglights on. Fair enough. Given the Prius' main instrument display is not infront of the driver but in the centre of the dashboard, the little foglight on symbol is relatively well hidden away.
The Prius has been driven between Warwick and Brisbane repeatedly, as well as around Brisbane city traffic and up to the Gold Coast. Fuel economy is rating at an average of 4.6L/100km at the moment but it's being driven with very little consideration for fuel economy (real world driving).
One rather annoying issue that I've discovered with the Prius' auto-parking system is that it won't work on any hills, which is not exactly very useful in Brisbane which is hardly flat.
The Prius seems a little scared to apply much acceleration when parallel parking on a hill, so whilst there is sufficient acceleration for flat surfaces, if it has to push a little to reverse up a hill, it won't do it and if you touch the accelerator to help it, it will automatically cancel the parking system, tell you you've been naughty, and to try it on a flat surface.
Nonetheless it does work brilliantly on flat surfaces so I can't exactly complain, it's also possible that the camera and sensor systems which measures and calculate all the approach angles and turning points don't work accurately when its not on a flat surface so it's possibly a safety measure.
Whilst I was picking up an Lexus IS250c press car the man from Lexus asked me what I was currently driving and I told him I was in a Prius and mentioned all the great technologies included. He went on to say that the technological features included in the Prius (i-Tech) are still unmatched by some of the Lexus models.
The Head Up Display is not even available on the Lexus IS series (even the IS-F) and the radar cruise control doesn't have all the fancy display that you find in the Prius. Additionally no Lexus that I could find has solar panels on its roof that will cool the car down (using solar power) before you get inside. Essentially what you're getting with the Prius is the best technology from Toyota & Lexus for a fraction of the cost in comparison with other models.
If the soon to be released Toyota Camry hybrid implements the features found in the Prius, it will easily be the most sophisticated locally produced car in Australia.
It almost makes you wonder if Toyota are making any money selling the Prius or if it's just a great marketing exercise to say look at what we can do, either way it's win-win for consumers. It has also become obvious to me that it would be silly to go out there to buy a Prius and not go for the top of the range i-Tech.
Perhaps calling the Prius uncool is somewhat unjust. My girlfriend calls the Prius a fun and safe toy because she likes all the gadgets inside. My friends think the technologies (such as HUD, centre console) should be mandatory on all cars. A good friend of mine who just bought a brand new BMW 135i told me how great it would be if his BMW could have the active radar cruise control for highway driving. BMW drivers seeking technologies found in a Prius? How times have changed.
It's taken a month but now when I pick up the regulars in the Prius, there is no longer a "oh no, not the Prius" feeling. It's more a "can I drive it please?" followed swiftly by a "no, and I thought you said this car was for greenpeace activists?", followed by silence.
The Prius is spending the next week with CarAdvice writer Paul Maric who is in Queensland so expect an update from him in the next two weeks. Meanwhile I'll be complaining about the Lexus' lack of head up display until I get the Prius back.
Toyota Prius Review Long Term Update