Ten days after it revealed the first locally produced Hybrid Camry, Toyota has today detailed the intricacies of the styling and design of Australia's first hybrid vehicle.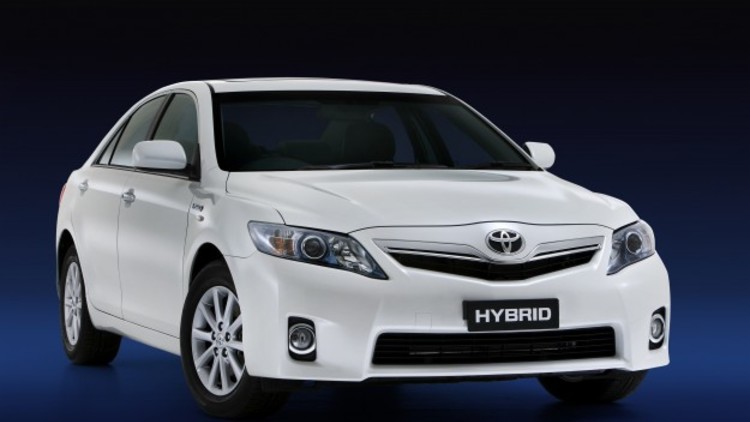 The new front bumper shares styling cues with the third-generation Prius for both functional and symbolic purposes.
The larger, more rectangular lower grille directs additional cooling air into the hybrid-equipped engine bay, while the radiator grille and boot-lid are finished in satin chrome to differentiate it from petrol models.
The signature blue tinted headlamps likewise identify it as a member of Toyota's hybrid family, while the clear-cover rear combination lamps include LED lights which use less power and contribute to lower fuel use.
To accommodate for the batteries positioned above the rear axle, boot capacity has decreased from 535 litres in the standard petrol model to 389 litres, but Toyota insists it is still large enough to carry four golf bags.
Aerodynamics have improved thanks to the front's square corners which stop turbulence around the front wheels and send a smooth air flow down the sides of the vehicle.
Covers under the engine, rear floor and fuel tank create a flat underbody which contributes to a drag coefficient six percent lower than the standard petrol model (down to 0.27), making the Hybrid Camry Australia's most aerodynamically efficient locally manufactured car.
Toyota Style Australia (TSA) corporate manager of design, Paul Beranger, said while the car was not styled in Australia, local design information was sent to Japan over the past two and a half years to develop a car with considerable Australian input.
"In the case of our new Hybrid Camry we provided specific DNA and hybrid information along with detailed Australian design trend information."Toyota Australia is communicating new and advanced technology to customers without alienating them from the basic image that Camry represents. We are integrating mainstream with new technology."We have to ensure that our car appeals to existing owners, as well as early adopters at a realistic price," he said.
Beranger explained extensive local research three years ago asked prospective Hybrid Camry drivers whether they wanted to be seen to be driving a hybrid car or simply as another Camry owner, and found that they wanted their own identity without standing out as a market leader.
"Therefore hybrid differentiation and identification is important to the owner as it is a strong communication image for them."This will change as people become familiar with Hybrid as a mainstream model."So the design will evolve, but right now we know this design meets Toyota's objectives by fusing the premium image of the conventional Camry with the innovation of a hybrid vehicle."
Beranger said Toyota's styling emphasis in Australia was shifting towards functionality, practicality and personality, giving each car its own character while at the same time strengthening the family resemblance across the range.
He admitted one of the more difficult tasks in developing Hybrid Camry for the local market was the increased focus on road and wind noise, which becomes more obvious with the quieter hybrid drive system in action.
"The greatest challenge was to reduce road noise entering the cabin while driving, especially when the petrol engine is not being used."Due to the smooth, quiet EV operation, vehicle noise is more easily noticed than in conventional cars that use a petrol or diesel engine as their main drive power."As a result, sound insulating and absorbing materials were placed in key areas to achieve the required level of quietness for Hybrid Camry."
Toyota is still tight-lipped over pricing of its Hybrid Camry but confirmed there will be two derivatives available when it is launched in February 2010.
[gallery columns="4" orderby="title"]
Toyota details Hybrid Camry styling and design