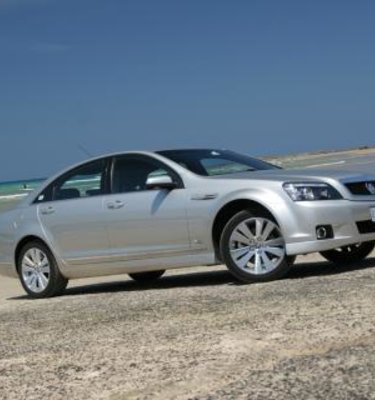 2007 Holden Caprice V8 Road Test
2007 Holden Caprice V8 Road Test
CarAdvice rating:
Recommended Retail Price: $66,990 (V6), $70,990 (V8)
Options Fitted: None
Holden's new VE range has been a step in the upward direction, both in terms of size and power. Needless to say, Holden's Long Wheel Base (LWB) variants have also received similar attention. Holden's WM range (which includes Statesman and Caprice) carry a totally unique exterior design, along with extra capacity for both people and luggage.
From the outside, the new Holden Caprice doesn't look that dissimilar to an equivalent sized vehicle from the Germans. The front end carries a Bi-Xenon headlight cluster, while the rear uses LED lights. The side profile features beefed wheel arches, along with an LED clad indicator arrangement which looks classy and defined.
Step inside and the luxuries continue. Rear passengers have an absolutely staggering amount of leg room. Six-foot something passengers have more than enough leg and knee room – and then some. To top off the luxuries, rear seat passengers have access to headrest mounted LCD screens which play DVDs, which are loaded through the roof mounted DVD player. Wireless headphones are also available for those who prefer a slightly more private experience.
Up front, an LCD screen with climate controls and audio controls commands the dashboard, while the Bose branded sound system exercises the ears. Electric seats with memory, along with steering wheel mounted trip computer and audio controls help make the driving experience as convenient as possible.
The Caprice comes standard with Holden's 6.0-litre V8 power-plant which mashes out 270-kilowatts of the good stuff, while laying down 530Nm of back pushing torque Power is sent through a 6-speed auto cog box. During normal driving conditions, it's quite a sedate unit. But, as with all Holden VE V8s I have tested, the rocking motion from the engine really doesn't suit the demographic the Caprice is marketed towards. Fuel consumption is considerably poor – taking into consideration the vehicle's weight and the capacity of the motor. The Caprice can also be optioned with a V6 motor instead.
When it comes to boot space, you will struggle to find a contender that beats the Caprice. There is more than enough room to pack enough luggage for several weeks away. Our test vehicle had a few build quality issues though, such as a misaligned handbrake handle, along with loose trim surrounding the steering wheel. This can be put down to the pre-production build of the vehicle being test driven.
Standard features include: Bi-Xenon headlights; heated exterior mirrors; leather seats; cruise control; central locking; front and rear parking sensors; auto-dimming rear vision mirror; automatic windscreen wipers; automatic headlights; tyre pressure monitor; Bluetooth phone connectivity; 10-speaker sound system, including 6-disc in-dash CD player; DVD player with dual LCD screens; 10-way electric front seats; tri-zone climate control and power windows.
Safety features include: Electronic Stability Program (ESP); ABS brakes with EBD and BA; dual stage front airbags for driver and passenger; side impact airbags for driver and passenger; side curtain airbags; active front head rests and traction control.
Priced from $66,990 for the V6 and $70,990 for the V8, the Holden Caprice offers exceptional value for money when features and size are taken into consideration. A bevy of options are available to compliment and personalise your Caprice, including larger alloy wheels, interior and exterior colours, along with satellite navigation. The Caprice is the perfect option for the executive businessman who wishes to travel in style and luxury. With enough gadgets to keep passengers happy, there is no disputing the Caprice's relevance in the market. The Germans need to beware, this Aussie luxo-barge is right up the alley of their target market.
2007 Holden Caprice V8 Road Test